Bishop Thomas Scallan (1766-1830)
Born in 1766, Thomas Scallan was a native of Churchtown, Ballymore, County Wexford. As a youth he was sent to his uncle at the Franciscan convent in Wexford. He ensured that young Thomas received a classical education. Like his uncle Patrick Lambert, the Vicar Apostolic of St. John's, he was appointed lecturer at Louvain in Belgium, but because war in Europe prevented travel there, he went to St. Isodore's College in Rome to finish his studies for the priesthood, where he lectured in philosophy until returning to the Wexford Friary in Ireland in the late 1790s. In Wexford, he established the Franciscan Academy, before coming to Newfoundland as a priest for three years in 1812. Scallan proved well adapted to the Newfoundland mission, and exhibited a talent for administration. Bishop Lambert of St. John's nominated Scallan as his successor, and the latter was consecrated Bishop of Drago and Vicar Apostolic of Newfoundland in Wexford on 26 January 1816.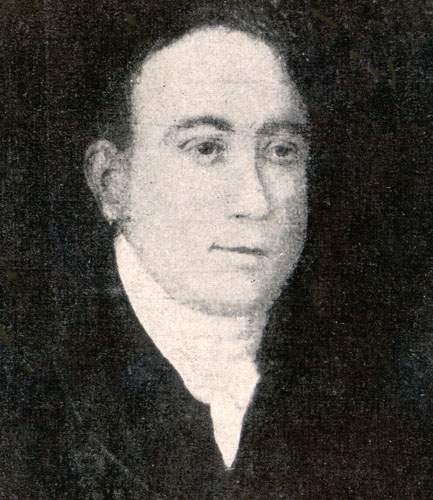 Thomas Scallan (1766-1830), n.d.
Third Roman Catholic bishop of St. John's. Scallan became Vicar Apostolic of Newfoundland in 1816.
Artist unknown. From Benevolent Irish Society (St. John's, NL), Centenary volume, Benevolent Irish Society of St. John's, NL, 1806-1906 (Cork, Ireland: Guy & Co., 1906) 50.
Popularity Growth
Early in Scallan's episcopacy his mettle was tested as Newfoundland society, and particularly the inhabitants of St. John's, weathered the boom of the Napoleonic wars, the stresses and strains of high immigration, the bust of a post-war recession, and the dislocations caused by harsh weather and fire. In 1815 over 11,000 new Irish immigrants poured into St. John's. Unemployment and poverty increased as trade collapsed, and fights between rival Irish provincial factions - the Tipperary "Clear Airs", the Wexford "Yellowbellies", the Waterford "Wheybellies", the Kilkenny "Doones", the Cork "Dadyeens" and "Young Colts" became common. The winters of 1816, 1817 and 1818 were particularly long and harsh due to the volcanic eruption of Mount Tamboro in the East Indies (present-day Indonesia) in April 1815, which expelled 50 cubic miles of volcanic ash into the earth's atmosphere. Within a year the ash had encircled the earth and lowered temperatures, disrupting world weather patterns, and creating "the year without a summer". In February 1816 a fire swept through St. John's, leaving 1000 people homeless, and two more fires in November 1817 left another 2000 homeless. Many who had shelter were without sufficient food or fuel for heating. Over 1800 persons were on relief, and Scallan regularly fed at least ten of these at his own table. This gained him great popularity. But sectarian and factional rivalries re-emerged along with an increase in riots, thefts and violence, and Scallan never completely managed to stem the rising tide of social and economic discontent. The institutional church also expanded very slowly; during his tenure, only ten Roman Catholic priests ministered throughout the whole of Newfoundland and Labrador, for Scallan believed that no more than this number could be supported. Like his predecessors, Scallan was also troubled by two cases of clerical indiscipline from the suspended priests John Power and Samuel Burgess, but these eventually accepted his discipline.
Catholic Struggles
The tenuous, informal nature of institutional Roman Catholicism in Newfoundland changed little in Scallan's day, and he did little to address several grievances harboured by Roman Catholics against local British colonial regulations. Despite many years of legalized Roman Catholicism in Newfoundland, St. John's Catholics were still required to be buried in the Church of England cemetery following a funeral service conducted by the Church of England parson. Furthermore, Scallan and his predecessors were obliged to collect a burial tax of 12 shillings and six pence per burial and remit this to the parson. In 1816 Governor Duckworth granted Catholics a burial ground (in present-day St. John's, on Long's Hill, in front of the Kirk), but the burial tax remained in effect.
In 1817, a marriage bill proposed by Governor Pickmore prohibited Methodist and Congregational clergy from conducting marriages. This infuriated Protestants who feared that the new law would only "establish Popery" and serve to persecute Protestantism. In 1823 the issue resurfaced when the draft of new legislation reached Newfoundland, and there was outrage when it was discovered that both dissenting ministers and Catholic priests could perform marriages but only when it was not "convenient" to obtain a clergyman from the Church of England. Scallan led a campaign among Catholics to raise a petition in protest, and the law was denounced as "the most degrading and distressing infliction that could be laid upon them." Consequently, the 1824 Newfoundland Marriage Act placed Roman Catholic priests on an equal footing with Anglican priests, while introducing a registration fee, but dissenting clergy continued to be discriminated against. The issue of marriage legislation persuaded many Newfoundland Catholics and Methodists that greater self-government would be the only key to resolving their grievances.
Even more than his predecessors, rather than protesting, Scallan happily lent his presence, authority, and legitimacy to the growing ascendancy of the Church of England and the British machinery of government in St. John's. This liberality won him the respect of leading Protestants and Catholics, and the disapproval of those more conservative. When Governor Pickmore died in 1818, Scallan attended the Church of England funeral as a chief mourner, and he repeated the ecumenical courtesy in 1827 when he waited on the Church of England Bishop of Nova Scotia, Charles Inglis, who visited St. John's. Scallan also allowed free rein in managing the affairs of the Catholic Chapel to a group of lay trustees, which included shopkeepers Timothy Hogan and Michael McLean Little, and the government carpenter, Patrick Kough, who were responsible for managing the Chapel's repair funds. Several of these were also members of the Benevolent Irish Society, and Scallan supported their efforts to establish a nominally non-denominational school, the Orphan Asylum Schools, even though most of the children who attended were Roman Catholics.
If Scallan's relations with Newfoundland Catholics were good, his relations with Catholics outside Newfoundland were superb. Like many Irish bishops who were his contemporaries, his attitude was one of conciliation, recognition of the Roman Catholic Church's inferior position in the Protestant British Empire, deference to that superior rule, and seeking to smooth over differences and co-operate with lawfully-established governments. Like his predecessors, he sustained a close written relationship with Joseph-Octave Plessis, the Bishop of Québec, and like his uncle Patrick Lambert, Scallan reciprocated with Plessis with the result that each bishop appointed the other as his vicar general. Together, they ensured that Catholics in Labrador received visits from priests. In 1823, while on a visit to the United States necessitated by his health, Scallan visited his fellow bishops in Boston, New York, Washington, Baltimore, and Philadelphia, and helped to mediate a dispute between lay trustees and the bishop of Philadelphia.
After 1825, Scallan also cultivated good relations with the new governor of Newfoundland, Thomas Cochrane, and had an occasional diner at the governor's table. Cochrane had been sent to Newfoundland to superintend a new form of government for the colony, that of a governor and council, but at the council's first session in October 1825, a dispute arose among the members of council present over the admission of Catholics, when Colonel Thomas Burke, the military commander, took the oath of office and oath of allegiance, but as a Roman Catholic refused the oath of supremacy and the declaration against transubstantiation. This situation inflamed Catholic popular opinion and angered Cochrane, who sought to pour oil on the turbulent waters by privately proposing Scallan and the Waterford-St.John's merchant Patrick Morris for membership in the council. The British Colonial Office refused this, however, and serious public disorder was only averted by Scallan, who kept the question quiet.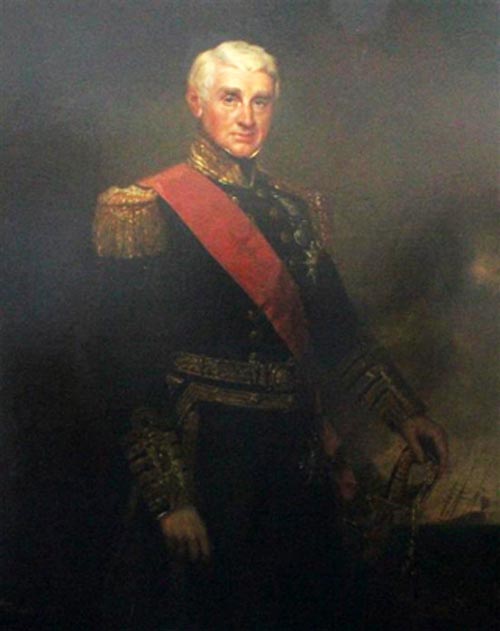 Sir Thomas Cochrane (1789-1872), n.d.
Cochrane, Governor of Newfoundland from 1825 to 1834, had good relations with Scallan.
When in May 1829, news reached Newfoundland of the passage of Catholic emancipation in England, Scallan declared 21 May a day of thanksgiving. But the following December, Newfoundland's Attorney-General James Simms ruled that the Catholic relief bill was inoperative in Newfoundland, since the original legislation that discriminated against Catholics had not applied to Newfoundland. The rules under which Cochrane could appoint members to his council came from the King's own commission to Cochrane, and this could not be altered by an act of Parliament. This continued exclusion of Catholics was used by Irish-Newfoundland reformers as a classic illustration of the need for Catholic emancipation, and the right of Catholics to vote for representatives to a local legislature. Until the calling of the first elections to a new representative House of Assembly on 26 August 1832, a strong sense of injustice was harboured by Catholics, particularly the rising middle class of Waterford-Newfoundland Catholics like Patrick Morris, John Kent, and Lawrence O'Brien, and by many Methodists who found common cause with the reformers.
Appointing a Successor
From 1827 until his death, Scallan suffered from physical infirmity and a nervous disorder. In 1827, as was the custom for bishops, Scallan sent to Rome a terna or list of three nominees from which Rome might appoint a successor: the Newfoundland priests James Sinnott and Timothy Browne, and his favorite, his curate in St. John's, Michael Fleming. Fleming was formally appointed coadjutor or assistant bishop with the right of succession in 1829, and he was consecrated by Scallan on 28 October that year in the Chapel in St. John's.
Death
When Scallan died in May 1830 he was mourned by all classes of Newfoundland society, and clergy of all denominations attended his funeral. His legacy was one of having advocated quiet caution in an age of increasing demands for reform. His liberality and ecumenism towards other denominations were greatly appreciated, but they contrasted sharply with the attitudes of his successor. Fleming was a much more intellectual and militant cleric who deeply resented the inferior position of Catholics in the British Empire, and believed that Newfoundland Catholicism had become increasingly and dangerously subject to being exploited by Britain in order to control the Irish in Newfoundland. The only escape, he thought, was a wholesale reform of institutional Catholicism.