Six Decades of Expansion: St. John's Suburbs and Surrounding Communities
For most of its history, St. John's harbour has been a major service and supply centre for the island of Newfoundland. Merchants involved in the fish trade did much of their business from the waterfront, where wharves and warehouses handled most of the island's imports, and the harbour was the focal point and economic heart of the city. By 1900 there was expansion north of Military Road, in the new areas of Georgestown and Circular Road, and north and west of the new Riverhead railway station, where development took place along Waterford Bridge Road and LeMarchant Road. Communities also grew up outside city/town limits at Mundy Pond, Blackhead Road, and elsewhere. These latter were generally poor areas created by people who had moved from elsewhere in the colony hoping to find employment in St. John's, or from the poorer slum area of the city itself. In the first half of the 20th century, however, most of the growing population of 30,000-35,000 lived very near the harbour.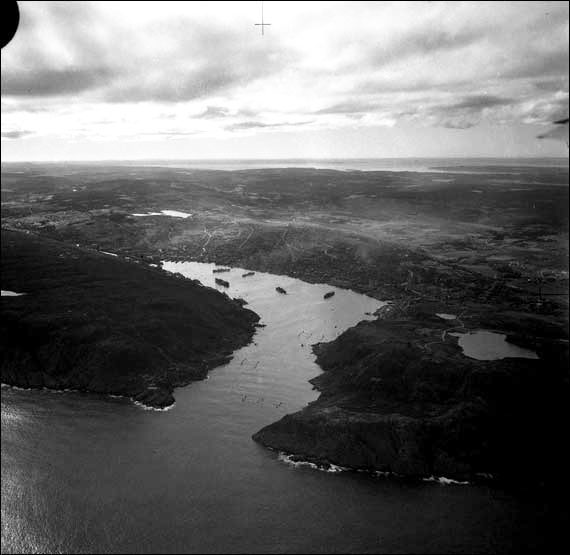 St. John's Harbour, ca. 1942
The majority of the developed area is within a mile of the harbour and the land beyond still consists mainly of farmland and undeveloped open spaces.
Courtesy of Library and Archives Canada, Archival Reference No. R112. MIKAN no.
4164991
.
City Growth
This situation began to change during the Second World War. Several open, underdeveloped areas became military bases, notably Pleasantville, Blackmarsh Road, and Buckmaster's Field. More importantly, the Churchill Park garden suburb (see Churchill Park article), begun in 1944, opened up the valley north of Empire Avenue (the old railway track) for development for the first time. Once mostly farmland, Churchill Park essentially doubled the city's area and started the process of suburbanization that transformed St. John's from a compact town centred on the harbour to a city that is today spread out over more than 400 square kilometres. The installation of water and sewer mains as well as roads allowed for major construction projects, and eventually the area became home to not only suburban residential areas, but also large public housing tracts, shopping complexes, office buildings, Memorial University and the Health Sciences Centre. Confederation Building, the new seat of the provincial government, opened just north of Churchill Park in 1960.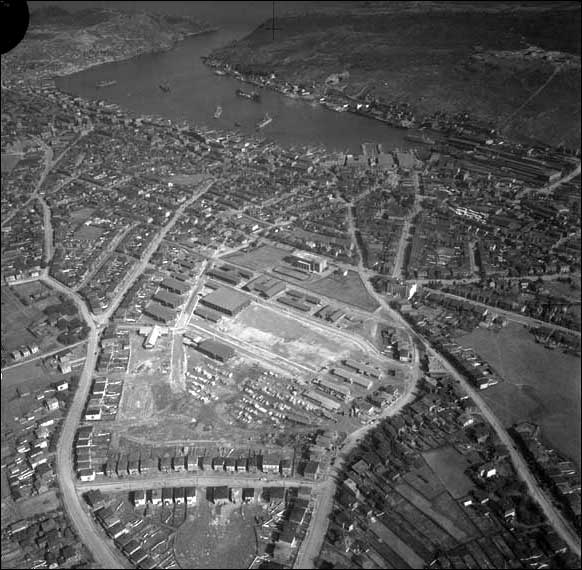 Buckmaster's Field, ca. 1942
Buckmaster's Field area was the location for the Royal Canadian Navy's shore barracks (seen here) in the Second World War. After the war, the area became a public housing project.
Courtesy of Library and Archives Canada, Archival Reference No. R112. MIKAN no.
4164985
.
Churchill Park was the beginning of a period of rapid expansion, which took place in two ways. The first was planned expansion and growth. While earlier expansion (such as that in the Circular Road and Georgestown areas) took place mostly on an ad hoc basis, expansion after the 1940s was largely in the form of deliberately planned suburban developments, built to house the city's growing population. Some examples of deliberate expansion are Kenmount Road, Cowan Heights, and Virginia Park, all developed by the St. John's Housing Corporation. The area between Kenmount Road and Thorburn Road was developed as an industrial area in the 1960s to provide warehouse and factory space for businesses, and was chosen because land was available and the new Trans-Canada Highway made it accessible. Cowan Heights was developed in the 1970s and 1980s to provide a residential suburb with some commercial and green space, and became a popular residential area. In the 1960s the St. John's Housing Corporation, in conjunction with private developers, built the Virginia Park suburb, outside city limits, on land formerly belonging to the United States Air Force base at Fort Pepperrell. Originally independent, the suburb later became part of the city proper.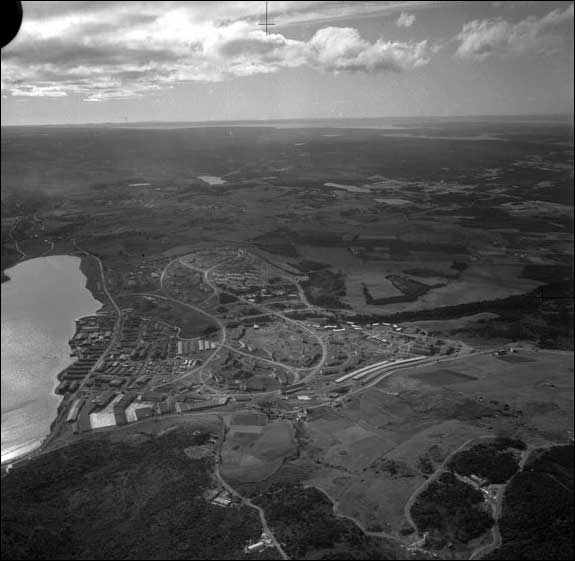 Fort Pepperrell, ca. 1942
Mostly undeveloped until the United States established Fort Pepperrell (seen here), the area surrounding the shores of Quidi Vidi Lake and northwards would be rapidly developed in the coming decades, and include the Virginia Park development.
Courtesy of Library and Archives Canada, Archival Reference No. R112. MIKAN no.
4164989
.
Amalgamation and Expansion
This was the second way that expansion took place – nearby communities were folded into the City of St. John's. Blackhead Road (later renamed Shea Heights), a community settled mostly during the 1930s by St. John's residents who could not find or afford housing within city limits, was one such area. It had a reputation for unemployment and poor housing, but a 1963 federal-provincial Urban Renewal Project improved conditions and services, and Shea Heights was added to the St. John's Metropolitan Area (a census area defined by Statistics Canada as an urban area, having a population of at least 100,000, consisting of the urban core and surrounding urban fringe) the same year. However, it did not officially become part of St. John's until 1984, and still retains its identity as a distinct community.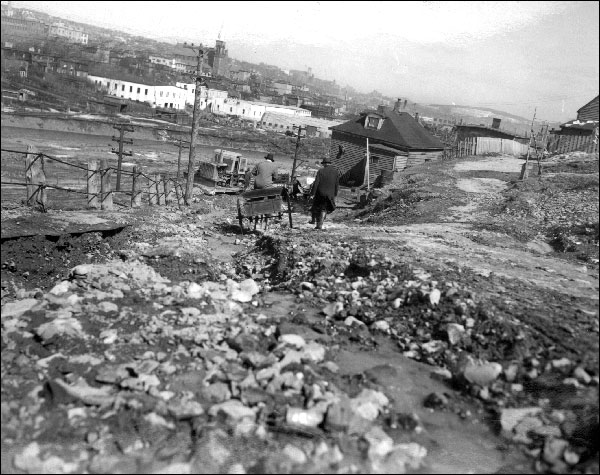 Old Blackhead Road, n.d.
Until an Urban Renewal Project in 1963 improved the road, this dirt track was the only access to Blackhead and the Brow, later known as Shea Heights.
Courtesy of the City of St. John's Archives (image 11-01-002).
In 1963 the Mundy Pond area was incorporated into the city of St. John's, and an Urban Renewal Project took place in 1968. Mundy Pond's resident population had been growing for several decades, encouraged by Colonial Cordage Company's rope works (which operated from 1882-1965) and the opportunity for cheap, tax free land. Wedgewood Park, in what is now the city's east end, was a housing development built in the early 1960s, and was incorporated as a local improvement district (a type of municipality) in 1967. It remained a separate community until amalgamation with St. John's in 1991. The village of Quidi Vidi, which had been occupied by fishing families since at least the mid 1600s and also maintains a distinct identity, was enumerated with St. John's in the 1894 census, and is now officially part of St. John's.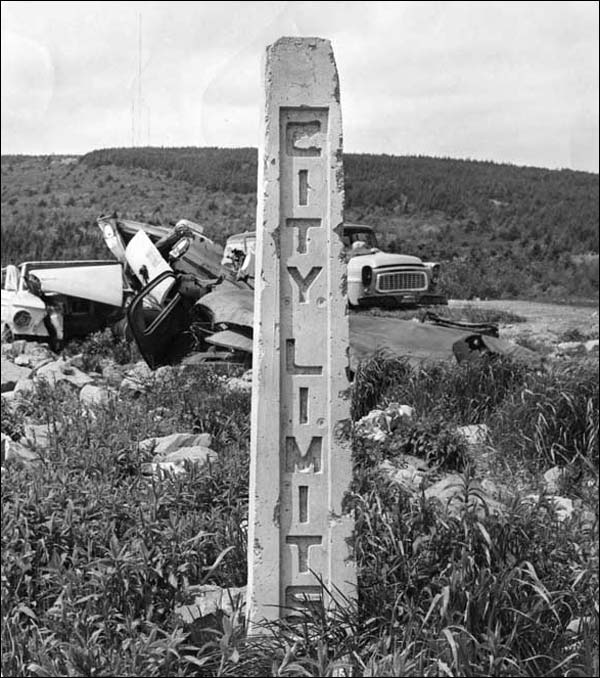 City Limits Marker, ca. 1970
This city limits sign was located near Mundy Pond in the 1970s, marking the former boundary of St. John's. The Mundy Pond area was incorporated into the city in 1963.
Courtesy of the City of St. John's Archives (LeGrow Collection, image 01-10-019).
The Goulds, an agricultural community south of St. John's, amalgamated with the city in 1991. The Goulds provides a good example of some of the problems accompanying amalgamation with larger cities. Shortly after amalgamation, residents found that their property taxes had nearly doubled, yet a corresponding improvement in services was slow in coming. Water and sewer was not provided in all areas until about 15 years after amalgamation, leading to dissatisfaction and protests.
Other communities resist amalgamation. Notably, Mount Pearl (now almost surrounded by the city of St. John's) and the fast-growing town of Paradise are very reluctant to give up their independence. While these towns are intimately connected with and in many ways dependent on St. John's for employment opportunities and services such as hospitals, residents are concerned about the potential reduction of services like garbage collection and snow clearing, increases in property taxes, and loss of community identity should they amalgamate with St. John's.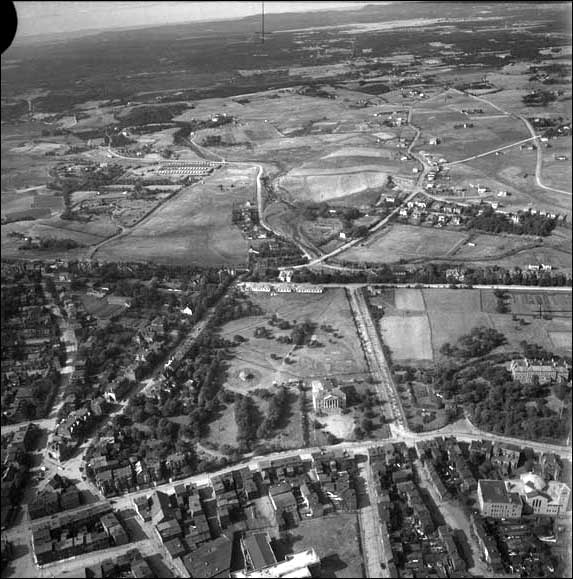 Northern Valley, ca. 1942
The valley north of the city, with Bannerman Park in the foreground, was mostly undeveloped at the start of the Second World War. The area beyond Circular Road became part of the Churchill Park development in 1944.
Courtesy of Library and Archives Canada, Archival Reference No. R112. MIKAN no.
4164986
.
Nearby Communities and Commuter Towns
Also important is the growth of commuter towns, such as Paradise, Torbay, St. Phillips, Portugal Cove, Conception Bay South, and even Mount Pearl. These towns increase the population base served by the city of St. John's while not being part of the city. While such towns have many attractions for residents, such as increased space, cheaper property, and lower population density, they are often criticised for inefficient use of space, monotonous architecture, and lack of locally available services. Separate municipal government also complicates the process of regional planning.
One of the major factors driving amalgamation and the growth of suburbs and commuter towns was the rise of the automobile as the primary transportation method in St. John's (and most of North America). When it became feasible for most families to own at least one car, it was much easier for people to commute to jobs elsewhere in the city or in another town, and they no longer needed to live within walking distance of their workplaces. This allowed much more city expansion than was previously possible, while maintaining low population density and developing transportation infrastructure dependent on privately owned vehicles. While this style of living is popular, the environmental impacts of such low population density are coming under increasing scrutiny. The city bus service does provide service to most of the city, but low population density and a lack of major thoroughfares makes public transportation difficult. As suburbs and towns expand, large swaths of forests and marshes are replaced with houses, which can be damaging to local ecosystems. Replacing farmland with housing also reduces local food production and increases reliance on food imports, further increasing the high carbon footprint of transportation networks overwhelmingly dependent on cars and trucks.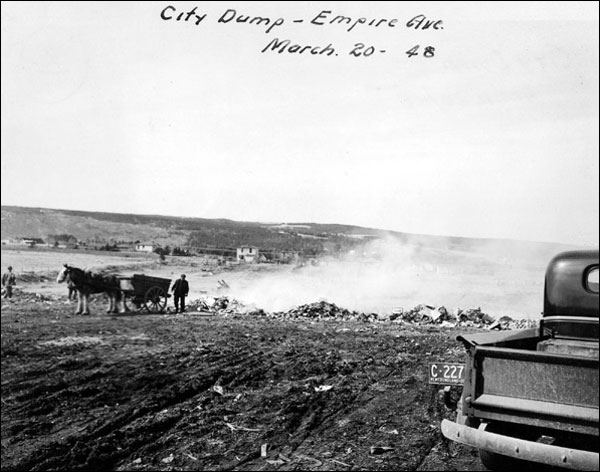 City Dump, Empire Avenue, 1948
This is the old city garbage dump on Empire Avenue. The city was growing around the dump at this time and it was closed and filled in shortly after.
Courtesy of the City of St. John's Archives (March Collection, image 01-04-003).
In the past 60 years, St. John's has grown from a compact city of about 35,000 people limited to a relatively small area around the harbour, to a city of over 100,000 people, many of whom live in suburbs and depend on automobiles. The St. John's Metropolitan Area, which consists of most of the northeast Avalon Peninsula, has over 200,000 people, or about 40 percent of the island's population, and in many ways the northeast Avalon comprises one large interdependent community. The population density has remained relatively low, at about 829 people per square kilometre in the urban areas of the city (defined by Statistics Canada as an area with more than 1,000 people and a density of 400/km2 or more). Compared to the urban area density of Toronto (almost 4,000/km2), Vancouver (over 5,300/km2), or even Halifax (almost 1,100/km2), this is significantly lower. As the oil industry continues to drive urban growth and increase the population in St. John's and the surrounding communities, the city and its residents will face many challenges and decisions about the development of the city, especially in the face of rising energy costs and increasing concerns about the environmental impacts of urban sprawl.