St. George's Anglican Church (Brigus)
Built between 1876 and 1877, St. George's Anglican Church is a landmark in the community of Brigus, visible from both land and sea. Likely one of the most recognizable structures in the town, St. George's stands as a testament to the importance of the church in Newfoundland during the Victorian era. It is also a worthy example of the implementation of imported architectural styles into rural Newfoundland.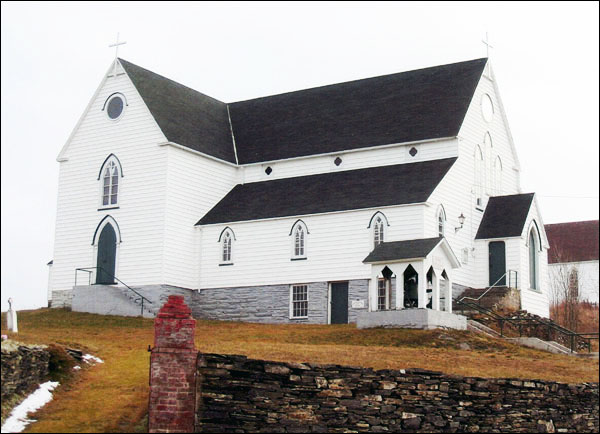 St. George's Anglican Church, Brigus, NL
St. George's Anglican Church is an excellent example of the introduction of the Gothic Revival style of architecture into Newfoundland and Labrador.
© 2004 Heritage Foundation of Newfoundland and Labrador
For well over a century, St. George's has been at the centre of the Anglican community in Brigus. Constructed on the site of a previous Anglican church, the cornerstone of the original building is incorporated into the current structure.
St. George's is historically valuable because of its associations with Bishop Edward Feild, a leading figure in Newfoundland's religious, political and educational life during his episcopacy. High Anglican churches commissioned by Feild, including St. George's Church, introduced the Gothic Revival style to Newfoundland — an architectural expression of Bishop Feild's Tractarian views.
This building is one of the few remaining examples of a large outport church built at the height of Newfoundland Anglicanism. Of elaborate design, the nave and transept layout is in contrast to many of the more simply designed churches built in Newfoundland at this time. Its original features include the Gothic stained glass windows, dry stone foundation and timber framing. It is a good example of the craftsmanship of the period, particularly that of local builder George C. Jerrett.
The building is currently used as a museum.
St. George's Anglican Church was recognized as a Registered Heritage Structure on May 2, 2004.
---
Also view the St. George's Anglican Church Registered Heritage Structure on the Heritage Foundation of Newfoundland and Labrador web site.
The Newfoundland and Labrador Heritage Web Site has on its site only a portion of the registered heritage structures in Newfoundland and Labrador. To view a complete list or search for a particular structure visit the Heritage Foundation's Property Search page.