Religion and Politics, 1829-1850
Though many of the Roman Catholic clergy were generally quiescent before the arrival of Michael Anthony Fleming, in the 1820s increasing numbers of lay Irish developed political ambitions. They perceived that without representative government, merchants still dictated what happened in the colony, that substantial numbers of Newfoundland residents were denied religious liberties, and that Newfoundland was not receiving fair treatment by the British Government. Prominent members of the Benevolent Irish Society (BIS), such as Patrick Morris, Patrick Doyle, and Laurence O'Brien became involved in the reform movement for local government, which began in St. John's and attracted a following on the Avalon peninsula. Encouraged by the passage of the Judicature Act in 1824 which abolished the naval surrogate courts, and spurred on by the grant of a permanent civil governor and council by which local needs might be addressed, reformers gathered support.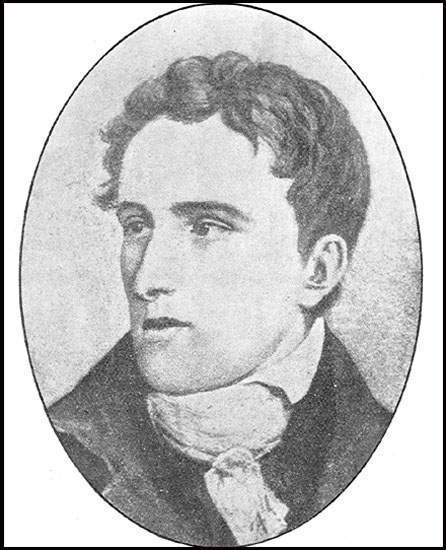 Patrick Morris (1789-1849), n.d.
Morris was a prominent member of the Benevolent Irish Society (BIS) and became involved in the reform movement for local government.
Artist unknown. From Benevolent Irish Society (St. John's, NL), Centenary volume, Benevolent Irish Society of St. John's, NL, 1806-1906 (Cork, Ireland: Guy & Co., 1906) 54.
Thomas Scallan and Michael Anthony Fleming
In the 1820s, not all of the Newfoundland Catholic clergy were as deferential to British rule as Scallan, and this reflected their awareness of, and sympathy with movements back home in Ireland. In addition to supporting the reform movement, the Irish-born Franciscan priest Michael Anthony Fleming (1792-1850) organized the Irish in the St. John's congregation to support Daniel O'Connell's Catholic emancipation movement. This Irish movement sought full civil rights for Catholics and the repeal of discriminating measures. Fleming was much less of a latitudinarian than his superior, Thomas Scallan, and believed that the Church should be less deferential, less influenced by the British, and less susceptible to the influence and control of Church properties by boards of lay trustees. It should be more closely associated with the image of Catholicism projected by Rome, known as ultramontanism (literally, 'over-the-mountain-ism'), an intellectual and ideological movement within the Church which looked over the European Alps to the Church in Rome for guidance and direction.
When Scallan became sick and died in May 1829, Fleming succeeded him as vicar apostolic and assumed leadership of the Roman Catholic Church until his own death in 1850. During that 20 years he implemented sweeping reforms which transformed Newfoundland Catholicism from an inchoate, poorly-organized denomination into a powerful, disciplined institution, and which encouraged Irish immigrants to begin thinking of themselves as Newfoundlanders. He disbanded the group of lay trustees which dominated the affairs of the Chapel Committee and the BIS's Orphan Asylum School. Schools, convents, chapels, and cemeteries were opened, Irish religious orders were invited to teach, and Fleming dedicated a large portion of his career to constructing the largest Irish cathedral ever constructed, to that date, outside of Ireland. For undertaking these things he received much public admiration, extending beyond the confines of his congregation, and garnered the support of the rising generation of Newfoundland political reformers. This placed him front and centre in the political life of Newfoundland.
Despite this, the Reformers and Fleming had enemies in the local press, at Government House and in the British Colonial Office. Not only were they opposed by the Tories of Government House, the Council, and some merchants, but also by an Irish faction composed of alienated Catholics and Wexford expatriates, some of whom had been members of the disbanded Chapel Committee and the Orphan Asylum Committee.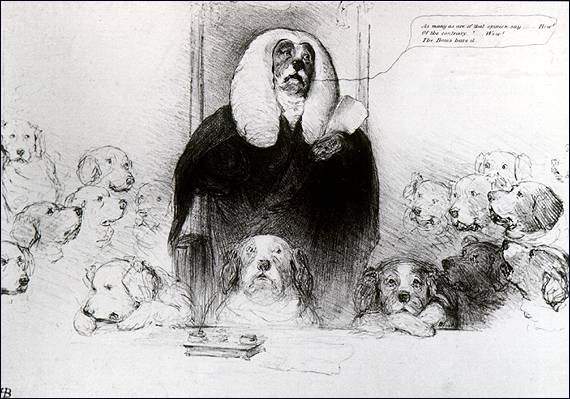 The Bow Wow Parliament, 1832
Newfoundland House of Assembly as a pack of unruly dogs.
Courtesy of Archives and Special Collections, Queen Elizabeth II Library, Memorial University of Newfoundland, St. John's, NL.
Parliamentary Committee Investigation
Newfoundland politics reached a breaking point by 1840, after a particularly violent by-election in Conception Bay was reported to London. Britain decided that a Parliamentary Committee would investigate Newfoundland affairs and make recommendations, and by 1843 this process culminated in the amalgamation of the House of Assembly with the Legislative Council. London also placed extraordinary pressure on Rome to do something about Fleming, and in November 1840 Pope Gregory XVI ordered Fleming to banish the priest Edward Troy from Newfoundland - Fleming sent him to Merasheen Island in Placentia Bay - and the Pope summoned Fleming to Rome to explain himself. While Fleming kept sending defences of himself, he claimed never to have received the summons and did not go to Rome, and Rome did nothing about it. Thereafter Fleming contented himself with building his cathedral, a project which came to possess his every attention until his death in July 1850.