Porter House
(Hibb's Cove)
Originally a part of the Greely fishing plantation, this structure, typical of those occupied by outport fishing families, was built circa 1904 by John Charles Porter. Members of the Porter family, who are recorded as being here as early as 1793, occupied the house until 1968 when it was sold to the artist, George Noseworthy. He used it as an art studio and then donated it to the Fisherman's Museum in 1979. Since that time, it has been used by the museum to displays a typical fishing family's residence.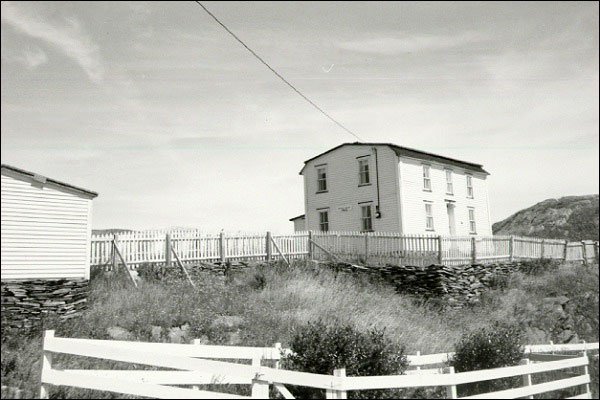 Porter House, Hibb's Cove, Port de Grave, NL
A view of the left and front façades. The house is a good example of the type of house built by fisherman in the early 1900s.
© 2000 Heritage Foundation of Newfoundland and Labrador
The home is one of the few remaining structures of its sort in Hibb's Cove. The house is a typical wood frame, with a unusual modified gambrel roof. On the rear of the building is a half width single-storey porch. The interior remains largely unchanged from the original, with a kitchen and a front room along a central hall plan. There are four bedrooms upstairs, all with low windows. The front door features recessed panelling. Located on a hill, the house is set on a very small piece of land. As a part of the Fisherman's Museum complex which also includes a traditional school house, and close to the traditional cove, the house reflects the ambiance of the traditional outport community.
The Porter House was designated as Registered Heritage Structure in September 1999.
---
Also view the Porter House Registered Heritage Structure on the Heritage Foundation of Newfoundland and Labrador web site.
The Newfoundland and Labrador Heritage Web Site has on its site only a portion of the registered heritage structures in Newfoundland and Labrador. To view a complete list or search for a particular structure visit the Heritage Foundation's Property Search page.