Payne House
(Harbour Grace)
The Payne House was built in 1856 by a member of the Payne family and, because it survived the fire of 1944 which destroyed much of downtown Harbour Grace and because it remained essentially unaltered, it is a very good representative of its period. With its original twelve-pane windows, door and window surrounds, it is the best preserved of a row of houses all dating from about the same time.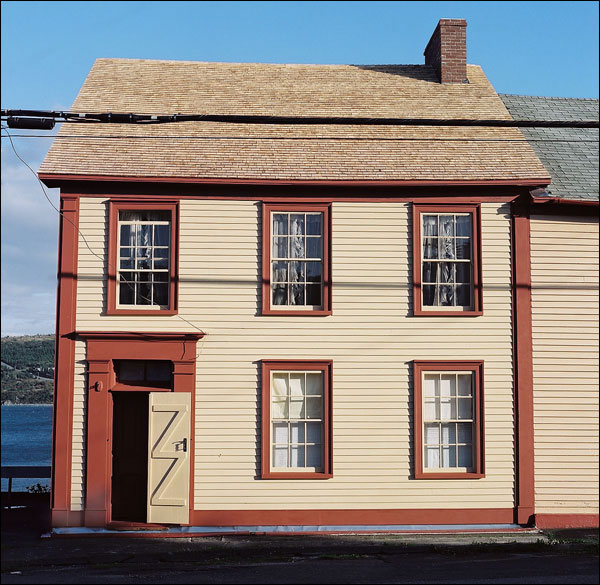 Payne House, Harbour Grace, NL
Payne House is a well-preserved example of a mid-19th century row house.
© 2004 Heritage Foundation of Newfoundland and Labrador
At the beginning of the last century, May Sheppard, a daughter of the builder, took possession of the property. Her husband, Ernest Sheppard, opened a cooperage here, making barrels in the outbuildings which once stood below the house at the water's edge. After the Sheppards died the house was sold to an out-of-province resident who used it as a summer home. In 1985 Stephen Payne, a member of the original family, purchased the house.
The foundation is made of stone on three sides. The fourth wall, facing the harbour, is supported by a wooden sill. In the summer of 2000 restoration of the structure began and included work on the roof and the exterior wooden siding.
The Payne House was designated as a Registered Heritage Structure in September 1999.
---
Also view the Payne House Registered Heritage Structure on the Heritage Foundation of Newfoundland and Labrador web site.
The Newfoundland and Labrador Heritage Web Site has on its site only a portion of the registered heritage structures in Newfoundland and Labrador. To view a complete list or search for a particular structure visit the Heritage Foundation's Property Search page.