English Patterns of Settlement
Patterns of immigration and settlement in Newfoundland and Labrador were greatly influenced by mercantile activities. Poole merchants, for example, established fisheries and built trading premises at Brigus, Carbonear and Bay de Verde in Conception Bay, at Old Perlican, Silly Cove (Winterton), Trinity, Catalina and Bird Island Cove (Elliston) in Trinity Bay, at Bonavista, Barrow Harbour and Greenspond in Bonavista Bay, at Fogo and Twillingate in Notre Dame Bay and at Battle Harbour and Venison Tickle in Labrador. Poole firms also operated at Placentia, Little Placentia (Argentia), Burin, Mortier and Oderin in Placentia Bay and at Harbour Breton in Fortune Bay. In consequence, most of these places were settled by immigrants from the four counties of Wessex, the recruiting hinterland of Poole. In some instances, however, as in the Placentia area, the Poole merchants were more inclined to recruit manpower more heavily in Waterford, where migrants from four Irish counties could gather.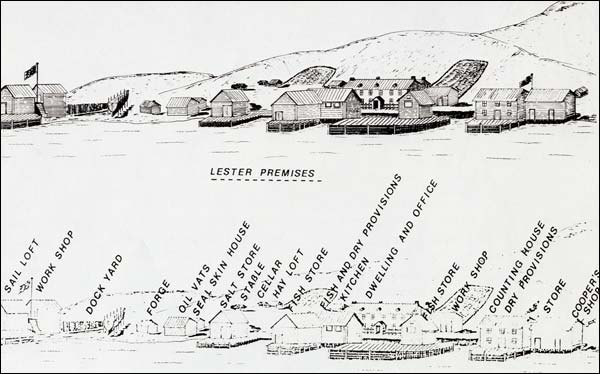 Lester Premises, Trinity, n.d.
A depiction of the Lester and Company premises at Trinity in the 1800s.
Reproduced by permission of Gordon Handcock, ©1983. From Peter Neary and Patrick O'Flaherty, Part of the Main: An Illustrated History of Newfoundland and Labrador (St. John's, ©1983) 32.
Whereas settlers of Wessex origins were prominent in parts of Conception Bay (Brigus, Carbonear and the area between Carbonear and Bay de Verde), they comprised more than three-quarters of all the settlers who planted themselves along the northeast coast (Trinity Bay, Bonavista Bay, Notre Dame Bay). Wessex families were also well represented in Placentia Bay, on the Burin Peninsula, in Fortune and Hermitage Bays, and were the dominant ethnic group to settle along the south coast at places such as Ramea, Burgeo, Rose Blanche and surrounding settlements.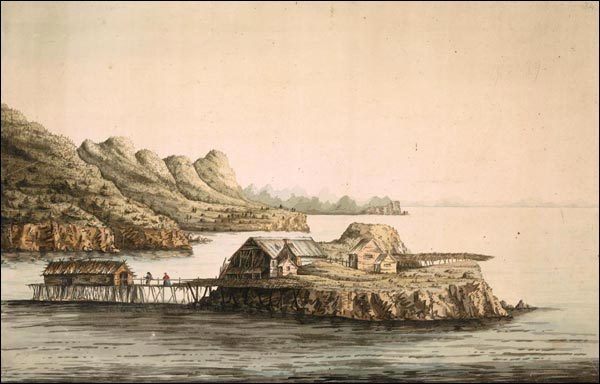 "View at Porte de Grave in Conception Bay"
A painting of Port de Grave by William Skinner (1700-1780). Skinner, a lieutenant-general and chief engineer of Great Britain, was sent out to Newfoundland in 1762 to build fortifications around St. John's following its capture from the French.
Devonshire families, arriving on ships from Topsham and Teignmouth but mostly Dartmouth, settled mostly on the Avalon Peninsula. Some chose Conception Bay, others the southern Avalon. Almost all those arriving from Teignmouth and the Teign Valley, however, and most of the immigrants from and about Dartmouth, settled in and around St. John's including especially Petty Harbour, Bay Bulls and Torbay. Although Devonshire planters pioneered most settlements on the Avalon, during the 18th century the Devonshire merchants began to deal so heavily in Irish labour, especially for shore crews in the newly established English offshore bank fishery, that the resident population of places such as St. John's and Bay Bulls and especially the southern Avalon around Ferryland and Trepassey became dominated by Irish settlers. Many Irish also became established in the inshore fishery and replaced former planters of English extraction.
Many of the Bristolians immigrating to Newfoundland settled in and around Harbour Grace where Bristol merchants maintained a trade for at least three centuries. St. John's attracted a wide range of British immigrants, apart from those from Ireland and Devonshire. The more significant source areas of these St. John's minorities included Wessex, London, Liverpool and a wide variety of 'Other English' source areas. St. John's also lured some relatively well-to-do and influential lowland Scots. As St. John's became the chief commercial centre of the Newfoundland fishery, replacing the West Country ports and Poole, many of the leading fish exporting and supply firms located there. The emergence of St. John's in the early 19th century as the seat of government and the main centre of administration, justice, education and culture was enough to attract a fairly wide range of other British immigrants. Overall though by ethnicity, St. John's remained about two-thirds Irish and, at least, a fifth Devonshire English.