Archives Contain Little-Known Manuscript
From the files of The Gazette September 07, 1995.
Patrick William Browne was born in Carbonear, on Dec. 21, 1864, the son of Catherine Casey and Thomas Browne. He received his early education there at St. Patrick's Grammar School but later transferred to St. Bonaventure's College, St. John's, graduating in 1880. From there he went to the Propaganda College in Rome, but was forced to withdraw because of ill health. He then attended Laval University in Quebec, graduating with a doctor of divinity degree. He was ordained into the Roman Catholic priesthood at Carbonear by Bishop Ronald MacDonald of Harbour Grace Diocese on Dec. 29, 1887.
Upon ordination, Browne was assigned to parish work at Harbour Main. During the next 21 years he served in Whitbourne (where he helped to establish the parish), Bonavista, Brigus and St. Jacques. In 1909 he left Newfoundland for the University of Ottawa where he taught history for two years before returning to this province. He left parish work a second time in 1914, this time to teach history and French at Mary Knoll Seminary in New York. In 1918 he joined the teaching faculty of the Catholic University of America in Washington, D.C., as professor of modern history. He would remain there until his death.
Education was a never-ending process to Browne. In addition to his teaching and the education he received in Newfoundland, Rome and Laval, he later obtained a PhD from the Catholic University of America and did postgraduate work at Harvard University, New College and the Bodleian Library at Oxford, University of Munich, Bibliothèque Nationale (Paris), National Archives of Spain, Archivio de Indias (Madrid) and Collegio de Ingleses (Valladolid).
And, in addition to his teaching and study, Browne found time to write. He wrote extensively on church and religious history, art, morality and philosophy, and was published in scores of journals including Magnificat, Catholic Educational Review, Ecclesiastical Review, Ave Maria, Irish Ecclesiastical Review and Irish Monthly. He also served for many years as editor of The Catholic Historical Review, the Journal of the American Catholic History Association, and was a contributor to Les Amities FranÇaises (Paris), The Universe (London), and Stimmen der Zeit (Munich). Browne also translated a number of books originally written in French into English, including État de l'anglise catholique ou Diocese des États-Unis de l'Amerique septentrionale by Jean Dilhet (1922), The Moral Law of the Family by Pierre Meline (1929) and Polytheism and Fetishism by Maurice Briault (1931).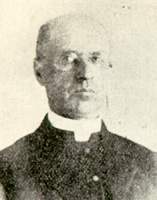 Patrick William Browne.
A faded photo of Patrick William Browne from the Who's Who in and from Newfoundland 1927.
Courtesy of Archives and Special Collections, Memorial University of Newfoundland, St. John's, NL.
A number of Browne's articles were on Newfoundland subjects, usually on some aspect of Roman Catholic Church history, such as the articles: "Irish Bishops in Newfoundland (1794-1893)," "Catholic Education in Newfoundland," and "Economic Development in Newfoundland." His major published work on Newfoundland was Where the Fishers Go: the Story of Labrador, a 366-page book on the history, way of life and physical landscape of Labrador, published in 1909 by Cochrane Publishing Company, New York City.
Browne's other large written work on Newfoundland was never published. Entitled Catholic Footprints in the Ancient Colony, it is an account of the Roman Catholic Church in Newfoundland from its possible beginnings with Norse Catholics in Vinland to the early years of the 20th century. It is the only comprehensive account of the history of the Roman Catholic Church in Newfoundland between Archbishop Michael Howley's Ecclesiastical History of Newfoundland (1888) and Paul O'Neill's Upon this Rock (1984).
While this account has never been published, we are fortunate enough to have a copy of the manuscript. This copy was presented to the archives by Mary Ryan McGrath, a library assistant in the cataloguing division of the Queen Elizabeth II Library, in January 1994. McGrath's mother was Dr. Browne's niece. The manuscript, or more properly, typescript, contains 257 numbered leaves, typed one side only, together with an additional 21 leaves of end-notes and appendix, bound in a simple black cardboard stock with cloth spine. There is no title page, but there appears to have been one or two pages torn from the front of the text; these may have included a title page. The composition of this text has been dated between 1933 and 1937: the early date is based on end-note 12 for Chapter 27, which cites the issue of Catholic Register and Extension for October 20, 1932, and the later date is coincident with Browne's death date.
Patrick Browne died in Washington, D.C., on July 15, 1937.