Turn of the Century Journalist
From the files of The Gazette October 29, 1998.
Patrick Raymond Bowers was born in Ireland on May 10, 1844. While still quite young, he emigrated to Charlottetown, Prince Edward Island, where he attended a private school operated by John LePage, and later became a student at St. Dunstan's College.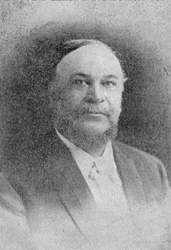 Patrick Raymond Bowers
Courtesy of Archives and Special Collections, Memorial University of Newfoundland, St. John's, NL.
Politics captured Bowers' imagination at a very early age. He held the post of secretary of the Liberal Reform Association of Prince Edward Island while still only 18 years old. Perhaps it was this interest in politics which propelled him to a career in journalism: in 1863 he became an editorial contributor of The Examiner, a newspaper published by the Hon. Edward Whelan, a prominent journalist, member of the Prince Edward Island Legislature, and a Father of Confederation. In 1868 Bowers published a biography of Whalen, who had died the previous year.
In 1865 Bowers left The Examiner to become headmaster and choirmaster at the Roman Catholic Academy in Woodstock, New Brunswick. He returned to The Examiner in 1870 as editor, a post he would hold until 1873, when he became Queen's Printer for Prince Edward Island, probably a political sinecure.
Bowers' appointment to the Queen's Printer's position coincides with the election of 1873 and Prince Edward Island joining the Canadian Confederation. While his knowledge of printing may have qualified him for the job, it did not secure it for him, as he lost the position three years later when the party he supported lost the 1876 election.
Even before he left office as Queen's Printer, Bowers had established his own newspaper, The New Era. He was publisher and editor of that paper from 1874 until 1886.
The years between 1874 and 1886 were particularly busy ones for Bowers in a number of other capacities. In 1875 he became secretary of the O'Connell Centenary Celebration, charged with arranging appropriate celebrations for Prince Edward Island to mark the 100th anniversary of the birth of the Irish patriot, Daniel O'Connell.
In 1878 Bowers accepted Roman Catholic Bishop Peter McIntyre's invitation to be one of 12 lay people, who, together with four clergy, would constitute the first board of the Catholic Total Abstinence Union. Bowers served as secretary of the board from his appointment until 1886. During 1884-1885 he was first vice-president of the Charlottetown Literary and Scientific Institute.
Bowers made one attempt at elected office, in the May 8, 1882, provincial election, when he accepted the Liberal Party nomination as one of its candidates in the two-member King's County seat. The Conservative candidates won both seats. One of the Conservative candidates was incumbent premier W. W. Sullivan, who finished second with 569 votes to Bowers' 481.
In 1886 Bowers left Prince Edward Island for Newfoundland, where he had accepted the editorship of The Colonist, a St. John's newspaper owned and operated by Colonist Printing and Publishing Company (Maurice A. Devine and John O'Mara, proprietors). It was established as a voice for the Roman Catholic Liberal Party, in response to the election of 1885, which resulted in the all-Protestant Reform Party forming the government. In spite of this proclaimed mandate, Bowers, who was the paper's sole editor, kept the paper on a very non-political course. In fact, the major political issue it covered was opposition to Newfoundland joining the Canadian Confederation, which was not a serious prospect at that time.
The fire of July 8, 1892, which ravaged much of downtown St. John's, destroyed The Colonist's building and its press, forcing it to cease publication. Bowers attempted to start a new paper, The Daily Tribune, in November 1892, but by September 1893 it was in financial difficulty. It published irregularly until the end of the year, when it, too, ceased publication.
Beginning in 1896, Bowers published the first of 15 annual Christmas numbers of The Tribune. It was a special Christmas issue, containing prose, poetry and illustrations appropriate for the season. In the interim, he acted as correspondent for other St. John's papers and did freelance writing.
It would appear that Bowers quickly gained the confidence of the Liberal Party hierarchy. In 1890, only four years after his arrival in Newfoundland, he was one of the government delegates sent to Canada to seek support for Newfoundland's campaign to bring about an end to French fishing rights on Newfoundland's west coast.
Bowers married Mary Cahill of Prince Edward Island in 1879. They had one daughter, who died on Dec. 5, 1891, as a result of burns sustained when her clothes accidentally caught fire. Bowers considered it "the event of my life which was most momentous to me."
P. R. Bowers died at St. John's on Aug. 18, 1911. His wife, Mary, published volume 16 of the Christmas issue later that year.
Earlier this year the archives acquired a small number of letters written by Bowers to Henry J. Morgan of Ottawa, during the summer of 1896. They concern the preparation of Newfoundland entries for a Canadian Who's Who that Morgan eventually published in 1898. Bowers was to be included in the volume and he suggested other Newfoundland residents for inclusion and offered to write their biographical sketches for a fee. There are also two copies of a biographical sketch of Bowers, with editorial changes that appear to have been made by him, and an advertising handbill for the St. John's business Wyatt Brothers.
In one of the letters Bowers describes his daughter's death, referred to above. In another he tells Morgan that St. John's Roman Catholic Bishop Michael Howley will only consent to be included in the who's who if "Dr. Grenfell, who he considers to be an imposter" is not.