Bishop Patrick Lambert
Early Life
Patrick Lambert was born in 1755 in the parish of Kildavin, County Wexford. Like his predecessor James Louis O'Donel, Lambert was educated, earned his academic credentials, and rose in the ranks of the Church outside Ireland. He studied at the Irish Franciscan College at Louvain in Belgium, where he became a lecturer in philosophy. In 1783, Lambert went to Rome to become president of the Irish St. Isidore's College, but two years later he returned to Ireland to become Guardian of the Franciscan monastery in Kilkenny. From 1793 to 1803, he was associated with the Franciscan Friary at Wexford, and from September 1803 to July 1804, Lambert was the Vicar Provincial of the Franciscan order in Ireland. He had seen first-hand the loss of life and social chaos caused by the United Irish rebellion in Wexford town in 1798, and he abhorred violence and bloodshed. Like O'Donel his prime concerns upon becoming coadjutor bishop in St. John's in August 1806 were to expand institutional Catholicism, preserve the public peace, and attempt to mute the factual rivalries which divided the Irish population.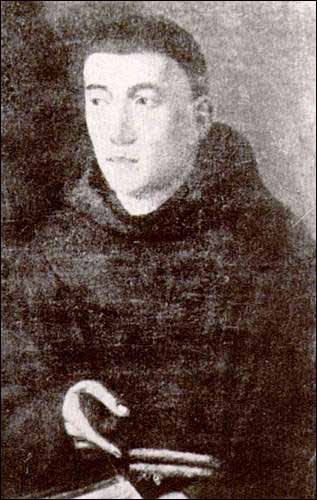 Patrick Lambert (1755-1816), n.d.
Second Roman Catholic bishop of St. John's. Lambert succeeded O'Donel in 1806.
Artist unknown. From Benevolent Irish Society (St. John's, NL), Centenary volume, Benevolent Irish Society of St. John's, NL, 1806-1906 (Cork, Ireland: Guy & Co., 1906) 34.
Duties as Bishop
While Lambert did not delight in the press of his duties as bishop, he devoted himself to visiting the Catholic parishes of outport Newfoundland much more than O'Donel ever did, conducting confirmations, administering the sacraments of the Church, and welcoming converts. He also sought more priests to serve in the Newfoundland mission, for there were usually only five. He accepted Irish-born priests, and native Newfoundlanders who were sent for training to Québec, where Bishop Plessis remained a constant correspondent of Lambert's, sharing ideas on the administration of Catholicism throughout Newfoundland and Labrador. Next to the Catholic Chapel in St. John's (on what today is the site of the Star Hall on Henry Street), Lambert built a residence for himself and his curate; the "Old Palace" remained in use until the 1850s.
The principal characteristic of Newfoundland society, and of the Irish-Catholic community to which Lambert ministered, was that it was a society composed largely of recent immigrants. During the Napoleonic wars, the fisheries prospered, but even when the trade collapsed following the wars, Irish fishing servants continued to pour into St. John's. Many were from Leinster, where English was spoken, but the Irish who came from Munster were more likely to speak Irish gaelic, and they tended to be more radical, occasionally even republican, in their political opinions. Factional rivalries based on Leinster and Munster developed, and "faction fights" were common among the St. John's Irish "on the Barrens", now the site of the Basilica.
Unlike O'Donel, Lambert spoke no Gaelic, and as R.J. Lahey points out, as a Leinster man he and his clergy were held suspect by Munstermen, and particularly, by the influential suspended priest John Power. Such rivalries frequently unnerved important public officials, like the Chief Justice Caesar Colclough (pronounced Coke-lee), a British Colonial appointee with a Wexford heritage. British officials in Newfoundland therefore looked increasingly to Lambert to exercise a civilizing influence on the Irish congregation. For their part, Lambert and his clergy denounced in their sermons the secret meetings, oaths, fights, and violence which accompanied the factional grievances, but this seems to have had little effect on curbing the rivalries. The historian Daniel W. Prowse observed that "Neither priests, bishops, Colcloughs, nor justices, could have put down the faction fights; they died out in time, and were succeeded by the more legitimate 'divarsion' of politics" (Prowse 392). Several official concessions quietly were made to Newfoundland Catholics, though, and Governor Keats eventually rewarded Lambert with a £75 pension as the 'Head of the Catholic Church', and recommended that London prohibit the immigration of any Catholic priest to Newfoundland who was not authorized by Lambert. In 1811 Britain also permitted Newfoundland Catholics to bury their dead in their own cemeteries, which was interpreted in Irish St. John's as a signal mark of favour, and which helped quell squabbles over the burials of Catholics in Anglican graveyards.
Retirement
By 1815, Lambert's weak physical constitution failed and he petitioned Rome for a successor, his nephew, the Franciscan priest Thomas Scallan, who had been in Newfoundland since 1812. Lambert retired to Ireland in November 1815, and died at the Wexford Friary in September 1816. Despite the factional rivalries, his episcopacy was one of quiet attempts to build institutional Catholicism in Newfoundland, but also one in which moderate gains were made in the securing of religious liberties for Irish-Newfoundland Catholics, in exchange for the co-operation of the leader of the flock with British rule.