Transportation
This page is from a heritage partnered project. It was written in 1998 by students from Mount Pearl Junior High and edited by their teachers. It has not been vetted by the heritage website's academic editor.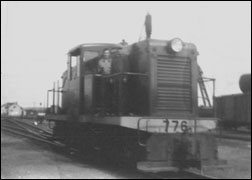 Transportation in Newfoundland and Labrador has evolved a great deal throughout the 20th century. At the turn of the century, the major way of transportation in Newfoundland and Labrador was by sea. Built in the late 1890's, the Reid Newfoundland Railway, or the "Newfie Bullet", as it became known during World War II, became a tremendous advantage to travelers in getting from one end of the province to the other. But in 1968, the Newfoundland railway closed down due to the growing popularity and use of the Trans Canada Highway. Travelling across the province in a car was faster than going across on the train. In late 1968, the "Roadcruiser" bus service was introduced and used quite a bit as well. Between 1949 and 1968, the number of motor vehicles in Newfoundland and Labrador made more than a 900% increase, and the amount of paved roads went from 121 miles to 1168 miles. Newfoundland and Labrador has always played a vital role in aviation history. Today, near the end of the 20th century, transportation by air is an extremely important means of getting around.
By Land
An excerpt taken from an interview with Mrs. Ruth Anthony:
In St. Anthony very few people had cars. In the early, early years people used dog team in the winter. In the summer people used boats or walked. The first car my family had was the one I bought in 1967. It was walk or stay home. There was no train the train didn't come up the Northern Peninsula. I was married before I ever took the train. Then it was with my beaver group. We drove out to Holyrood and brought the kids in on the Newfie Bullet in to St. John's. So that was my first train ride.
From an interview with Mr. Edgar Mudge:
One of my first trips to Corner Brook I went in the back of a pickup truck on gravel roads. When we got there we looked like snowbirds because we were so dusted over.
We hooked this guy who was going to the first community. He had a horse and sleigh. We couldn't get on because the going was so bad but he could take our suitcases. I was fortunate also in that there was a guy going in the same direction as I was. So we left the next morning from this guy's--we stayed with him that night. We knew we were going that way, and that's about it. So you had to follow the coastline. Anywhere where you thought you might take a chance, you went into the woods to cut off points, like long points that might go out a mile out into the bay. You cut across hoping you'd come out the other side. If not, you'd have to backtrack and then go out around.
When I got there, fortunately his uncle was there in a snowmobile. Not the kind of snowmobile that you're thinking about where two people sit on it and you just rev it up and go. This was a big housed-in snowmobile that could take about thirty people. With the porthole windows in the side. Bombardier made them. They had a big motor on the back and a big track and two skis. It was like a truck kind of thing only it could go over snow because it had big tracks on it and skis. You could get inside and it was cold enough to freeze you of course. He was there with one of those. Oh, man, it looked so good. So we got in that and we were off.
By Sea
From an interview with Mr. Edgar Mudge:
We've got a Northern Ranger now but this is the second time around--this would have been the old one--the old steam ship that went around the island. It was propelled by steam engines rather than diesels and it always came in lop-sided. My first teaching assignment, when I lived home, I went by way of one of these old CN coastal boats. I got on board in the morning and about twenty-four hours later we arrived at my destination which was probably about 120 miles up on the Northern Peninsula further where there were no roads. It's a beautiful drive up that coast. You're driving along by the ocean and there are the Long Range Mountains and the coastal plains and the mountains in the background.