History of Mount Pearl
This page is from a heritage partnered project. It was written in 1998 by students from Mount Pearl Junior High and edited by their teachers. It has not been vetted by the heritage website's academic editor.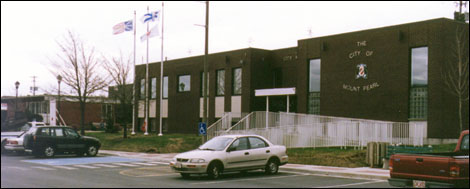 Mount Pearl was incorporated in 1955 and became Newfoundland and Labrador's third community to acquire city status on July 21, 1988. The city is located near St. John's on the western end of Waterford Valley.
Although Mount Pearl's origin dates back to 1829, it was essentially a farming estate that has only recently been transformed into an urban community. Governor Sir Thomas Cochrane granted James Pearl 1000 acres of land in the area in recognition of his distinguished career in the Royal Navy. The grant was later reduced to 500 acres. It was located at the west end of St. John's and after clearing the land and building a country home, Pearl named the property Mount Pearl.
James Pearl was born in Kelley's Cove, Nova Scotia and lived only ten years in Newfoundland. James was the youngest child of David Pearl and Eunice Allan. In 1836 James Pearl was made a Knight of the Royal Guelphic Order of Hanover by King William IV and two years later, Queen Victoria made him a Knight of the Order of the Bath. At that time, Mount Pearl was a thriving farm,which supplied St. John's markets with pigs, poultry, fruits and vegetables. In the nineteenth century Mount Pearl became a horse racing centre for the elite of St. John's.
James died suddenly on January 13, 1840 at the age of 49. He was buried in St. John's with full military honours. Upon his death, Anne Hawkins, his wife, took over his estate but their house burned down in August, 1840. Anne moved in with her sister, Emma Blamey, in St. John's until she returned to England in 1844. At her death in 1860, most of the Pearl estate was left to Mrs. Eliza Bulley and Mrs. Wix Saunders and 100 acres went to John Lester who had managed the farm for James Pearl.
Much of the original Pearl estate continued to be farmed and sections of it were purchased by Joseph Little and Alexander Smith. Smith's portion was later purchased by John Studdy and then by Andrew Glendenning in 1905. Part of the Glendenning Farm was bought by the Commission of Government in 1935 for a demonstration farm and by the 1990s it became the Agriculture Canada Experimental Farm.
The portion of the estate belonging to Joseph Little was purchased by businessman Roland Morris who named the land Glendale after a California suburb. Morris had a blueberry and partridgeberry plant at Glendale and produced Christmas trees for commercial sale.
During World War II, many people became permanent residents of Mount Pearl so that by 1945 there were 200 families living in Mount Pearl and Glendale. For many St. John's residents, it offered a place to build summer cabins. The town of Mount Pearl Glendale was renamed simply Mount Pearl in 1958. At the time of its incorporation in 1955, there were 1500 residents. A comprehensive town plan was drawn up in 1958 and in the early 1960s several residential housing developments began. By 1968 the population had grown to 5,000.
From 1960 to 1978, the town council developed municipal services which improved considerably with the beginning of property taxes in the 1970s. By 1976 the town boasted 11,300 residents. The boundaries of the community expanded in 1982 to include Donovans Industrial Park. Mount Pearl residents found employment in light manufacturing, wholesale distribution and trucking firms in the Industrial Park.
During the past thirty years Mount Pearl has become one of the fastest-growing communities in Newfoundland and Labrador with a current population exceeding 25,000. It has a high employment rate, a well-educated, young population, and thriving educational and recreational facilities.