Mosquito School House (Bristol's Hope)
One of the last of its kind in Newfoundland, the Mosquito School in Bristol's Hope, Conception Bay, is a rare example of what wooden schools in outport communities looked like in the 1800s.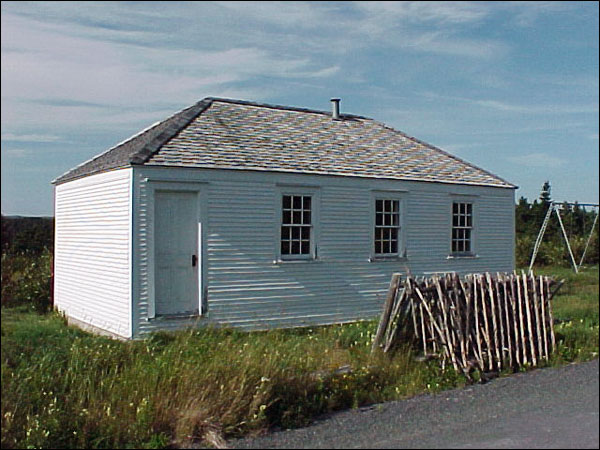 Mosquito School House, Bristol's Hope, NL
The building offers a good example of the design and construction of one-room school houses in 19th-century Newfoundland.
© 1998 Heritage Foundation of Newfoundland and Labrador
A local minister by the name of Kingwell built the school, possibly between 1818 and 1828, to serve the needs of the 360 people inhabiting Mosquito, as Bristol's Hope was known at the time. Like most schools in rural Newfoundland, it only had one room and one teacher for grades, K-11.
After using it as a school for more than 100 years, the United Church converted the structure into a church. It was also used as a site for community meetings and social gatherings.
The Mosquito School does not stand at its original location. Sometime between 1850 and 1870, the school was moved to a site farther down in the valley. In recent years, the age of the building began to show: the original wooden shingles were replaced with asphalt shingles, and repairs were made to the foundation and the exterior.
In June 1988 the building was recognised as a Registered Heritage Structure. Today it is used for a variety of purposes including social events. It illustrates what small community schools looked like a century ago.
---
Also view the Mosquito School House Registered Heritage Structure on the Heritage Foundation of Newfoundland and Labrador web site.
The Newfoundland and Labrador Heritage Web Site has on its site only a portion of the registered heritage structures in Newfoundland and Labrador. To view a complete list or search for a particular structure visit the Heritage Foundation's Property Search page.