Loyal Orange Lodge (Bonavista)
Ronald Strathie designed and built the Loyal Orange Association Hall in 1907. It is two stories high with a four-storey domed tower and is considered one of Newfoundland's finest wooden structures. As in many rural communities, the lodge building in Bonavista was a dominant structure. Social historians Cecil J. Houston and William J. Smyth have described Bonavista's Orange Hall as "the most remarkable in the Orange world."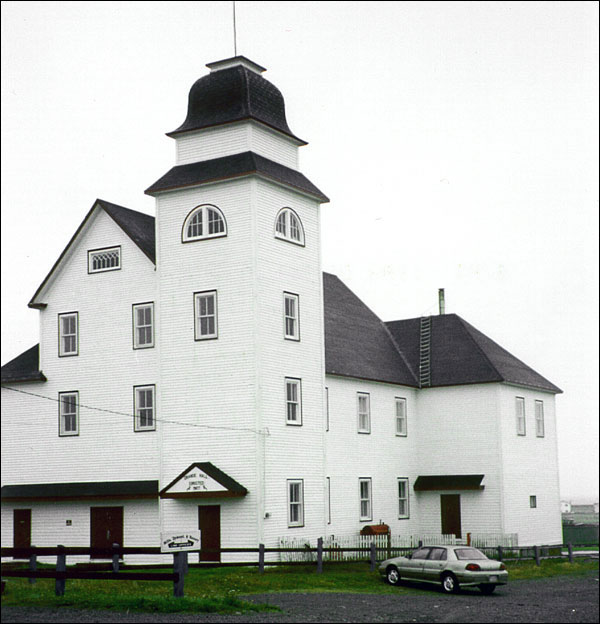 Loyal Orange Lodge LOL #4, Bonavista, NL
The lodge is one of the finest examples of fraternal hall architecture in Newfoundland and Labrador and may be the largest gathering hall constructed of wood in Canada.
© 1998 Heritage Foundation of Newfoundland and Labrador
The hall served 475 Orangemen in Bonavista, making it the largest Orange Lodge in North America at the time. Although membership in the Lodge has declined, the building remains one of Bonavista's and Newfoundland's most striking landmarks. Local fishermen traditionally used the building as a reference point for their return from the fishing grounds. The hall was also the focal point for concerts, political events and community social occasions.
It was at the hall in 1912 that William Coaker, the leader of the Fisherman's Protective Union (FPU), launched the manifesto that became known as the "Bonavista Platform." With the slogan of "To each their own," Coaker and the FPU launched an assault on Newfoundland's political, economic and social relationships. The crusade started in 1908, but it was after the "Bonavista Platform" in 1912 that the movement began to make significant strides. The movement lost momentum during the 1920s, but lasted for several more decades.
The Heritage Foundation designated the Loyal Orange Association's Hall in Bonavista a Heritage Structure in May 1997.
---
Also view the Loyal Orange Lodge LOL #4 Registered Heritage Structure, and the Loyal Orange Lodge LOL #4 Municipal Heritage Site on the Heritage Foundation of Newfoundland and Labrador web site.
The Newfoundland and Labrador Heritage Web Site has on its site only a portion of the registered heritage structures in Newfoundland and Labrador. To view a complete list or search for a particular structure visit the Heritage Foundation's Property Search page.