Lloyd George House (Dildo)
Built in 1885, the Lloyd George House in Dildo is a landmark in the community and a symbol of the lasting influence of the family.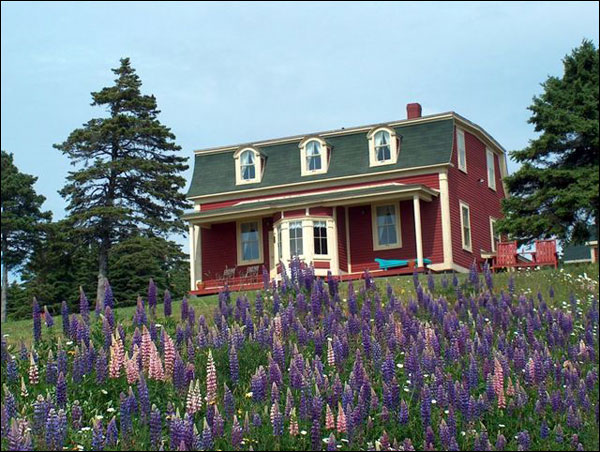 Lloyd George House, Dildo, NL
The dwelling is a beautiful example of a small scale Second Empire home.
© 2004 Heritage Foundation of Newfoundland and Labrador
The George family came to the Dildo area in the early 1800s with Edward George, a native of Wales. However, it was his son, Thomas, and his grandson, Albert, who made their mark in the community. Thomas was a trader and a police constable in the nearby community of New Harbour; his billy-stick is still owned by the family. In 1867 he obtained a grant of land to construct a house. Thomas George died in 1878.
Albert George, born in 1842, became a successful local merchant, with a general store and four schooners. He also owned two smaller shops in Dildo that closed because of credit problems. Eventually all of his businesses ran into credit problems and following the Newfoundland bank crash of 1894, his remaining businesses closed.
Before this happened, Albert managed to build the house that stayed in his family for more than 100 years. Built in 1885 in the Second Empire style, it is one of the best-known landmarks in the Dildo area. The two-storeyed wooden structure with three dormer windows has changed little since it was built, except for a veranda added in 1931. The house served as the local post office from 1920 until 1958.
Albert George passed away in 1929. The last George to own the house was Lloyd George, who kept detailed records of his family's history. Eventually, Rosanna and Fred Tizzard bought the property.
Today the Lloyd George House is used as a bed and breakfast. It became a Registered Heritage Structure in September 1995.
---
Also view the Lloyd George House Registered Heritage Structure on the Heritage Foundation of Newfoundland and Labrador web site.
The Newfoundland and Labrador Heritage Web Site has on its site only a portion of the registered heritage structures in Newfoundland and Labrador. To view a complete list or search for a particular structure visit the Heritage Foundation's Property Search page.