Lawrence Cottage (Bonavista)
Lawrence Cottage is a wood frame structure, one and a half storeys high, with clapboard siding and a wood shingle gable roof. It also features a central peaked dormer above the main entrance, which once included a shallow porch. The building has a single storey linhay on the rear elevation, which provided space for a pantry and a water pump room.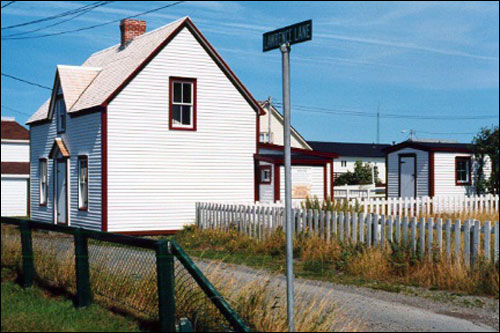 Lawrence Cottage, Bonavista, NL
The dwelling is a good example of a vernacular style of house built in Bonavista during the latter part of the 19th century.
© 2001 Heritage Foundation of Newfoundland and Labrador
The interior of the Cottage presents detailing which is probably original, including window and door trim, mantels and balustrade. The building retains its original floor plan, and since it was never modified to accommodate plumbing or central heating, the interior is remarkably intact. The building has three fireplaces, one of which (the kitchen) was retrofitted in a typical fashion to provide for the installation of a cast iron kitchen stove.
The building was constructed circa 1840 by either John Lawrence Sr., a farmer who died in 1865 at age 79, or by his son John Lawrence Jr. The latter was a tinsmith who operated a shop on the property, and married Ellen Strathie in 1843.
Lawrence Cottage was designated as a Registered Heritage Structure by the Heritage Foundation of Newfoundland and Labrador on March 31, 2001. It was recognized as a remarkably preserved example of mid-19th century architecture, and one of the earlier examples of the centre front peak house in Bonavista.
---
Also view the Lawrence Cottage Registered Heritage Structure, and the Lawrence Cottage Municipal Heritage Site on the Heritage Foundation of Newfoundland and Labrador web site.
The Newfoundland and Labrador Heritage Web Site has on its site only a portion of the registered heritage structures in Newfoundland and Labrador. To view a complete list or search for a particular structure visit the Heritage Foundation's Property Search page.