Photo Album Provides Valuable Historical Record
From the files of The Gazette February 22, 1996.
In July 1992 the Centre for Newfoundland Studies took delivery of a collection of books and papers that had been bequeathed to the University by former Premier Joseph R. Smallwood. Included in the collection was a large leather-bound photograph album bearing the cover inscription: NEWFOUNDLAND SCENERY -- presented to Joseph Laurence Esq. by the Members of the Newfoundland Conference.
There was no date on the album, but internal evidence from the photographs indicated that some of them were taken around 1884 or 1885. There was also no indication who Joseph Laurence was; a preliminary check of Methodist Church records for Newfoundland revealed only that he was not one of the local clergy. A more thorough examination of Methodist Conference minutes proved more helpful, as each year from 1875 to 1887 there was a resolution of thanks to Laurence for his contribution to the work of the church in Newfoundland. D. W. Johnson in his History of Methodism in Eastern British America indicated that Laurence was a great benefactor of the church's missionary work in Newfoundland and that he was from East Keswick in Yorkshire, England. Correspondence with the incumbent clergy in East Keswick provided information about Laurence and the album.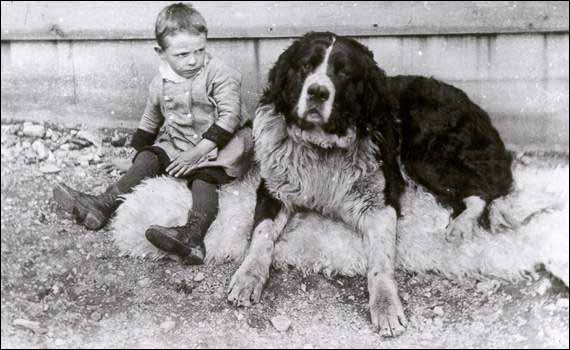 A young boy with a St. Bernard-Newfoundland dog, before 1886
This 19th-century photo was labelled "A. Leonberg St. Bernard-Newfoundland Dog"
Courtesy of Archives and Special Collections (Coll - 199, 1.136), Memorial University of Newfoundland, St. John's, NL.
Joseph Laurence was born in East Keswick, Wetherby, Yorkshire, England, in 1819. His father had operated a school in the area for some years, and after his father's death Joseph succeeded him as schoolmaster. He also conducted prayer meetings and Bible study groups, and was very involved in the affairs of the local Methodist church. He eventually established a training centre for young men of limited means who wished to undertake Methodist missionary work. Some of these men went out to British colonies in India, Africa, Australia and New Zealand, with Laurence often covering much of their expenses himself.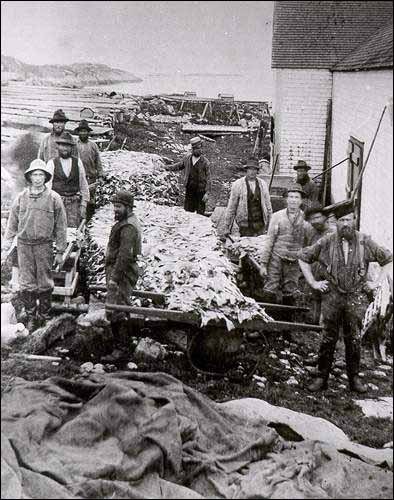 Stockpiling fish in Labrador, before 1886
Courtesy of Archives and Special Collections (Coll - 199, 1.021), Memorial University of Newfoundland, St. John's, NL
Many of the young men that Laurence trained were sent out to Newfoundland, where they served as missionary clergy and as schoolteachers. In Newfoundland Laurence was recognized as a generous benefactor of the Methodist cause. The Newfoundland Methodist Conference annual minutes for 1875 recorded "its great obligation to Joseph Laurence...for the many practical proofs he has afforded of his interest in the spiritual prosperity of this Colony, and especially for his painstaking exertion in procuring and forwarding to this country so many candidates for our Ministry." These votes of thanks continue yearly until 1887, when the Conference sent its sympathy to Laurence's family after learning of his death: "Our church in this colony owes a debt of gratitude to Mr. Lawrence [sic] which can never be discharged."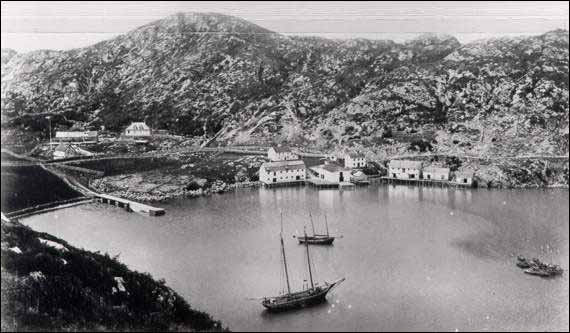 Boats docked at Ship Cove, Burin, before 1886
Courtesy of Archives and Special Collections (Coll - 199, 1.063), Memorial University of Newfoundland, St. John's, NL.
Joseph Laurence died in East Keswick in October 1886 and was buried there. A new Methodist church was built in East Keswick shortly after Laurence's death. It opened on Easter Monday 1891 and was named Joseph Laurence Memorial Chapel. It retained that name until 1981 when it became East Keswick Methodist Church. A plaque in honor of Laurence was subsequently erected in the church bearing the inscription:
To the Glory of God,
and in memory of
JOSEPH LAURENCE (1819-1886).
This Church was built
and opened in 1891.
In this village Joseph
Laurence founded
a College for Teachers
and Ministers
many of whom served overseas
notably in Newfoundland.

The photograph album was a gift of the Newfoundland Conference of the Methodist Church to Laurence sometime shortly before his death. After his death it was kept at Joseph Laurence Memorial Chapel in East Keswick until 1964. At that time the church officials thought the album should receive more attention than it was receiving packed away in East Keswick. The London Newfoundland Office was informed of the album and asked to see it. The album was then sent to Newfoundland Premier Joseph R. Smallwood who asked that it remain in Newfoundland. The Church in East Keswick agreed.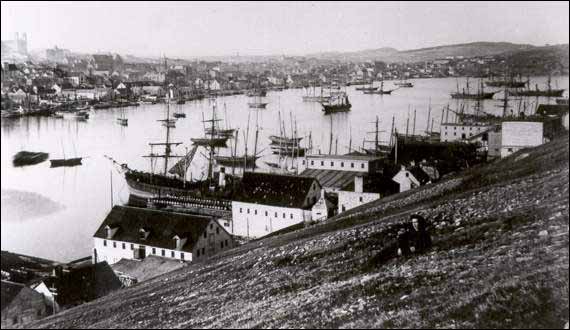 St. John's Harbour, before 1886
The city of St. John's and its harbour as viewed from the Southside Hills
Courtesy of Archives and Special Collections (Coll - 199, 1.111), Memorial University of Newfoundland, St. John's, NL.
This album of photographs appears, in part, to be the work of Simeon H. Parsons (1844-1908), one of Newfoundland's earliest professional, self-taught and award-winning photographers. The photographs are very much in the style for which Parsons was noted and cover a wide geographic area.
The album contains 168 images in a variety of sizes. There are some rare images of St. John's streets and buildings which were later destroyed in the fire that ravaged most of the downtown of the city in 1892. There are also images of people at work in the fishery, particularly on the coast of Labrador; various communities on the Burin Peninsula and on the east coast of Newfoundland; rural scenes, including rivers, lakes and waterfalls; icebergs; groups of people, particularly several gatherings of Methodist clergy, some of whom Laurence was probably responsible for sending to Newfoundland. The album is a tangible reminder of Laurence's contribution to the growth of the Methodist Church and the development of education in Newfoundland.