Joseph and Caroline Tilley Property
(Summerville)
Originally known as Indian Arm, Summerville was renamed in the early 20th century. Starting in the mid-19th century, Summerville was mainly settled by people from overcrowded harbours such as Keels and Tickle Cove, who selected the site because it was well-wooded with some agricultural potential. Soon after 1874 a major fire known locally as "Rod's Fire" destroyed most homes, and residents escaped the flames by taking their boats out into the harbour.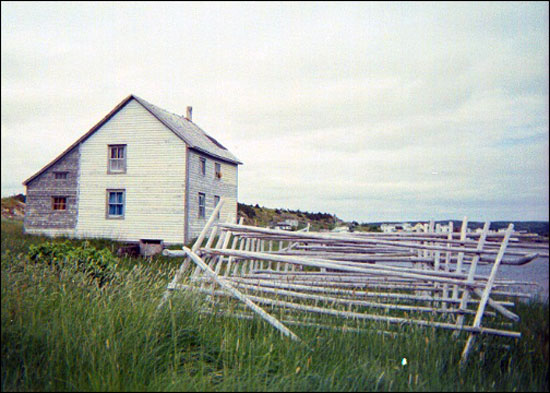 Joseph and Caroline Tilley Property, Summerville, NL
The house is a good example of a typical fisherman's property common in rural Newfoundland during the mid-19th century. A traditional 2nd generation saltbox dwelling, it is located on a large lot that would have been used for farming and animal husbandry.
© 2001 Heritage Foundation of Newfoundland and Labrador
The Joseph and Caroline Tilley property survived the conflagration, probably due to its location on a headland called Tilley's Point, separated from the rest of the community. It is believed that this saltbox-style house was constructed by Joseph Tilley sometime around 1865. The structure is said to be the oldest remaining building in Summerville, and is certainly the only remaining saltbox. The house is of vertical plank construction with bark used as insulation, and originally had a wood post foundation. It also features a curved interior staircase.
The property also features a number of outbuildings and associated structures, including an outhouse, a wharf, a stage with an interior table for cutting fish, an old shed which once held tools for mending boats and nets, a cellar and a flake presumably used for drying squid. Traditionally, fishing has been the main source of income. Sealing and the inshore cod, herring, and salmon fisheries were pursued from the time of settlement, but from the late 19th century to the 1930s the Labrador fishery was the major source of employment. Residents were also involved in the caplin, lobster and squid fisheries. The house and outbuildings represent a well-preserved example of a traditional Newfoundland property belonging to a fishing family.
Alongside these buildings is abundant land for farming, and a large grassy headland suitable for grazing livestock. Today, the livestock have vanished, and their former grazing lands have been taken over by a sizeable population of pheasant. These features, along with the cellar, abundant berries and an apple tree, suggest self-sufficiency on the part of the Tilley family.
The Joseph and Caroline Tilley property was designated as a Registered Heritage Structure by the Heritage Foundation of Newfoundland and Labrador on September 15th, 2001.
---
Also view the Joseph and Caroline Tilley Property Registered Heritage Structure on the Heritage Foundation of Newfoundland and Labrador web site.
The Newfoundland and Labrador Heritage Web Site has on its site only a portion of the registered heritage structures in Newfoundland and Labrador. To view a complete list or search for a particular structure visit the Heritage Foundation's Property Search page.