Joseph Bartlett House (Brigus)
The Joseph Bartlett House in Brigus is one of a handful of salt-box style houses remaining in Conception Bay. The salt-box is an architectural form of a house, developed from a one-and-a-half story house with a linhay. The shape is said to resemble an 18th century salt box. One of the earlier house forms in rural Newfoundland, it is quickly vanishing.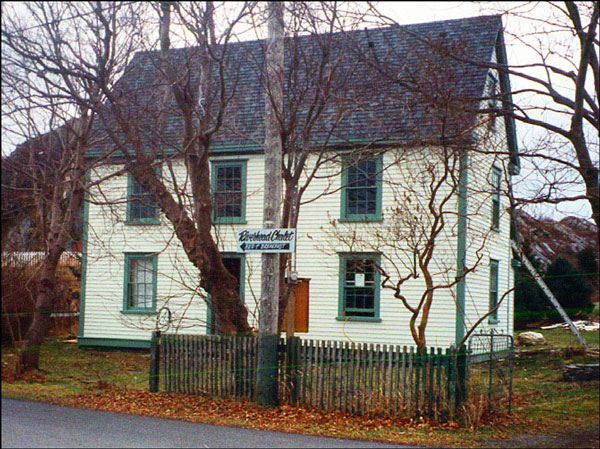 Joseph Bartlett House, Brigus, NL
The house is a good example of a type of salt-box construction in Conception Bay.
© 2002 Heritage Foundation of Newfoundland and Labrador.
Constructed circa 1850, the house bears the name of Mr. Joseph Bartlett, a planter who owned the property from 1865 up until the early 1920s. Joseph Bartlett also kept horses and carriages in a barn behind the house. Married twice, Joseph's second wife, Liza, sold all her willed properties to Joseph's brother William for the sum of one dollar in 1926.
From 1965 to 1997, the house was owned by James Henry Roberts, a fisherman on the Labrador who also kept cattle in the barn. When the Roberts family purchased the property the original barn had been torn down, leaving the house and an outhouse on the property. The Roberts constructed a new barn, partially with materials taken from a building serving as a restaurant and store located next to the current Brigus library.
The property on which the house sits consists of a large meadow bordered by a narrow stream. The meadow boasts a variety of fruit trees, including apple, damson plum, green gage plum, and other varieties, and has also been used for several generations as a vegetable garden.
The current owners of the structure, Juanita and Sean O'Leary, have undertaken a massive restoration project to return the house to its original 19th century appearance. The house had been completely renovated over the years, with the original salt-box style roof cut down to a very low-pitched roof circa 1965. The restoration project has seen the complete rebuilding of the original salt-box roof.
The Joseph Bartlett House was designated as a Registered Heritage Structure by the Heritage Foundation of Newfoundland and Labrador in October 1998.
---
Also view the Joseph Bartlett House Registered Heritage Structure on the Heritage Foundation of Newfoundland and Labrador web site.
The Newfoundland and Labrador Heritage Web Site has on its site only a portion of the registered heritage structures in Newfoundland and Labrador. To view a complete list or search for a particular structure visit the Heritage Foundation's Property Search page.