19th-Century Internal Migration
Many Newfoundland and Labrador people often had to leave their communities in search of new or better ways to support themselves and their families. During the 19th century, migrants often moved to new areas to either exploit natural resources not available near their homes or take advantage of new job opportunities. While some men and women traveled to other countries, internal migration became a prominent feature of Newfoundland and Labrador society, as families moved from one part of the country to another.
Many people chose to migrate on a seasonal basis to exploit fish and other coastal resources in the spring and summer before moving inland during the colder months to harvest wood, hunt caribou, and engage in other activities. It also became common for some Newfoundland families to leave the island during the summer months to catch fish off the Labrador coast.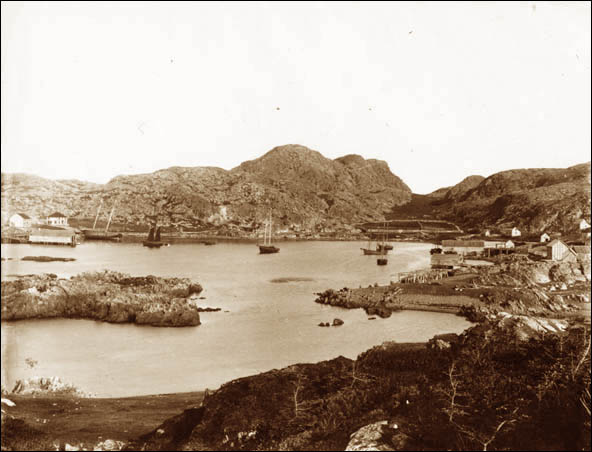 Lion's Den, Fogo, pre-1892
In the 19th century, many Newfoundland and Labrador people left coastal settlements during the winter to move inland and harvest wood, hunt caribou, and engage in other activities.
Photo by Robert Holloway. Reproduced by permission of Archives and Special Collections (Coll. 137 13.12.008), Queen Elizabeth II Library, Memorial University, St. John's, NL.
Not all moves, however, were seasonal. As St. John's and other centres on the Avalon Peninsula became overpopulated, many residents moved west to settle in less crowded bays and outports. The emergence of mining and forestry industries during the late 1800s created new employment opportunities and attracted workers from across the country. Some stayed in the industrial towns on a temporary basis, while others moved there permanently.
Population Distribution
Most Newfoundland and Labrador people lived in small coastal settlements during the 19th century, with the largest population concentrations occurring on the Avalon Peninsula at St. John's and Conception Bay. Settlement of the island's interior did not begin until the end of the century, when construction of the railroad made it more accessible. The vast majority of Labrador people also lived in coastal areas for much of the year, although the Innu made regular migrations into the interior to hunt caribou.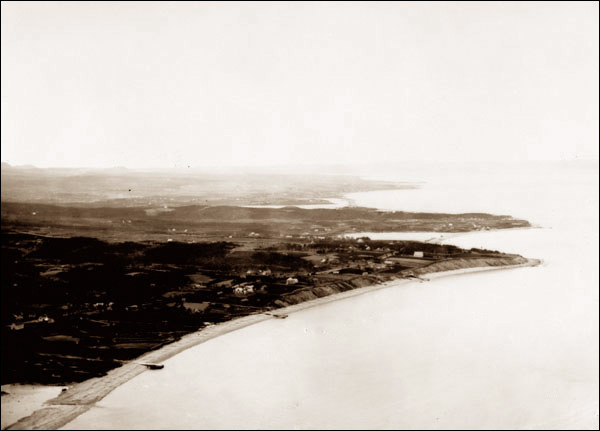 Conception Bay, NL, 1873
Most Newfoundland and Labrador people lived on the Avalon Peninsula at St. John's and Conception Bay.
Photo by T.C. Weston. Courtesy of Library and Archives Canada (
PA-038034
), Ottawa, Ontario.
The dispersal of the country's population in small coastal settlements is reflective of its fishing economy. European immigrants were primarily interested in Newfoundland and Labrador's cod and other marine resources and as a result settled on the tips of peninsulas and in other coastal areas that would make it easier for them to reach fishing grounds in small open boats.
Although settlement patterns accommodated the country's fishing economy, they also created a variety of problems for permanent residents. Winters at exposed coastal areas were cold and windy, making it difficult for people to heat their wooden and often poorly insulated homes. Many residents depended on open fireplaces as their primary heat source and harvesting enough firewood to last the winter became a recurring a problem in the increasingly depleted forests near coastal settlements.
Finding an adequate variety of food sources was another obstacle to living year-round in coastal areas. Poor soil conditions made subsistence farming difficult and few settlers kept cows, goats, pigs, or other animals. Heavy reliance on a single-resource industry – the fishery – for their livelihoods made coastal residents vulnerable to outside forces over which they had no control. If the cod stocks were poor one year, or if prices fell on the international market, then the country's fishing people would have little to fall back on for survival.
Seasonal Migration
To compensate for limited resources available near the coast and inhospitable winter living conditions, many Newfoundland and Labrador people adopted a system of seasonal migration. After the fishing season ended each fall, individuals, families, and in some cases entire communities left their homes and moved inland or to sheltered bays where the climate was milder and more varied resources existed.
Although some migrants travelled hundreds of kilometres by boat to their new homes, most winter communities were located about 20 kilometres from coastal settlements and were either inland or at the bottom of harbours and peninsulas. Some settlers journeyed by dogsled or foot, while others arrived at their new communities by sea. Most brought a variety of belongings with them, including cooking utensils and supplies, wood-cutting tools, hunting equipment, and other provisions.
Migrants often spent between four and seven months at their inland communities before returning to the coast each spring. Their winter homes, also known as winter tilts or bay tilts, were small wooden cabins covered with sod, saplings, or strips of bark. Settlers exploited a variety of local resources throughout the winter – they hunted caribou and birds, trapped furs, and fished in frozen lakes and ponds. The most important activity of all, however, was cutting firewood and settlers almost always built their winter homes in or near forested areas. This not only gave them access to a constant supply of vital firewood, but also made it easier for them to haul logs from the cutting site to their houses. Once the winter ended, settlers left their tilts to return to the coast and engage in the cod fishery.
Labrador Fishery
Another form of seasonal migration took place in the summer months, as fishers left their island communities to harvest cod off the Labrador coast. This became a common practice after 1815, when cod stocks became depleted in some Newfoundland waters, particularly those where people had been fishing the longest, such as within Conception, Trinity, and Bonavista Bays. By travelling to more plentiful fishing grounds off the Labrador coast, fishers from bays where the cod stocks were depleted could still earn a living.
Fishers who travelled north had to spend weeks or even months away from home in order to make the journey a profitable one and often brought their families with them, both for companionship and to help cure the catch. The Labrador fishery consisted of two groups: stationers and floaters. Stationers set up living quarters on shore and fished each day in small boats, while floaters lived on board their vessels and sailed up and down the Labrador coast. Most participants of the Labrador fishery came from Conception Bay and areas along the island's northeast coast where stocks were the most depleted. In 1884, for example, almost half of all people in the district of Carbonear spent their summer at Labrador. Fishers often left the island in June or July and returned by the fall.
Permanent Resettlement
In addition to seasonal migrations, some Newfoundland and Labrador people left their communities to permanently settle elsewhere in the country. Steady population growth at St. John's and Conception Bay prompted some people to leave these areas and settle in less crowded communities on the island or in Labrador where there was less competition for marine and other resources. At the same time, some outport residents moved to larger centres on the Avalon Peninsula to take advantage of employment and social opportunities not available in remote areas.
Workers also relocated to areas where a new mine, sawmill, or other development opened to offer employment. The establishment of a copper mine at Tilt Cove in 1864, for example, attracted hundreds of workers from elsewhere in the country. The community's population grew from 17 in 1857 – the year prospectors discovered copper deposits there – to 768 in 1869. The opening of a copper mine at Little Bay in 1878 brought dramatic population changes to that area as well. Although the community did not appear in the 1874 census, it boasted a population of 1,538 by 1884. Similarly, the start of iron ore mining operations at Bell Island in 1895 attracted hundreds of workers and helped establish the mining town of Wabana. While some miners and their families settled permanently at Wabana, others commuted from Conception Bay.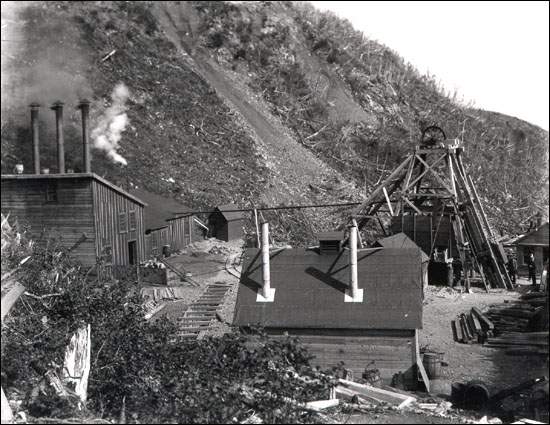 Tilt Cove Mine, ca. 1900
The establishment of a copper mine at Tilt Cove in 1864 attracted hundreds of workers from elsewhere in Newfoundland and Labrador.
Photographer unknown. Reproduced by permission of Archives and Special Collections (Coll. 137 13.06.001), Queen Elizabeth II Library, Memorial University of Newfoundland, St. John's, NL.
The opening of commercial sawmills in Newfoundland and Labrador during the late 1800s also affected internal migration patterns. Construction of the trans-island railway in the 1890s made some of Newfoundland's interior forests accessible to wood-cutting operations and prompted a variety of sawmills to open. By the end of the century, operators built mills or established logging communities at Botwoodville, Norris Arm, Glenwood, Millertown, Terra Nova, Benton, and various other locations along the railway. A Nova Scotian business, the Grand River Company, also established a mill and lumber camp at the Labrador community of Mud Lake (also known as Grand Village) in 1902, which attracted dozens of workers to settle in the area. By 1911, the community had a population of about 80 and supported a school and church.
Central and western regions of the island became increasingly populated during the early decades of the 20th century as the railway and its spur lines made more areas open to industrial development. As more mines and forestry operations opened, they in turn gave rise to a variety of new settlements, including the paper towns of Grand Falls and Corner Brook and the mining town of Buchans, all three of which are still populated today.