Health-Care Organizations
In the years leading up to the Commission of Government, charities, churches, and nongovernmental organizations did much to promote public health and welfare in Newfoundland and Labrador. They ran hospitals, opened schools, established nursing stations, and distributed food and clothing to the poor. Groups like the International Grenfell Association and Newfoundland Outport Nursing and Industrial Association (NONIA) significantly improved conditions in rural parts of the country, while the Child Welfare Association focused its energies on aiding the nation's young.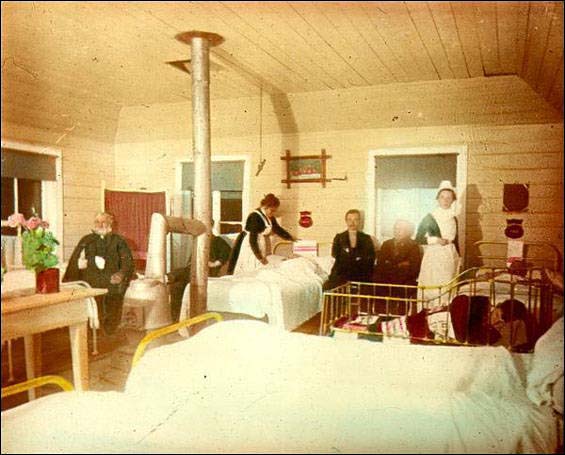 Battle Harbour Hospital, ca. 1920
The Grenfell Mission established its first Labrador hospital at Battle Harbour in 1893.
Photographer unknown. Reproduced by the permission of the Maritime History Archive (
PF-323.009
), Memorial University, St. John's, NL.
Although the Commission dramatically increased the state's involvement in health care after 1934, it greatly benefited from the existence of nongovernmental health-care organizations. NONIA, for example, provided the state with eight experienced nurses already familiar with outport life, while the St. Clare's Mercy Hospital, under the jurisdiction of the Roman Catholic Church, and the Salvation Army Grace Maternity Hospital continued to provide much-needed hospital space in the country's capital.
The Grenfell Mission
The Grenfell Mission (later the International Grenfell Association) sought to make quality health care available to residents in Labrador and northern Newfoundland, where almost no medical and other social services existed. When mission founder Sir Wilfred Grenfell first visited Labrador in the summer of 1892, he was shocked to observe widespread poverty, malnutrition, and disease. Upon his return to England later that year, he began a fundraising campaign that allowed him to build a hospital at Battle Harbour in 1893. Others quickly followed at Indian Harbour (1894), St. Anthony (1901), North West River (1915), and elsewhere.
Each of the mission's hospitals employed at least one doctor and a small staff of nurses. The mission also operated a series of medical ships, which visited coastal communities to treat sick or injured patients and deliver medical supplies and other goods. In 1899, the mission acquired the hospital vessel Strathcona, one of the world's first vessels equipped with x-ray equipment. The ship also contained a dispensary, emergency cots, and space for a mission hall. Alongside mission hospitals at Battle Harbour, Indian Harbour, and St. Anthony, the Strathcona treated about 3,000 people annually.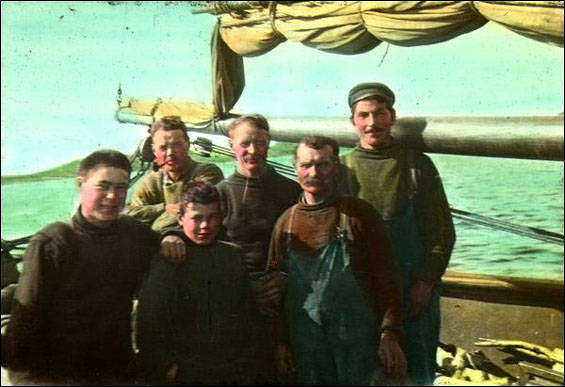 Crew of the Strathcona, July 1921
In 1899, the Grenfell Mission acquired the hospital vessel Strathcona to treat patients along the coast of Labrador and northern Newfoundland.
Photographer unknown. Reproduced by the permission of the Maritime History Archive (
PF-323.001
), Memorial University, St. John's, NL.
In addition to providing medical services, the Grenfell Mission encouraged agriculture, education, and industrial development. It built schools in southeastern Labrador, helped send promising students to well-respected colleges in the United States, and operated an orphanage and boarding school after an influenza epidemic in 1918 left many Labrador children without parents.
The mission also promoted agricultural development in Labrador. It hoped that if local residents grew their own crops, they would become more self-sufficient and less dependent on merchants for groceries and other supplies. It also hoped that access to nutrient-rich vegetables would decrease the occurrence of deficiency diseases like beriberi and rickets among the local population. However, poor soil and weather conditions, coupled with the migratory lifestyle of most Labrador residents, undermined many of the mission's attempts to promote land cultivation.
To foster industrial development, the mission helped establish lumber mills, co-operative stores, and a commercial handicraft industry that sold hooked rugs, knitted goods, carvings, and other items at Grenfell Handicraft Shops in Canada and the United States. Mission members hoped these efforts would supplement local incomes and diversify Labrador's economy into areas other than the fishing and trapping industries.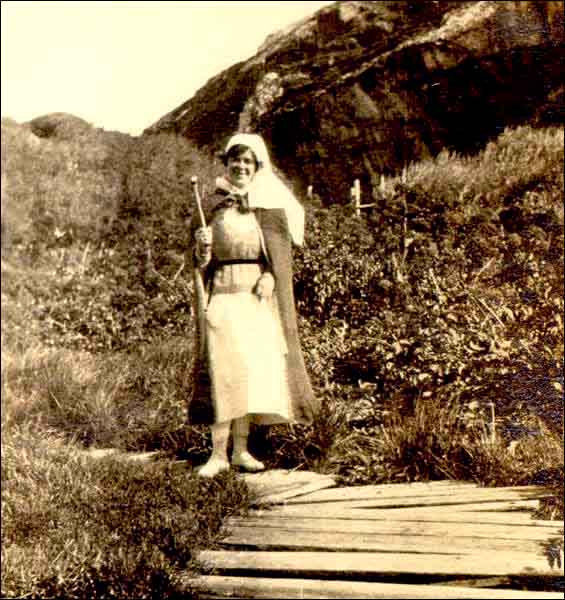 A Grenfell Mission Nurse, ca. 1920s
The Grenfell Mission sought to make quality health care available to residents in Labrador and northern Newfoundland. It also encouraged agriculture, education, and industrial development.
Photographer unknown. Reproduced by the permission of the Maritime History Archive (
PF-325.093
), Memorial University, St. John's, NL.
Although the mission did much to promote social and physical welfare in Labrador, some historians argue it also clashed with cultural practices and forced many families to alter their traditional ways of life. At the turn of the 20th century, many Labrador residents led a migratory lifestyle based upon the seasons – they fished in the summer and trapped in the winter. However, Grenfell hospitals, schools, farms, and other services encouraged a centralized population located within traveling distance of mission facilities. Most Grenfell workers also came from the United Kingdom or North America and were unfamiliar with Labrador customs; although well-intentioned, they often imposed their own cultural practices on the local population. Nonetheless, the Grenfell Mission was overwhelmingly well-received by Labrador residents.
Newfoundland Outport Nursing and Industrial Association
The Newfoundland Outport Nursing and Industrial Association (NONIA) helped provide nursing, midwifery, and other medical services in rural parts of the island by selling knitted and woven goods. Prior to its formation, few nurses existed in outport Newfoundland; between Hermitage and Port aux Basques, for example, not a single nurse serviced 6,500 residents living along 240 kilometers of coastline.
In 1920, Lady Constance Maria Harris, wife of Newfoundland and Labrador Governor Sir Alexander Harris, formed the Outport Nursing Committee – a precursor of NONIA – along with several prominent citizens and medical practitioners. The committee's mandate was to place fully trained nurses in isolated communities where no medical services existed. The government agreed to pay for half of all nurses' salaries if the committee could finance the rest through its various fundraising efforts; committee members also hoped patients who benefited from the program would donate $1 a year.
By the end of 1920, the committee hired six nurses, almost all from England, under a two-year contract and posted them across the island at Lower Island Cove, Daniel's Harbour, Hant's Harbour, Joe Batt's Arm, Rose Blanche, and Hodge's Cove. However, when the nurses' contracts expired in 1922, four left the island and Lady Harris also returned to England after her husband's term as governor expired that same year.
Lady Elsie Allardyce, wife of the country's new governor, decided to restructure and expand the struggling organization. Under her leadership, the committee hired outport women to knit sweaters and other goods, which it in turn sold to the public and used the profits to pay for nurses' salaries. It formed local committees across the island to organize knitting and weaving efforts, distribute wool, and pay workers; a central committee at St. John's supplied outport stations with materials, instructions, and funds, and received all finished goods for sale to the public.
On 24 January 1924, the Outport Nursing Committee changed its name to the Newfoundland Outport Nursing and Industrial Association at a public meeting in St. John's. NONIA became the registered trademark for all the association's craftwork and its nurses were known throughout the country as NONIA nurses. Alongside providing quality medical care, the association also raised the standard of living for its weavers by paying them cash wages. This was a rare opportunity in many outport communities, and a much-needed source of income during the Depression.
Reverend Hugh MacDermott writes of NONIA's impact on one knitter in his book, MacDermott of Fortune Bay: "When I gave the payment to the first knitter she looked at the amount of money – ten dollars – with eyes that sparkled and then were filled with tears. Next day I met her on the road and said, 'Were you satisfied yesterday with your pay?'"
"She replied, 'I don't know how I got home, whether on my head or on my heels. We had nothing in the house; Will has made nothing this year. I bought flour and other things we sorely needed.'"
When the Commission of Government took power in 1934, it assumed control of all nursing services in Newfoundland and Labrador, including those offered by NONIA. Although the association's eight nurses transferred to the Department of Health and Public Welfare, its knitters and weavers continued their work under the NONIA trademark. In the coming years, the association expanded its industrial operations and provided increasingly more outport women with a source of income. When Newfoundland and Labrador joined Canada in 1949, 840 workers were producing NONIA crafts in 50 communities; the association continues today as a not-for-profit organization.
Child Welfare Association
Although the Child Welfare Association (CWA) formed in 1921 to provide for the physical and social needs of the nation's young, it origins lay in the Women's Patriotic Association (WPA), a charitable organization active during the First World War. Once hostilities ended in 1918, the WPA turned its attention to promoting child and maternal health care. It began a fundraising campaign to hire three community nurses, distribute clothing to the country's poor, and open a Child Welfare Centre at St. John's.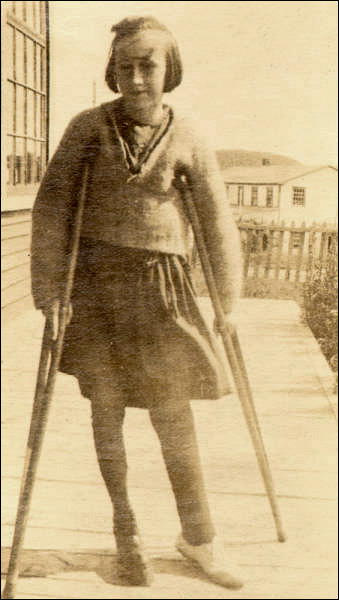 Injured Girl at the St. Anthony Hospital, ca. 1920s
The Child Welfare Association (CWA) formed in 1921 to provide for the physical and social needs of young people in Newfoundland and Labrador.
Photographer unknown. Reproduced by the permission of the Maritime History Archive (
PF-325.145
), Memorial University, St. John's, NL.
Recognizing that most of its post-war efforts centred on improving child health, the WPA disbanded in January 1921 and reorganized as the CWA the following May. The group continued its efforts to promote child welfare and placed particular emphasis on reducing the nation's high infant mortality rate, which reached 146.34 per 1,000 live births in 1920. Government and medical officials believed malnutrition was one of the chief factors resulting in infant deaths and pointed to a scarcity of milk as a major problem. To remedy this, the CWA helped establish a series of milk stations in St. John's.
The Commission of Government implemented a similar program in the 1930s, when it distributed the nutritionally rich beverage cocomalt to Newfoundland and Labrador schoolchildren for free. The new government proved sympathetic to many of the CWA's concerns and did much to improve child welfare during its 15-year tenure. It was also able to build on a variety of other existing health-care and social services nongovernmental organizations established in Newfoundland and Labrador during the first two decades of the 1900s, such as increasing medical services in rural areas and promoting health education in the country's schools.
Private Companies
In addition to non-profit organizations, some mining and paper companies in Newfoundland and Labrador also offered medical and other social services to employees. This was especially true of large firms like the American Smelting and Refining Company (ASARCO) and The Anglo-Newfoundland Development (AND) Company that established company-owned towns to house mine and mill workers. At Buchans, for example, ASARCO built and operated the town's only hospital to provide medical services for mine employees and their families, while the AND Company opened a hospital at Grand Falls for mill workers. The companies also built schools and roads in their towns and supplied residents with water, sewerage, and other services.
Although the country's logging camps provided notoriously poor working and living conditions for workers in the early 20th century, at least one camp operator, Harry Crowe, was an exception to the norm. In 1923, Crowe founded a logging community at Hampden, White Bay that provided a variety of social services for workers and their families. These included access to quality medical care as well as to educational and sanitary facilities, which included camp showers and night classes.