Francophone Bibliography
The following bibliography consists of two parts: "Early French Presence in Newfoundland and Labrador" and "Modern French Presence in Newfoundland and Labrador". The former deals mainly with France's participation in the fishery, but also contains entries dealing with French settlement, map-making and so on. The second part of the bibliography contains, for the most part, twentieth century entries and relates to the life of French-speaking Newfoundlanders and Labradorians in various ways: linguistics matters, educational and political issues or culture and folklore.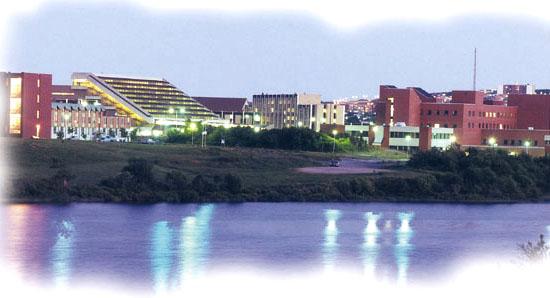 Queen Elizabeth II Library
A view of Memorial University with a brightly-light Queen Elizabeth II Library in the left-centre.
© 1997 Photographic Services, Memorial University of Newfoundland, St. John's, NL.
The bibliography is non-exhaustive and draws from the holdings of the Queen Elizabeth II Library and the A.C. Hunter Library (Arts and Culture Centre). Entries have not been taken directly from the holdings of the Centre d'Études franco-terreneuviennes (CEFT), which contains works relative to French Newfoundlanders, although both CEFT and the present bibliography no doubt contain common information.
Early Francophone Bibliography

Modern Francophone Bibliography