Making a Mark on Education
From the files of The Gazette August 20, 1998.
If you attended Bishop Spencer College between 1952 and 1957, she would have been your headmistress; if you attended Memorial University between 1959 and 1978, she may have taught you mathematics. It was as a teacher that Evelyn Millard made a lasting impression on many Newfoundland students.
Evelyn Dorothy Millard
Courtesy of Archives and Special Collections (MF - 048), Memorial University of Newfoundland, St. John's, NL.
Evelyn Dorothy Millard was born Nov. 21, 1914, in England, the daughter of Arthur and Edith Millard. She received her early schooling at Kingsbury County School in Middlesex, and at 19 entered King's College (London). She graduated with a bachelor of science (hons.) degree, majoring in mathematics, in 1936. An extra year of schooling at the Institute of Education brought her a London teacher's diploma in 1937.
Then it was off to join the workforce. She spent four years (1937-1941) as second assistant in mathematics at the Cambridge and County High School for Girls, before becoming head of the Mathematics Department at Ware Grammar School in 1942.
A dedicated teacher who kept abreast of her field, Millard was one of a select group of mathematicians assigned to special work in connection with weapons research during the Second World War. She returned to King's College after the war, graduating in 1947 with a master of science degree in mathematics.
The Church of England in Newfoundland had operated Bishop Spencer College, a school for girls in St. John's, since 1845. In 1952 Violet Cherrington, who had been head mistress of the school since 1922, announced her retirement at the end of the school year. Evelyn Millard applied for the position and when school opened in September she was the new head.
Under the jurisdiction of the Church of England, the school catered mainly but not exclusively to students who were adherents of that denomination and included all grades from Kindergarten to Grade 11. When Millard arrived, there were 560 students who were taught by 19 teachers, approximately half of whom were trained in England, while the others were mainly graduates of Bishop Spencer and the St. John's Normal School or Memorial University College.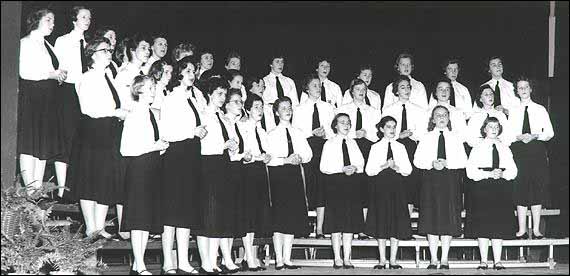 Bishop Spencer choir
Courtesy of Archives and Special Collections (Coll - 048), Memorial University of Newfoundland, St. John's, NL.
The 1950s were challenging years for Millard, both in her teaching and her administrative responsibilities. With Newfoundland's Confederation with Canada in 1949 came changes in education, including a move in St. John's toward more centralized schools. While the schools remained under the control of the respective denominations, there was a desire to move away from several smaller schools offering all grades towards larger, more specialized schools oriented toward divisions along primary, elementary and high school grades.
Millard, a product of the English school system, was strongly opposed to the Church of England School Board's decision to remove grades 10 and 11 from Bishop Spencer (and the boys school, Bishop Feild) and have both girls and boys attend a new, centralized high school. She believed that these two grades should remain at Bishop Spencer, where the girls would receive the complete and well-rounded education needed for graduation into the adult world. Removing the girls from the influence and nurturing of teachers who had instructed them since Kindergarten would retard their education and proper development in the two final, most important grades of their schooling. When she was unable to change the minds of the men who made up the school board, she did the only thing she could. At the end of the 1957 school year, she tendered her resignation.
Her teaching philosophy, as expressed in a message to the Bishop Spencer students in 1954, helps to explain why she took such a drastic step. She wrote: "As you grow and develop and progress upwards through the school you will, we hope, unknowingly absorb something of the many influences which surround you not the least important of which is that "something" called tradition. Tradition is not merely a continuing of custom. It is at once alive and possessed of the pervading quality of an essence; it is constantly being added to by the contributions of every one of those who grow up within its sphere."
After she left Bishop Spencer College, Millard made two major changes in her life. First, on Oct. 19, 1957, she married St. John's businessman Ralph Matthews, a widower with a 15-year-old son, whom it is said she met playing bridge. Then, in 1959 she embarked upon a new career. She returned to her primary interest in mathematics, joining the Department of Mathematics at Memorial University of Newfoundland as a special lecturer. She was made assistant professor in 1961 and associate professor in 1971. She retired at the end of the 1977-1978 school year.
Evelyn Matthews was a dedicated teacher who left a lasting impression on all who came into contact ith her. At her time of her death, Sept. 20, 1983, Dr. John Burry, then head of the Mathematics Department remarked: "She is perhaps best remembered at Memorial for her outstanding teaching capabilities and in this regard set a model for many of us."
In addition to her teaching duties, Evelyn Matthews was a involved in community affairs. She regularly gave talks and presentation to groups and organizations as varied as the Girl Guides, the Business and Professional Women's Association and the Humanities Association of Canada, on a wide range of topics. She was an avid theatre-goer, regularly attending performances of stage productions, opera, ballet and classical and vocal music. She travelled extensively and kept journals of her travels.
After Matthews death, her husband presented her papers to the Centre for Newfoundland Studies. They provide a very accurate picture of her very interesting life, including correspondence, both personal and professional, dating back to 1934. There is a large collection of theatre programs, from both local and out-of-province performances, which have her comments on the productions written on the programs. There are copies of the talks she gave, of her lecture notes, of speeches given at various Bishop Spencer functions, her travel diaries, approximately 100 photographs, and many other items documenting her full and active life. The papers provide a record of the life of a teacher who stood by her personal beliefs when faced with change she could not accept, but then had the intelligence and opportunity to go on with her teaching in a new venue, enriching the lives of countless students in the process.