What's all the Fuss About Ethel Dickenson?
From the files of The Gazette July 06, 1995.
On the small green space which divides Ordnance Street from Cavendish Square in front of the Hotel Newfoundland in St. John's stands a monument dedicated to Ethel Dickenson. But who is Ethel Dickenson and why is this large granite monument dedicated to her memory?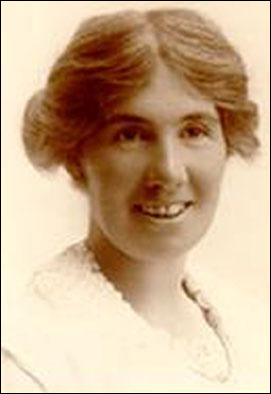 Ethel Gertrude Dickinson
Courtesy of Archives and Special Collections (MF - 329), Memorial University of Newfoundland, St. John's, NL.
Ethel Gertrude Dickenson was born in St. John's July 6, 1880, the eldest of the three daughters and one son born to Selina Pitts and Gustavas Henry Dickenson. She was educated at the Methodist College in St. John's, graduating with a London Matriculation Diploma in 1896. She is reported to have gone to Chicago where she obtained a teaching certificate, and to have returned to St. John's around 1900.
Specific dating of Ethel Dickenson's career is quite difficult as various sources provide conflicting dates. The Yearbook and Almanac of Newfoundland first lists her as a staff member of the Methodist College in 1902 where she taught shorthand and typing for two years before adding other teaching responsibilities in the Upper School to her workload. She resigned from the Methodist College, probably in 1912, and enrolled in Macdonald College at Guelph, Ont., where she did graduate courses in domestic science. After completing these courses, she returned to St. John's in 1914.
Shortly after her return, Dickenson began teaching at the Domestic Science School in St. John's. It was the only interdenominational institution in Newfoundland at that time, being under the supervision of the three superintendents of education. The school was located in St. Vincent's Roman Catholic School on the north side of Harvey Road, opposite the Methodist College. It had been established a few years earlier (probably 1912 with a Miss Wright as first teacher) to provide household skills, cooking, baking, and nutrition education to students from the Methodist College, Bishop Spencer College and the Roman Catholic convent schools.
According to several sources, Dickenson's stay at the Domestic Science School was short, as she is reported to have gone to England in 1915 and remained there until 1918. This conflicts somewhat with an article written by Dickenson about the school that was published in the 1916 edition of The Distaff. In it she describes the school in the present tense and gives every indication that she is still working there. It is possible that she wrote the article in 1915 and was still working at the school at the time, but that by the time the magazine appeared in 1916 she had already moved to England.
Sometime during 1915 Dickenson went to England to visit her aunt, Gertrude Ayre. It is not known if she had planned to stay in England for a prolonged period but once there she soon became involved in volunteer work, spending much time visiting recuperating soldiers at the various hospitals and nursing homes near London. She later became a full-time volunteer at the Ascot Hospital, possibly as a member of the Volunteer Aid Detachment (VAD), the corps of para-nurses who were a vital part of the war effort. As a volunteer she spent the next several years caring for sick and wounded soldiers in England. She also spent some of her spare time writing to soldiers at the Front or convalescing in other parts of England. These were probably young men from St. John's whom she had grown up with or others she had met in the hospitals where she had volunteered. The daily strain seems to have compromised her own health, however, and in August 1918 she returned to St. John's. In September she is reported to have returned to work at the Domestic Science School.
If Dickenson had hoped to settle back into her pre-war routine, it was not to be. A particularly deadly strain of influenza, eventually named the Spanish flu, was taking its toll worldwide. On Oct. 1, 1918, it hit St. John's; 14 men who had contracted the virus were transferred from ships in St. John's Harbour to local hospitals. Within days, the local hospitals were full of people who had contracted the disease. Emergency facilities were set up to deal with the epidemic and calls went out for persons to volunteer as nurses. Ethel Dickenson volunteered and was placed at the emergency ward at the King George V Institute. On Oct. 24 she was diagnosed with the virus and two days later, on Oct. 26, she died. She was buried on the same day. She had never married.
In an effort to recognize her volunteer contribution to the war effort and during the epidemic, and possibly to recognize, through Dickenson, the contributions of all women who had volunteered in both causes, the citizens of St. John's contributed $4,000 to commission a public monument in her honor. Constructed from grey Aberdeen granite, with a base made from local granite, the 26-foot high monument is a pedestal base surmounted by an eight-sided shaft, crowned with a Celtic cross. It was unveiled by Lady Constance Harris, wife of the governor of Newfoundland, on Oct. 26, 1920. Moved from its original location on the northeast end of Cavendish Square where it adjoined King's Bridge Road, the monument now sits in the centre of the green space which separates Cavendish Square from Ordinance Street.
Earlier this year Gertrude Crosbie of St. John's presented a portrait photograph of Dickenson to the Centre for Newfoundland Studies. Dickenson had been a friend of Crosbie's mother, Janet Miller Murray (1892-1946); Dickenson was a first cousin to Murray's first husband, Eric Ayre, who was killed at Beaumont Hamel on July 1, 1916.
This type of portrait photograph is a prime example of the work of photographer Elsie Holloway (1882-1971), who founded the Holloway Studio Ltd. in St. John's in 1908 and operated it until 1946. Elsie Holloway carried on the tradition of excellence established by her father, Robert Holloway (1850-1904), who was recognized as the pre-eminent Newfoundland photographer of his generation. Elsie's talent as a black and white portrait photographer is clearly evident in this example, with its subtle contrasts and shading, its clarity of image and its naturalness of pose. The strikingly recognizable "Holloway" signature in the lower right corner gives authenticity to the portrait, a work that Holloway was quite willing to identify as hers.