Drake House (Arnold's Cove)
Drake House was constructed in the 1890s in the community of Haystack, Placentia Bay. It was constructed by George Drake and his brother John. Frank Drake, George's son, inherited the property and lived in the building all his life. When Haystack was resettled in the 1960s, Frank Drake refused to move, and remained in the house at Haystack for an additional 12 years. In the 1970s, the house was floated by barge from Haystack to its present site in Arnold's Cove. Frank Drake passed away in 2002, and was buried at Haystack. The property was acquired by the Town of Arnold's Cove who restored the building to serve as a historical interpretation centre and community museum. It is the oldest house standing in Arnold's Cove.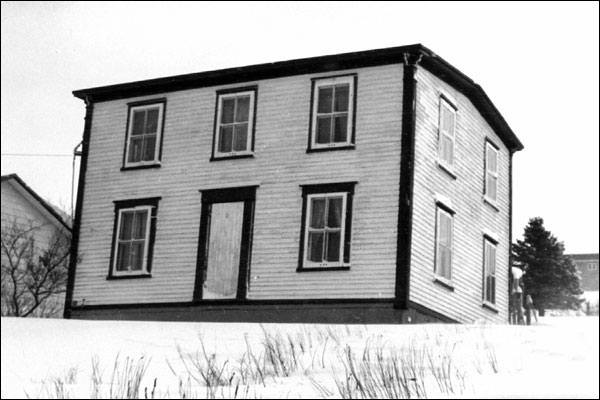 Drake House, Arnold's Cove, NL
Drake House is a good example of late 19th century outport vernacular architecture.
© 2003 Heritage Foundation of Newfoundland and Labrador
The house itself is of wood construction with a tar paper roof, and follows a standard Georgian central hall plan. On the exterior, the building features decorative woodwork on the corner boards and above the windows and central doorway on the main facade. Interestingly, historical photographs indicate that the central doorway, with its original etched glass door intact, never had a bridge or stairway leading to it. The door then was probably never used as an entranceway, neither before nor after its relocation from Haystack.
There has been little change made to the interior of the building, and the upstairs portion of the house in particular is well preserved. The interior features a fine central staircase, unpainted wood trim, and largely unpainted tongue and groove ceilings with wood medallions. Several original pieces of furniture, a trunk of papers belonging to Frank Drake, old patent medicine bottles, a bed with its original straw mattress, and many other artifacts dating to the resettlement period remain in the building.
The Drake House was designated a Registered Heritage Structure on March 27th, 2003 by the Heritage Foundation of Newfoundland and Labrador. The property was designated as a representative example of those buildings that were floated out across Placentia Bay during the resettlement period. The structure is symbolic of that episode of Newfoundland's history, and is commemorative of that time.
---
Also view Drake House Registered Heritage Structure on the Heritage Foundation of Newfoundland and Labrador web site.
The Newfoundland and Labrador Heritage Web Site has on its site only a portion of the registered heritage structures in Newfoundland and Labrador. To view a complete list or search for a particular structure visit the Heritage Foundation's Property Search page.