Newfoundland and Daniel O'Connell
Given the constant exchange of passengers, news, commerce, and goods between Ireland and the Irish community in Newfoundland in the 1820s and 1830s, it was perhaps natural for the latter to look to Ireland for solutions to their problems with Britain and British rule in Newfoundland, particularly after institutions of local government were established. This process accelerated during the 1820s with the arrival in Newfoundland of the Franciscan priest Michael Anthony Fleming, who became bishop in 1829, and who was a friend and close supporter of the famous Irish politician, Daniel O'Connell.
Daniel O'Connell was an Irish-born, British-educated barrister who began a political movement for Catholic rights. He believed strongly that Catholics should not be required to take oaths which insulted their religious beliefs before they could assume public office, sit in parliament, or take government positions. He and others disliked the fact that the vast majority of Irish Catholics did not have the right to vote, and in concert with many Irish Catholic clergy, he organized a political movement for emancipation. Historians have recognized this as the world's first passive, non-violent political movement. Formed to secure emancipation, O'Connell's Catholic Association imposed discipline on its members, and created a tremendous sense of fraternity, by collecting a small membership fee. Emancipation succeeded in 1829. O'Connell was elected to the Westminster Parliament as MP for Clare, and began to seek an alliance with the Whigs by which he could influence British government policy on Ireland.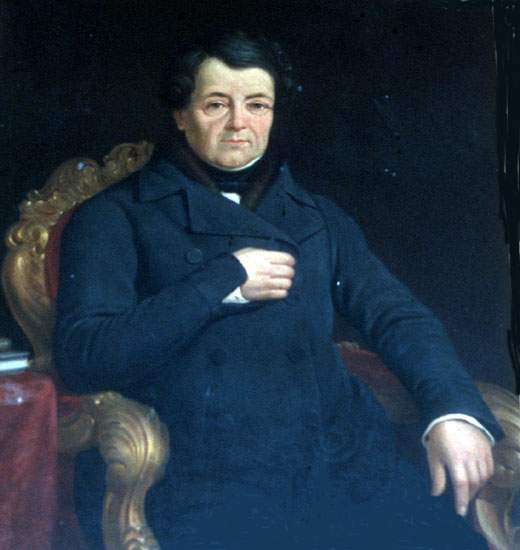 Daniel O'Connell (1775-1847), n.d.
O'Connell organized a political movement for emancipation and formed the Catholic Association. Later, he was elected to the Westminster Parliament.
Artist unknown. Reproduced by permission of J.E. FitzGerald, ©2001.
It has often been argued that Newfoundland was traditionally isolated from cultural and political movements in Europe and continental North America. That this was not the case is shown by the support which O'Connell enjoyed among the Newfoundland Irish, who appealed to him for assistance. Irish news was widely reported in local newspapers. Fleming took up collections for the Catholic Association at the door of the St. John's Chapel, and forwarded this money to O'Connell. Newfoundland Reformers, seeking representative government, were keen to see O'Connell's movement succeed.
Catholic Emancipation
The granting of Catholic emancipation in Newfoundland, was not as straightforward as it was for Ireland, and this question had a significant influence on the wider struggle for a legislature. News of emancipation reached Newfoundland in May 1829, and the 21st was declared a day of rejoicing. Celebration was not confined to the Irish. The Anglican clergyman Philip Tocque later wrote that when the news was received in Conception Bay, "every house was illuminated by a candle being stuck in every pane of glass of the window." At Harbour Grace, an enormous bonfire was lit on Point of Beach, fed by 16 barrels of pitch and tar, and 300 loads of wood. In St. John's there was a parade and a thanksgiving mass celebrated at the Chapel, attended by the BIS and the Catholic-dominated Mechanics' Society.Vessels in the harbour flew flags and discharged guns in salute.
Most people assumed that Catholics would pass unhindered into the ranks of public office and enjoy equality with Protestants. But on 17 December, Attorney General James Simms and the supreme court justices decided that the Relief Act did not apply to Newfoundland, because the laws repealed by the act had never officially applied to Newfoundland. More to the point, Simms noted that Catholics could not join the Council nor become "Commissioners of the Peace" because the principles of the penal laws "as far as they have been carried into operation here have derived their effect under the King's prerogative through the medium of His Majesty's instructions from time to time issued to the Governors of this Colony." In other words, each governor's commission formed part of the constitution of Newfoundland. These commissions had been granted by royal prerogative, not the statute laws of Parliament. Unless the governor's commission was explicitly changed, Newfoundland had not choice but to be left with whatever existing regulations discriminated against Roman Catholics.
On 28 December 1829 the St. John's Catholic Chapel was packed with an emancipation meeting, where 25 year-old John Kent and the surgeon Edward Kielley addressed the crowd. Petitions were sent to Parliament through O'Connell, asking for full rights for Newfoundland Catholics as "British subjects", while Governor Cochrane hastily sought the same from the British government. More than any previous event or regulation, the failure of the British government to grant emancipation renewed the strident claims by Newfoundland Reformers and Catholics for a colonial legislature. Public meetings were held at the Parade Ground at Fort Townshend, and petitions flooded to London. There was no immediate reaction but the question of Newfoundland was before the Colonial Office and in January 1832 Cochrane was informed that Newfoundland was to have a legislature. It was May 1832 before the Colonial Office formally stated that a new commission would be issued to Cochrane to remove Catholic disabilities at the same time a legislature was granted.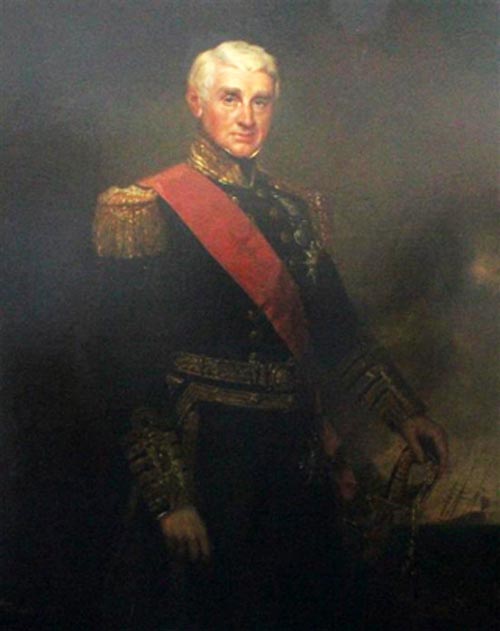 Governor Thomas Cochrane (1789-1872), ca. 1860
Cochrane was involved in asking for full rights for Newfoundland Catholics from the British Government.
The Bill
Between 1832 and the early 1840s, correspondence between the Irish in Newfoundland and O'Connell diminished. The Irish and the Reformers were preoccupied with gaining power and they dominated the House of Assembly after the election of 1836. Political antagonisms continued to grow, though, and after a particularly violent election in 1840 in Conception Bay, the British government decided to modify the Newfoundland constitution. When the Tories returned to power in Britain in 1841, they were even more determined to take action. Lord John Stanley put a Newfoundland bill before Parliament on 27 May 1842. O'Connell acted as the agent for the Newfoundland Reformers and sent Fleming a copy of the bill, which was the first notice anyone in Newfoundland had of it, quipping that it should "be rather entitled A Bill to transfer all power to the aristocracy or Monopoly party", promising to give the bill "all possible opposition", and noting that "I should hope Lord Stanley will not be able to force the Bill through the House before I can hear the sentiments on this subject of the people of Newfoundland." The bill proposed to raise the level of the Newfoundland franchise to that of a forty-shilling freeholder or the occupancy of a house with annual rent of five pounds, while a new amalgamated assembly of twenty-five members would replace the house and council, of which ten were to be appointed and fifteen elected, with a property qualification for members of an annual income of £200, or unencumbered property valued at £500. Colonial money bills were to originate with the governor. Stanley tried to imply that the Newfoundlanders agreed with all provisions save amalgamation, but in reply O'Connell denounced the proposal as a mockery and told MPs that the bill provided that a governor only had to purchase the allegiance of three MHAs to have his way.
When the bill received second reading at the end of July and into early August, O'Connell had received correspondence from Fleming. O'Connell and other MPs protested vigorously, but Stanley pushed the bill through into committee of the whole house for a clause-by-clause examination. O'Connell spoke at every clause and denounced the bill as a measure to persecute the people of Newfoundland, while other MPs challenged Stanley's under-representation of the numbers of resident Newfoundlanders, of which there were 70,000 Catholics but only two Catholic stipendiary magistrates, while for 30,000 resident Protestants there were 15 Protestant stipendiary magistrates. The bill was eventually modified to allow a four year trial period for the amalgamation. It let Newfoundland set its own voter qualification, with the provisos of a two year voter residency qualification along with the possession of a dwelling house for at least one year. The property qualification for MHAs was set at an annual income of £100, or possession of clear title to property valued at £500.
Repealing Britain and Ireland Reunion
While the Newfoundland question occupied O'Connell and the Newfoundland Reformers, so did O'Connell's crowning political movement back in Ireland - his campaign to repeal the union of Britain with Ireland. For this, O'Connell gained international fame in expatriate Irish communities as the great Liberator, the political saviour of Ireland. Fleming was at the centre of the Repeal Association's success in St. John's, and in June 1843 took up a collection and sent an O'Connell Tribute to the Association in Dublin, and stated that the Irish of Newfoundland were "a people who, though poor, yet in their attachments to their own and the country of their Fathers turn with veneration and gratitude to that illustrious man," O'Connell. Memberships in the Loyal National Repeal Association of Ireland were sold in Newfoundland at £1.1s (a guinea), and certificates were issued. Many were purchased by rank-and-file Catholics, often as gifts for their children. John J. O'Mara enrolled himself and his seven year old son Robert after he returned from Ireland where he had attended a repeal meeting, while the Howley, Morris, Kent and O'Brien families all took out memberships. Reformers in Newfoundland also became more strident in claiming Irish Catholic rights in 1843, and on 17 May the House of Assembly passed a bill sponsored by Nugent abolishing all oaths of office obnoxious to Catholics with the exception of the oath of allegiance. At a repeal meeting near Waterford, the self-important Patrick Morris even attempted to address the crowd, but O'Connell - perhaps aware that Morris had accepted an appointment to Newfoundland Council - stole the wind from Morris's sails when he quipped "Well, Pat, when did you come across? Was there much fog on the banks?" and "Boys, do ye smell the fish?"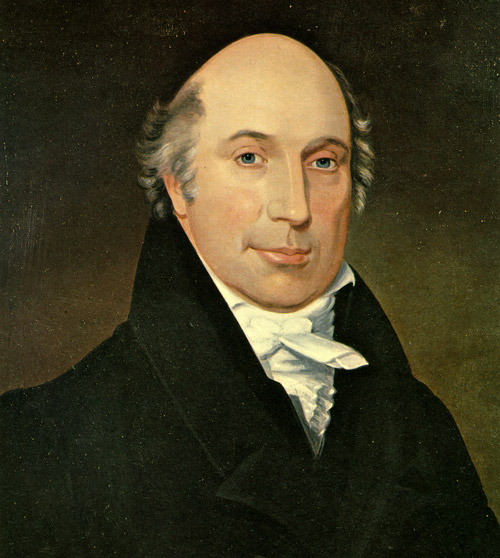 William Carson (1770-1843), n.d.
Carson was one of Newfoundland's leading reformers in the 19th century.
Artist unknown. Courtesy of The Rooms Provincial Archives Division (A23-91), St. John's, NL.
O'Connell's Arrest
O'Connell's repeal meetings culminated during the great "Repeal Year" of 1843 in the "Monster Meetings" throughout Ireland, which hundreds of thousands of people attended. But instead of obtaining the repeal of the union, they only offended British officials and convinced them that O'Connell was promoting treason. In May 1844 British administrators in Ireland had O'Connell arrested and jailed, but it was more of a martyrdom than incarceration, and only served to increase his popularity. Fleming was in Ireland at this time and joined his fellow Irish bishops in visiting O'Connell. Their visit was widely reported in the press in Ireland and Britain.
When word of O'Connell's imprisonment reached Newfoundland a repeal meeting was called and speeches and resolutions were delivered by the chairman Laurence O'Brien, as well as by William Walsh, James O'Mara, John Kent, Richard Howley, and Captain John FitzGerald, among others. Kent argued that it was "foolish to seek to suppress the consideration of this question of a Repeal of the union", while John Mullowney charged that Ireland was "in the person of O'Connell imprisoned", and Nugent gloried in the belief that O'Connell's strength and the strength of those gathered lay in "the secret of conquering without arms." The Indicator newspaper claimed that a crowd of perhaps 4,000 attended the meeting, which adjourned with a petition to repeal the union and a collection of repeal rent which netted just over £100. Within a week later the amount collected from Newfoundland was over £220. But in may ways, the Newfoundland meeting was anti-climactic, for the British government had no intention of repealing the Irish union with Britain, and within several years, attentions were diverted with the onset of the potato famine, and Newfoundlanders were reeling, by the summer of 1846, from the aftermath of a fire which burned most of St. John's.
O'Connell's Death and Influence
Remarkably, in September 1846 the height of the Irish famine, O'Connell sent a personal donation of £20 to Fleming in Newfoundland to relieve fire-sufferers, remarking that "no one has done so much to advance morality, religion, and education in any of our colonies as has done my reverend friend". It was the last correspondence between the two friends. In 1847, O'Connell fell ill and died on his way to Rome. O'Connell's advocacy of Newfoundland causes and affairs in Britain was intimately connected to Newfoundland Catholic hopes for emancipation and a local legislature. No other expatriate Irish community sought or received his assistance as much, or were as actively interested in his success, as the Irish in Newfoundland.