Cluett House (Belleoram)
The Cluett Residence is the oldest house in Belleoram and possibly the oldest structure in Fortune Bay. John Cluett Sr. and his son John Jr. designed and built the dwelling around 1844. The home is a salt box, a one-and-a-half-storeyed dwelling with an additional room which is termed a linhay or a lean-to built in the rear. This is similar to homes found in that part of England where Cluett had resided before his emigration.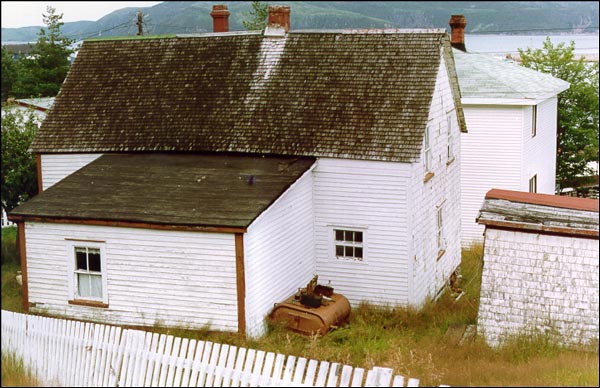 Cluett House, Belleoram, NL
A view of the rear façade. Cluett House is a good example of early steeply-gabled houses in Fortune Bay.
© 1998 Heritage Foundation of Newfoundland and Labrador
John Cluett Sr. was one of the earliest planters in Belleoram. He went on to develop a successful merchant operation concentrating on the selling of herring to the French and American fishing fleets. Although a merchant by profession, Cluett designed several other structures in Belloram, including other homes, a church, and one of the first schools in Newfoundland.
For more than 150 years, the dwelling served as the Cluett family residence. In August 1992 the family deeded it to the town of Belleoram on the condition that the site become a heritage museum. The museum opened on July 1, 1993.
The Newfoundland Historic Parks Association awarded the Cluett Residence a Manning Award in recognition of outstanding efforts "in the Public Presentation of Historic Places within Newfoundland and Labrador." Established in 1993, The Manning Awards are named after the former Area Superintendent for National Historic Parks in Newfoundland and Labrador, Bill Manning.
In October 1992 the Heritage Foundation designated the Cluett Residence a Registered Heritage Structure. The Newfoundland Historic Trust subsequently awarded the structure a Southcott Award for excellence in heritage restoration work.
---
Also view Cluett House Registered Heritage Structure on the Heritage Foundation of Newfoundland and Labrador web site.
The Newfoundland and Labrador Heritage Web Site has on its site only a portion of the registered heritage structures in Newfoundland and Labrador. To view a complete list or search for a particular structure visit the Heritage Foundation's Property Search page.