Photographer Captured Post-War Newfoundland
From the files of The Gazette March 19, 1998.
Charles Frederick Ruggles was born in St. John's, Nfld., on Jan. 21, 1923, the son of Frederick and Ida Ruggles. He was educated at Bishop Feild College, St. John's, and after graduation went to Binghampton, New York, where he received training in photography at the ANSCO Color Laboratory. He returned to St. John's where he established Ruggles Commercial Photographic Studio in 1947. He also worked for MacDonald Wholesale Drugs Limited as photographic manager.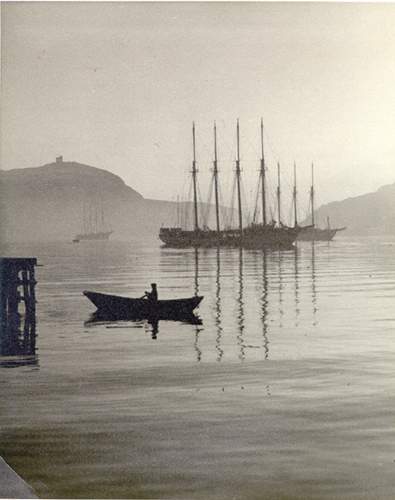 Portuguese ships at anchor in St. John's harbour
This photograph by Fred Ruggles appeared in Life magazine in 1952
Courtesy of Archives and Special Collections (Coll - 241, 1.02.001), Memorial University of Newfoundland, St. John's, NL.
Fred Ruggles spent the decade that followed his return to Newfoundland operating a very successful photography business. He was the first photographer in Newfoundland to provide color developing on a commercial basis, using special training he had acquired while studying at ANSCO's laboratory. He rapidly gained a well- deserved reputation as a photographer of merit and his work began to appear in local, national and international publications. His photograph of Portuguese ships at anchor in St. John's harbor appeared in the Oct. 20, 1952, edition of Life magazine. In December 1948 he was in Ottawa to photograph the signing of the Terms of Union between Newfoundland and Canada, and in 1951 he was the official photographer for the visit of Princess Elizabeth and Prince Philip to Newfoundland. Ruggles covered most major public events occurring in and around St. John's during the 1950s.
When not taking or developing pictures, Ruggles found time to work on his special project. He invented a machine he named the "Visualizer." It was a large free-standing panel box which used photographic images and electrical lighting to provide information and display advertising. St. John's cabinetmaker Reinis Freimanis and machinist Lloyd Clarke assisted in the construction of the "Visualizer."
The first commercial "Visualizer" was located in the lobby of the Hotel Newfoundland. In the centre of the front panel there was a large map of St. John's. Around the map were colored transparencies, lit from behind, of places of interest to tourists. There was a button next to each image and when it was pushed it indicated the location of the particular building or site on the map, making it easy for visitors to plan their route to the location. A second "Visualizer" was installed at the Anglo-Newfoundland Development Company headquarters in Grand Falls.
In 1958 Ruggles closed his business in St. John's and moved to Montreal to continue to develop the "Visualizer." He expanded it to include news and advertising, which he hoped would help defray the cost. The "Visualizer" never really caught on; Ruggles felt competition from television ruined the potential for advertising before it was able to properly demonstrate its value. He did establish a successful photographic business in Montreal, retiring in 1986. In 1972 a Ruggles photograph of a seashore was chosen by the Canadian Post Office as the image for a new 50-cent stamp.
Fred Ruggles married Grace Lush of St. John's in 1947. They had one daughter, Lynn. He and his wife spent their retirement in Toronto, where Ruggles died on Nov. 10, 1996.
In the spring of 1997 Grace Ruggles presented a number of photographic negatives and prints taken by her husband to the archives. They are, mainly, photographs documenting the Royal Visit of Princess Elizabeth and Prince Philip to St. John's in 1951, the last stop on their tour of Canada. The visit lasted just 26 hours, from 10:15 a.m. on Nov. 11, Remembrance Day, to 12:15 p.m. on Nov. 12, and involved ceremonies at the St. John's waterfront, the St. John's War Memorial, the Church of England Cathedral, Feildian Grounds and Government House. Ruggles's photographs document these activities and the people who were involved in them.
There are several other photographs including one of the "Visualizer," the machine invented by Ruggles. There are also clippings about Ruggles and a copy of a Canadian postage stamp which has an image created from a Ruggles photograph.