Butler Property
(Cupids)
The Butler Property was constructed circa 1905 by the grandfather and father of Mr. Doug Butler, and has been in the Butler family ever since. The building is a two and half storey wood frame structure, with a gable roof. It features a two-storey front porch with a gable roof of its own, a feature which can be found on other surviving buildings in the community of Cupids from the same time period. It is a well preserved example of a traditional Newfoundland house built in a Classical Revival-influenced style.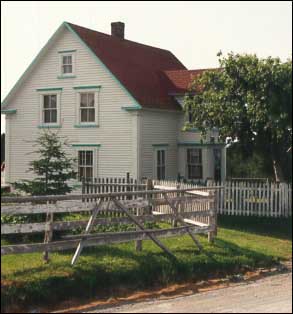 Butler Property, Cupids, NL
The Butler Property is a good example of the classical revival style, and one of the few remaining examples of this type of vernacular architecture in the region.
© 1998 Heritage Foundation of Newfoundland and Labrador
The building sits on a rock wall foundation, and many of the original windows feature coloured glass. The interior of the building has four bedrooms on the upper floor, with a living room, front porch, kitchen, pantry and back porch on the main floor.
The house is situated on four acres of land which extends down to the salt water, with numerous decorative trees and apple trees. The main house exists in a traditional Newfoundland setting, with its associated outbuildings and fencing. The outbuildings include a two-storey store/hayloft and a one-storey carriage house, also constructed around 1905. These buildings remain alongside that traditional outport necessity, the once ubiquitous outhouse.
The Butler Property has been popularized by local artist Donna Clouston in her painting "Apple Blossom Time in Cupids", and the image of the property has appeared on everything from calendars to cushion covers and aprons. The Butler Property was designated as a Registered Heritage Structure by the Heritage Foundation of Newfoundland and Labrador on March 31, 2001.
---
Also view Butler Property Registered Heritage Structure on the Heritage Foundation of Newfoundland and Labrador web site.
The Newfoundland and Labrador Heritage Web Site has on its site only a portion of the registered heritage structures in Newfoundland and Labrador. To view a complete list or search for a particular structure visit the Heritage Foundation's Property Search page.