Stone Barn (Brigus)
One of the oldest structures still standing in the town of Brigus, the old Stone Barn has a colourful history.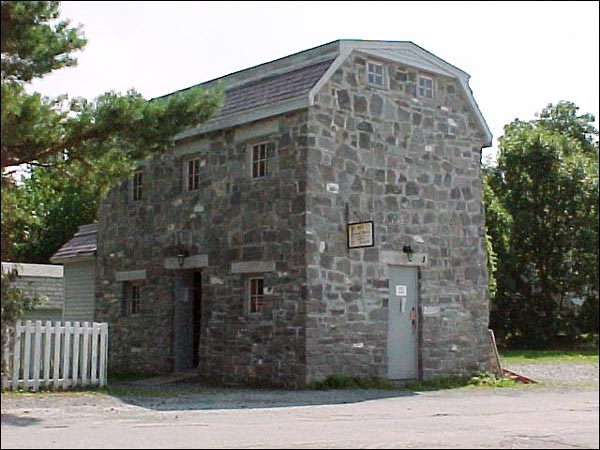 Stone Barn, Brigus, NL
The Stone Barn is a good example of 19th century stone construction.
© 1998 Heritage Foundation of Newfoundland and Labrador
Prominent Brigus landowner Charles Cozens built the old Stone Barn sometime around 1825. Contrary to its name, it was originally built to be a residence. The first person to live in the home was a Dr. Robert Dobie of Scotland, who resided there until his death in 1837.
John C. Nutall, whom Charles Cozens had contracted to build the town's first Anglican Church, resided there for a few years, but converted the building into a customs house around 1850.
No records exist on when or why the building was converted into a barn. Over the past century, it changed hands many times and gradually fell into a state of disrepair. Its last owner, Harold Fry, sold the barn to the Brigus Historical and Conservation Society in the mid-1980s. Instead of repairing the barn, the society tore it down and rebuilt it using as much of the original materials as possible. The exception was the slate tiles used for the roof, which were too badly damaged to be reused.
The old Stone Barn is the last of the four stone structures constructed by Charles Cozens in the 1820s. It is situated near the foot of the road known as Magistrate's Hill. It stands three storeys tall with walls of rough cut stone that are half a metre thick with adze-trimmed beams. It is 6.7 m. long and 5.5 m. wide. The barn originally had a gabled slate roof, although up until its recent incarnation, the roof was considered a partial gable, with a flattened peak section.
Most of the original interior was destroyed when the structure was converted, and many of the doors and windows were altered to better suit its new function. Since its reconstruction there has been an attempt to restore as much of the original design as is possible. However, the lack of architectural plans made this difficult. It is the knowledge of the older residences in town, passed down generation from generation, that enabled the society to reconstruct much of the building.
The barn is currently being used as a museum and remains one of the most important landmarks in Brigus. It was designated a Registered Heritage Structure in December 1986.
---
Also view the Stone Barn Registered Heritage Structure on the Heritage Foundation of Newfoundland and Labrador web site.
The Newfoundland and Labrador Heritage Web Site has on its site only a portion of the registered heritage structures in Newfoundland and Labrador. To view a complete list or search for a particular structure visit the Heritage Foundation's Property Search page.