Brett House and Outbuildings
(Joe Batt's Arm)
The original section of the Brett House is at the back of the present structure. It was built in the early 1870s by John Brett (1851-1935), and was situated directly across the road from the present house. It was a very small house with an enclosed entry porch, a modest kitchen/sitting area with an adjoining pantry and a narrow stairway leading to small bedrooms upstairs.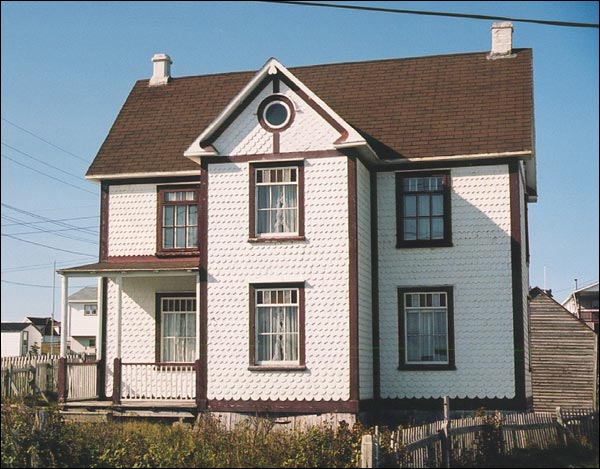 Brett House, Joe Batt's Arm, NL
Brett House is a good example of the vernacular style of architecture used in the construction of homes in the Notre Dame Bay area during the period.
© 2004 Heritage Foundation of Newfoundland and Labrador
The structure was moved across the road before 1909, when Charles Brett (1886-1976) began an addition which was completed in 1913. This consisted of a parlour/dining room, a living room, and a large railed staircase leading to four additional bedrooms. Charles Brett carved the scalloped wooden shingles on the exterior.
Charles was a fisherman, and apparently very religious. With his wife Matilda he had nine children, all raised in the house. Framed pictures of each family member now hang in the central hallway.
The Brett family came to Joe Batt's Arm in the 18th century, from Christ Church, Hampshire, England. When Charles Brett went overseas during the Great War, he sent his wife a leather purse with an attached plate engraved, "To Matilda, from Christ Church, England, 1917." The tin ceiling in one of the bedrooms is said to have been brought back from England.
There is a wood frame, double-door store behind the house. The original root cellar is at the back of the property, still used by members of the Brett family. There are wild roses in the northeast corner of the front garden.
The house was last occupied by Charles and Matilda Brett's son Charlie, who died in 1997. The building and its contents were left to the town, and it is now the community museum.
The Brett House and Outbuildings were beautifully constructed, and are exceptionally well-preserved. They were designated as Registered Heritage Structures on October 2, 2003, by the Heritage Foundation of Newfoundland and Labrador.
---
Also view Brett House and Outbuildings Registered Heritage Structure on the Heritage Foundation of Newfoundland and Labrador web site.
The Newfoundland and Labrador Heritage Web Site has on its site only a portion of the registered heritage structures in Newfoundland and Labrador. To view a complete list or search for a particular structure visit the Heritage Foundation's Property Search page.