Blundon House (Bay de Verde)
John Blundon, a prominent Bay de Verde merchant built this house located at 7 Blundon's Point in the late 1800s as a family residence. The two-and-a-half-storeyed home has a full attic, enclosed porch and a separate stairway for servants.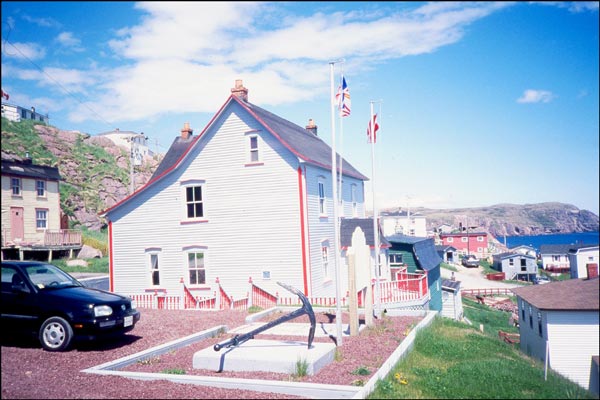 Blundon House, Bay De Verde, NL
Blundon House is a good example of merchant class housing.
© 1998 Heritage Foundation of Newfoundland and Labrador
The structure is the last remaining merchant house in Bay de Verde. It was home for three generations of Blundons: John's son, James, who was also a local merchant, lived in the house and subsequently his son Graham lived in the home. It was used primarily as a family residence until the summer of 1995 when it became unoccupied. The Bay de Verde Heritage Committee now operates the Bay de Verde Heritage House at this location.
The Newfoundland and Labrador Heritage Foundation recognised Blundon House as a Registered Heritage Structure in May 1997.
---
Also view Blundon House Registered Heritage Structure on the Heritage Foundation of Newfoundland and Labrador web site.
The Newfoundland and Labrador Heritage Web Site has on its site only a portion of the registered heritage structures in Newfoundland and Labrador. To view a complete list or search for a particular structure visit the Heritage Foundation's Property Search page.