Bishop Feild College
(Bond Street, St. John's)
Initially founded by Bishop Edward Feild, the school that bears his name represented one of the few places children could get a high quality education in St. John's for most of the nineteenth century.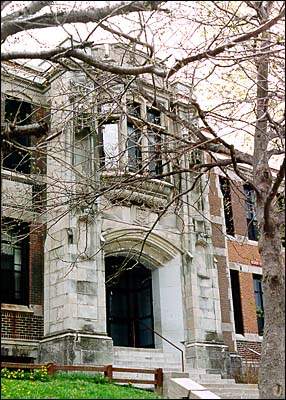 Bishop Feild College, St. John's, NL
Bishop Feild College is one of the finest examples of Collegiate Gothic style architecture in Newfoundland and Labrador.
© 1998 Heritage Foundation of Newfoundland and Labrador
Even before Bishop Feild arrived in St. John's to assume the Diocese of Newfoundland, he became aware of the lack of quality schools on the island at that time. Almost immediately after arriving in 1844, he set up a school for boys. Although it's not the same school that now bears his name on Bond Street, the creation of this school marks the beginning of Bishop Feild College in Newfoundland.
The school attracted primarily middle to upper class boys from St. John's, and the sons of wealthy outport families. From 1844 until 1908 the school was organised along the lines of a secondary school in England. For example, classes were organised into forms rather than grades. The school never actually joined a school board until the late 1960s, when it became part of the Avalon Consolidated School Board. Before this, a board of directors had run the school.
Over the 150 years of the school's existence, it has changed location several times. From a small rented building on Forrest Road with 30-40 students, it later moved to a new school on Colonial Street in 1861. That school remained until a new one was built on nearby Bond Street in 1928, which is still in use today.
Because of its long and prestigious history, Bishop Feild College can boast of an impressive list of alumni. This list includes one governor, two lieutenant-governors, one premier, two federal cabinet ministers, five senators, four bishops, 15 judges, four mayors and 15 Rhodes scholars. Among the more famous alumni are Joey Smallwood, John Crosbie, NTV president Geoff Sterling and CBC sports broadcaster Bob Cole. Students of the school also served with distinction in combat. Many of the students and graduates fought in both World Wars earning over 30 military honours.
The school reached its peak attendance in the early 1940s when there were approximately 450 students. After confederation, the school's focus changed. By 1972 children from Grades 7 to 11 had been transferred to new schools, leaving Bishop Feild as an elementary school. Almost as significant, the school began to allow girls. Bishop Feild College is currently known as Bishop Feild Elementary.
The current school was built in 1928 and replaced the old Bishop Feild College, which had become severely run down. The new school was the most modern school in Newfoundland at that time and is still one of the finest examples of Collegiate Gothic style in Newfoundland. The building is made of poured masonry with brick with a veneer of Indiana limestone. The entrance is also made of carved stone. The building remains in good shape although repairs have had to be made in recent years because of age and vandalism.
Bishop Feild College was recognised as a Registered Heritage Structure by the Heritage Foundation of Newfoundland and Labrador in June 1994.
---
Also view Bishop Feild College Registered Heritage Structure, and Bishop Feild College - City of St. John's Heritage Site on the Heritage Foundation of Newfoundland and Labrador web site.
The Newfoundland and Labrador Heritage Web Site has on its site only a portion of the registered heritage structures in Newfoundland and Labrador. To view a complete list or search for a particular structure visit the Heritage Foundation's Property Search page.