Archibald Bennett House (Brooklyn)
This unusual two-storey dwelling was built in 1890 by Archibald Bennett, a local carpenter. He left to work in Boston in 1924 and, the following year, moved his family and closed the house. It stood vacant until 1934, when Archibald's nephew, John Bennett, and his family made it their home. The house is now used as a summer home by the members of that family.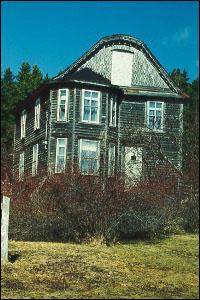 Archibald Bennett House, Brooklyn, NL
The most notable feature of the Archibald Bennett House is the gambrel roof with a rounded truncation, a style rare in Newfoundland and Labrador.
© 2000 Heritage Foundation of Newfoundland and Labrador
The front entrance opens onto a large hallway and a staircase. There are three bedrooms, a kitchen, living room and dining room. The mouldings, door casings and wide baseboards are ornate. The kitchen has an original, built-in china cabinet and some of the furnishings are quite old, perhaps older than the house itself. With the exception of paint and floor coverings, the house remains very much as it was 100 years ago. The house has a steep gable roof with rounded truncation, which is most unusual in the area. The gables are covered by diamond-shaped wooden shingles which have been replaced several times and are now covered with a layer of tar. The eaves still have some of the original decorative bargeboard. A two-storey bay adds to the distinctiveness of the structure. Although the attic has a window, it has never been developed as a living space. A rear porch was added to the building in the early part of the 20th century.
The house sits on a parcel of land that slopes from forest at the rear of the house through a clearing where the house itself is situated, across the road and down to the ocean through fields that were once used by the Bennett family to grow vegetables.
The Archibald Bennett was designated as Registered Heritage Structure in March 2000.
---
Also view the Archibald Bennett House Registered Heritage Structure on the Heritage Foundation of Newfoundland and Labrador web site.
The Newfoundland and Labrador Heritage Web Site has on its site only a portion of the registered heritage structures in Newfoundland and Labrador. To view a complete list or search for a particular structure visit the Heritage Foundation's Property Search page.