Abram Richards Property (Bareneed)
This house was designed and built in 1912 by Abram Richards for his family in a section of Bareneed known as "The Dock". The Richards family occupied the house until the death of Abram's second wife, Naomi Richards, in 1963. It was the birthplace of Isaac Allan Richards, their youngest child who was Registrar of Deeds in the 1950s and 1960s. Naomi Richards had been the sole occupant of the house for approximately 30 years. In 1964 the house was purchased by Eric Holden and has remained in the family since that date.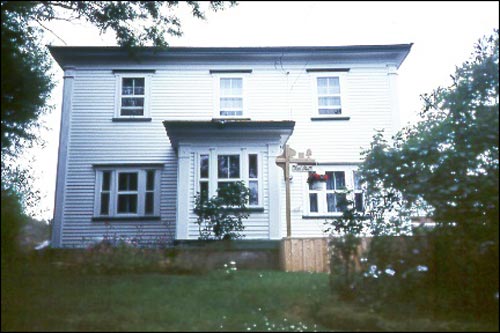 Abram Richards Property, Bareneed, NL
Abram Richards Property is a well-preserved, turn of the century wooden dwelling typical of a fast disappearing style once common in Newfoundland and Labrador.
© 2001 Heritage Foundation of Newfoundland and Labrador
The interior was very well constructed, and includes wide baseboard mouldings, wide cornices, decorative hand made rosettes,stair rails and newell post. Abram Richards was a talented carpenter.
Several pieces of locally made furniture remain in house. Some of these pieces, as well as an impressive fireplace mantle and overmantel, were designed and crafted by noted cabinet and furniture maker Henry William Winter, of nearby Clarke's Beach. The overmantel was made separately from the mantel for easy removal when papering the walls. It rests on the mantel shelf and is secured to the wall by screws. The mantle and overmantel were featured in an article by Walter Peddle in the November 1982 issue of Canadian Collector.
The Richards property is an example of an older structure once common to the area, one of only a few surviving in an area being taken over by modern homes. The house is set back from the main road in a mature garden, which has a beautiful view of Coley's Point and beyond.
The Richards property was designated as a Registered Heritage Structure by the Heritage Foundation of Newfoundland and Labrador on September 15th, 2001. It has been lovingly restored by Beverly Lois Moyst, daughter of Audrey Lois Holden, and her family.
---
Also view the Abram Richards Property Registered Heritage Structure on the Heritage Foundation of Newfoundland and Labrador web site.
The Newfoundland and Labrador Heritage Web Site has on its site only a portion of the registered heritage structures in Newfoundland and Labrador. To view a complete list or search for a particular structure visit the Heritage Foundation's Property Search page.