Why did Confederation Win? Or Why did the Anti-Confederates Lose?
In sorting out the factors which explain the result of the 1948 referendums, it is important to distinguish the background forces which were at work in the late 1940s, and well as the more immediate and perhaps more obvious factors which came into play during the campaigns.
Newfoundlanders and Labradorians were emerging from a tumultuous time in their country's history. The Great Depression had caused great hardship, and had brought about a financial crisis which ended responsible government. Then, suddenly, the second world war had brought about full employment, higher incomes and real prosperity.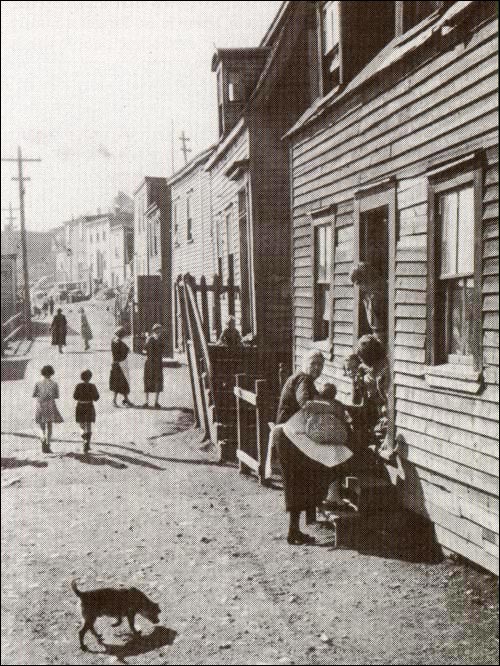 St. John's, ca. 1939
The struggling country of Newfoundland was hit extremely hard by the Great Depression, which began in 1929.
Courtesy of The Rooms Provincial Archives Division (Gustav Anderson Collection), St. John's, NL. From Carmelita McGrath and Kathryn Welbourn Desperate Measures: The Great Depression in Newfoundland and Labrador, The Newfoundland and Labrador Adult Basic Education Social History series, Book 4 (St. John's, NL: Writers' Alliance of Newfoundland and Labrador, ©1996) 27. Print.
Thousands of Newfoundlanders had enlisted in the armed forces, and hundreds more found work on the mainland. The American and Canadian bases served as showcases for the North American way of life.
It is not surprising that many Newfoundlanders were dubious about returning to responsible government, which they associated with the Depression, with poverty, and with political scandals. They were ready to think about a new start as a part of Canada, which seemed to offer both security, and a way to keep the higher standard of living to which the war had introduced them. And Canada was no longer a foreign country. Some 26,000 Newfoundlanders lived there, and there were many other ties.
The Depression and the war made confederation possible, but even so, in 1946 most Newfoundlanders were probably still anti-confederates, if they had any opinion at all, and expected a return to responsible government. But since there were no democratic institutions, it was the British government which controlled events, not Newfoundlanders. And the British, together with the Canadians, decided that confederation should be the solution, if possible, to what they called "the Newfoundland problem". Hence the setting of the stage to give confederation a chance.
But who would be the confederate actors? Two obscure, second rank figures emerged - Joseph Smallwood and Gordon Bradley, each of whom had concluded that Newfoundland's future lay with Canada. Their contribution was indispensable. Smallwood was the more vocal and prominent, as propagandist, campaigner and organizer. But Bradley played a vital role as chairman of the National Convention, and made other important contributions.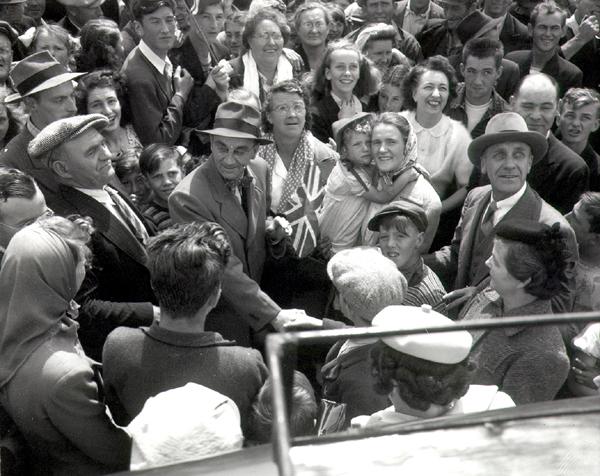 J.R. Smallwood Campaigning for Confederation
Courtesy of Archives and Special Collections (J.R. Smallwood Collection 075, Photo 5.05.321), Queen Elizabeth II Library, Memorial University of Newfoundland, St. John's, NL.
If they and their confederate allies won, it was in part because of their determination, discipline and organization. But they were helped by the British and the Canadians, and also by the failure of their opponents to fight an effective campaign. The anti-confederates failed to assess the situation accurately. They appear to have assumed that a return to responsible government was certain, and were not adequately prepared for the 1948 referendums.
The anti-confederates were divided, badly organized and poorly led. Had they not been, had they been able to run as professional a campaign as the Confederate Association, they would probably have been the victors. As it was, they allowed Smallwood to convince a majority of the electorate that Canada and the confederates could do more for Newfoundland than the St. John's-based, merchant-oriented members of the Responsible Government League. In 1948, it was not just that the confederates won: the anti-confederates allowed them to win.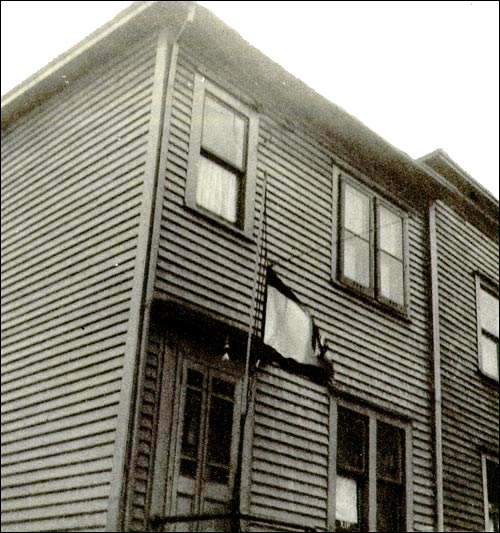 Flag Hung in Sorrow, 1948
There was much jubilation on the confederate side after they won the second referendum in 1948. However, many patriotic people declared it to be a dark day in Newfoundland and Labrador's history. In their grief, some anti-confederates flew flags at half-mast outside their homes and businesses to symbolize mourning.
The Book of Newfoundland, volume III (St. John's, NL: Newfoundland Book Publishers, ©1967) 101. Print.
Video: The Winding Road to Confederation Part V: The 1948 Referendums