Remembering Another Group of War Volunteers
From the files of The Gazette November 13, 1997.
Very often when we take time to remember the First World War, it is the young soldiers who come readily to mind. They are the ones who fought and died, the ones whose stories are told in newspapers, books and motion pictures, the ones whose names are inscribed on war memorials, the ones it is easiest for us to remember. Their exploits live on in the retelling of their heroic deeds.
However, there is another group of volunteers who are often overlooked. They were the young women who joined the Volunteer Aid Detachment (VAD). They were the young women who received a few weeks of nurse's training and were then assigned to the casualty and battlefield hospitals in England and on the continent. They were the young women who cared for and nursed the wounded. They would clean and bandage their wounds, try to comfort and cheer them, feed, wash and dress them, write letters home for them and, in some cases, sit holding their hands until they died. Theirs was not an easy lot, but hundreds of them came from all over the British Empire to do what they could for the war effort. Their lives were permanently changed by their experiences.
One such volunteer from Newfoundland was Sybil Johnson. She was born in St. John's on Nov. 19, 1887, the eldest of three daughters born to Elizabeth Bown and George M. Johnson. They also had one son, Macness. George Johnson was a St. John's lawyer who was junior partner with Sir William Whiteway in the law firm Whiteway and Johnson. He also served a number of terms as member of the House of Assembly for Trinity before being appointed a judge of the Supreme Court in 1902. His father was the Rev. George M. Johnson, a native of Warwickshire, who served as a Church of England clergyman in Newfoundland from 1848 to 1867.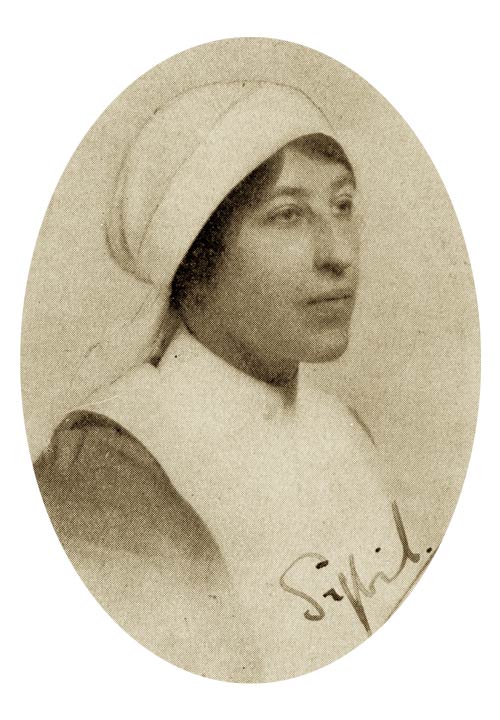 Sybil Johnson
Courtesy of Archives and Special Collections (Coll - 201), Queen Elizabeth II Library, Memorial University of Newfoundland, St. John's, NL.
The same year her father was appointed to the bench, 1902, Sybil Johnson left Newfoundland for Liverpool, England, on board the SS Siberian. After visiting with her uncle, she travelled to Cheltenham Girls School where she would spend the next two years. Then, shortly before her 17th birthday, she left England for Germany, where she enrolled in a music conservatory in Leipzig to study the violin. She was at Leipzig until 1909 when she returned to St. John's. Her sister, Jill, who had entered Cheltenham the year Sybil left, joined her in Leipzig in 1906 and her youngest sister Dorothy joined them in 1908.
Little is known of Sybil Johnson's life between 1909 and 1916. She did perform as a concert violinist at charity functions in St. John's, especially in aid of the Society for the Prevention of Cruelty to Animals, of which her father had been a founder. She was also a strong supporter of the war effort, volunteering with various groups involved in patriotic endeavors. In December 1916 she left St. John's for England where she joined the VAD's. After the mandatory training period, she was assigned to the 1st Western Military Hospital at Fozakerley, Liverpool, where she would stay until July 1918. Jill also served at the same hospital.
After her VAD service ended, Sybil Johnson returned to St. John's where she married lawyer Brian Dunfield on August 8, 1918. They had three children, Dorothy, Anthony and John. The family resided at Arcady, 173 Waterford Bridge Road. In addition to raising her family and running a large household, Sybil was very involved in charities, often providing violin music at special events. When her husband was knighted in 1949, she became Lady Dunfield. She died in St. John's on December 14, 1973.
In 1992, Dorothy Dunfield presented her mother's papers to the Centre for Newfoundland Studies. They include her almost daily correspondence home to her parents during the years she spent in Cheltenham and Leipzig and her correspondence to them during the war. There are two of her diaries, one covering Christmas 1906 to March 1908, and the other December 1916 to July 1918. Both her letters and her diary for the war years give vivid accounts of her life and experiences as a VAD.
The papers also include letters her father wrote to her grandfather between 1865 and 1880, her sister Jill's letters to their parents from Cheltenham and Leipzig (1904-1911) and her sister Dorothy's letters from Leipzig (1908-1910). There is a photograph of her brother, Macness Johnson, in his uniform as a member of the Highland Regiment.
Johnson family members have been noted for their contribution to the clerical, political and judicial life of Newfoundland. Sybil Johnson's role as a VAD has often been overlooked. It is time she, her sister Jill, and all the other Newfoundland women who served as members of the Volunteer Aid Detachment received the recognition they are long overdue.