Surprise Gift is a Coup for Archives!
From the files of The Gazette June 01, 1995.
Some years ago, while preparing for the Newfoundland and Labrador Folk Festival in Bannerman Park, St. John's, I met a United Church minister, Rev. Walter Sellars, who had been born in St. John's and grown up in the Battery, but who was now retired and living in Ottawa. He was back in Newfoundland for a visit. During our conversation, I learned he was a writer and I encouraged him to deposit material in the archives. He has sent the occasional piece from time to time, particularly the articles he wrote about growing up in St. John's in the 1920s that were published in The Evening Telegram in 1987. Walter has had a very interesting career, both as a member of the RCAF during the Second World War and in the United Church ministry after the war. He is very aware of the need to preserve our heritage. It is with this aim in mind that he wrote me on March 9, 1995:
Dear Bert:
Here is a lengthy story, prompted by the recent death of Amelia Burry, widow of the Rev. Lester Burry whom I met by Amateur Radio in the mid 1930's, and whom I met in person near the War's end in Labrador when I arranged for our RCAF aero-engine mechanics to overhaul the abused engine of his mission boat. Getting the 1200-pound monster from North West River to the base at Goose Bay by dog-team was a challenge, but I took time off my Air Force duties to lend a hand.
The story begins in 1938 when I was President of the Young People's Union at Gower Street Church. The Rev. John Bell came into my department of the Royal Stores one day leading another clergyman by the name of Denzil Ridout who, as Secretary of the Home Missions Board of the United Church, was down from Toronto and on his way to Labrador to make a photo-record of Lester's mission work. Ridout wanted to meet me (and perhaps some other Amateurs) who had helped create the radio gear by which Lester kept in touch with some members who were absent from home on their trap-lines. Oscar Hierlihy had engineered the gear, consisting of a grid-modulated oscillator and one-tube battery receivers.
Ridout did a pretty good job of the photography, and incidentally impressed Elizabeth Goudie of Woman of Labrador, who gave birth to a boy while Ridout was in Labrador and promptly gave him the second name of Denzil. The boy's first name was Joseph, and he was the MLA from Labrador for a time.
Jump ahead to 1967. I was back in Toronto and showing my own Labrador slides. One of the older ladies who came to see them at Islington Church was the widow of Ridout. She was moved by what she saw and heard, invited me to her home, and promptly gave me a full set of the 4x4 glass slides (coloured) which her husband had kept as duplicates.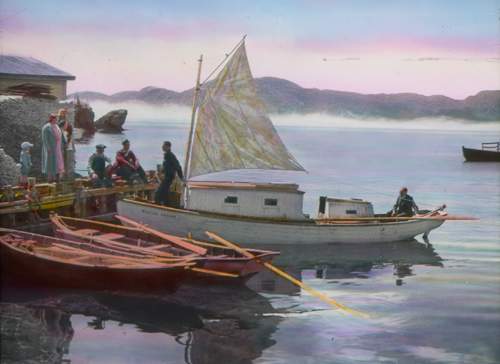 Lantern Slide
One of the unidentified lantern slides by Denzil Ridout.
Courtesy of Archives and Special Collections, Queen Elizabeth II Library, Memorial University of Newfoundland, St. John's, NL.
Would you be interested in them and in an ancient Bausch and Lomb 4x4 projector for showing them? ...No harm done if you feel they have no value. You must be getting short of space.

Regards, Walter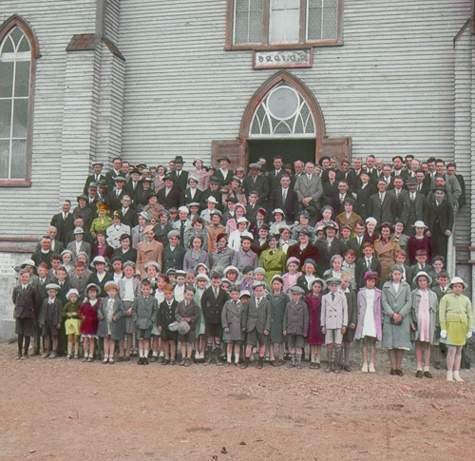 Another of the unidentified lantern slides by Ridout.
Courtesy of Archives and Special Collections, Queen Elizabeth II Library, Memorial University of Newfoundland, St. John's, NL.
Would we be interested in them? The irony of that question overwhelmed me! In 1991 we had acquired what had survived of Dillon Wallace's papers, including approximately 250 lantern slides. We had nothing to show them on. I have been searching for a lantern slide projector, knowing that they are both very rare and very expensive. Would we be interested in it? And slides as well? Would we ever!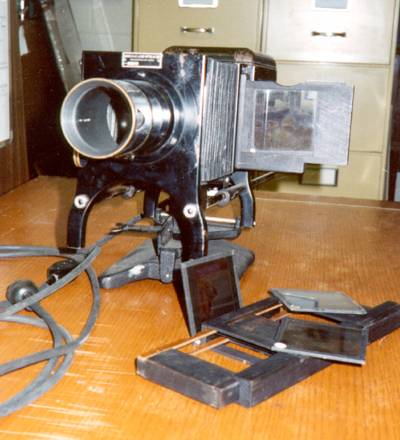 A 1940s Bausch and Lomb projector
Donated to the archives by Rev. Walter Sellars.
Courtesy of Archives and Special Collections, Queen Elizabeth II Library, Memorial University of Newfoundland, St. John's, NL.
The projector and the slides are both somewhat fragile which made shipping precarious. However, Prof. Harvey Weir, who is married to my associate, performing arts archivist Gail Weir, was off to Ottawa on university business; he kindly agreed to bring the projector and slides back in his hand luggage, no easy task considering each weighed about 25 lbs.
Now, thanks to Walter Sellars, we are the proud owners a Bausch and Lomb lantern slide projector in excellent working condition and 172 lantern slides taken by Denzil Ridout during his excursion to Newfoundland and Labrador in 1938. We are in the process of identifying the images and hopefully we can offer a showing sometime soon.