Military Man Turned Aviation Historian
From the files of The Gazette June 4, 1998.
Robert Holland Tait was born in St. John's on Oct. 7, 1891, the son of Dr. James Sinclair Tait and Sarah Elizabeth Calkin. He was educated at Bishop Feild College, St. John's, graduating with honors. In 1908 he travelled to England to attend London University, but moved to Trinity College, Oxford, in 1910 when he was awarded the Rhodes Scholarship for Newfoundland. He graduated in 1913 with a bachelor of arts in law.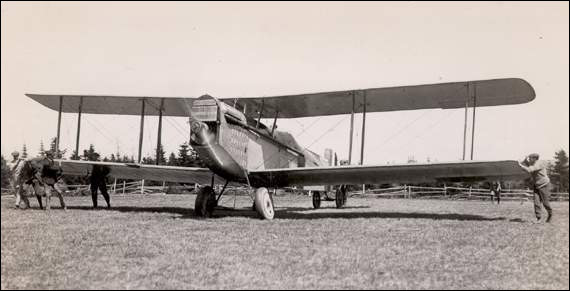 Plane Flown by Hawker and Grieve
Courtesy of Archives and Special Collections (Coll - 232, 3.05), Queen Elizabeth II Library, Memorial University of Newfoundland, St. John's, NL.
Tait had excelled in athletics at Bishop Feild. While at Trinity, he became captain of the college football team and was a member of the Oxford-Canadian hockey team, which toured Europe during the winter of 1910-1911. That team, consisting of only seven players, won all 17 matches it played and outscored the opposition 204 goals to 17. It included three Manitobans, a Nova Scotian, Gustave Lanctot from Quebec, later Dominion Archivist of Canada, and two players from Newfoundland, Tait at left wing and John G. Higgins as centre.
Following graduation, Tait returned to Newfoundland. After articling with Alfred B. Morine, he went on to University of King's College, Windsor, Nova Scotia, where he graduated the next year with a bachelor of civil law degree.
Then came the First World War. Tait was one of the first Newfoundlanders to join the Newfoundland Regiment, receiving a commission as lieutenant on Sept. 24, 1914. He was one of the first 500 who left St. John's on board the SS Florizel on Oct. 4.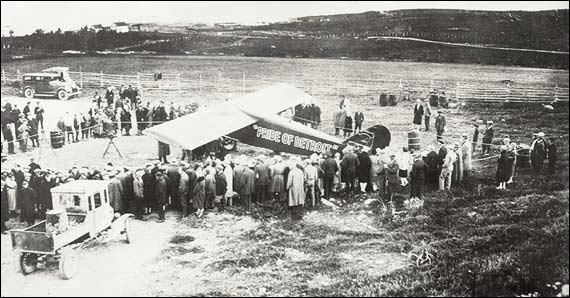 The Detroit
Courtesy of Archives and Special Collections (Coll - 232, 3.05), Queen Elizabeth II Library, Memorial University of Newfoundland, St. John's, NL.
The Newfoundland Regiment was part of the British Mediterranean Expeditionary Force. The Newfoundlanders were shipped out to the eastern Mediterranean in August 1915. Tait saw action at Gallipoli and Egypt, sustaining several injuries which resulted in time in hospital in Cairo. On Jan. 10, 1916, he was promoted to captain, and in May was transferred with the Regiment to France. He did not participate in the Battle of the Somme (Beaumont Hamel) as he spent the summer and fall of 1916 in hospital. He was released on Oct. 19.
The regiment spent the winter of 1916-1917 away from front-line duties. In March 1917 it went back into action, first at Sailly-Saillisel and at Monchy-Le-Preux and then at Poelcappelle. It was as result of his leadership at Poelcappelle in October that Tait, (who had been appointed Regimental Adjutant on May 23, 1917) was awarded the Military Cross. He took part in the Battle of Lys, the last major German offensive, where he was wounded at Neuve Eglise on April 12, 1918, and invalided to England.
After a month in hospital in England, Tait was sent back to Newfoundland where he was assigned command duties at Regimental Headquarters in St. John's. Shortly after the war ended Tait was given command of the Discharge Depot, overseeing the return of Newfoundland soldiers to civilian life. While engaged in this command, on June 1, 1919, Tait was raised to the rank of major. He retired to the reserve list on Oct. 6.
With the war over, Tait was finally able to continue his law career. He was called to the Newfoundland Bar as a solicitor in 1919 and a barrister in 1920. He was appointed clerk of the Legislative Council in 1919 and held that post for four years.
Poor health, a result of his war wounds, caused Tait to leave Newfoundland in 1923. He emigrated to Boston where he became the Newfoundland representative in charge of the Newfoundland Information Bureau. As part of his work to promote Newfoundland, especially as a travel and tourist destination, he gave many public lectures on Newfoundland throughout Massachusetts, and as far afield as Ohio, Pennsylvania, New York and Maryland. In 1928 he was featured in a pamphlet entitled Unknown Newfoundland published by the Bureau of Commercial Economics in Washington. D.C., which was used to advertise and promote his lecture tours.
He also founded the Newfoundland Weekly, a newspaper-magazine whose purpose was to keep expatriate Newfoundlanders living in the Boston area aware of happenings in Newfoundland. In 1933 he published a narrative poem, The Trail of the Caribou, an account of the Newfoundland Regiment during the First World War with explanatory notes.
In 1935 Tait moved to New York City, where he took charge of the Newfoundland Information Bureau there. While there he became president of the Newfoundland War Veterans' Association of New York, and in 1939 he published Newfoundland: A Summary of the History and Development of Britain's Oldest Colony. In the early 1940s he compiled a book on the history of aviation in Newfoundland from 1919 to 1939. Tait also wrote articles on Newfoundland, particularly on the regiment and the First World War, which appeared in The Veteran, Atlantic Guardian, Newfoundland Quarterly and other such magazines.
Tait married Margaret Gertrude Gibb in St. John's on Aug. 23, 1919. They were the parents of two children, Gertrude Sinclair and Phyllis Louise Calkin. Tait died at Boston on March 28, 1964.
In 1960 Joseph R. Smallwood made a public plea for information on Newfoundland subjects for a book he was compiling. Tait, who had not been able to publish his aviation history, sent his manuscript to Smallwood, "asking you to accept it with my compliments for such use as you may see fit to make of the material." It was part of the Smallwood bequest to Memorial University.
The manuscript consists of 36 pages of text, 74 photographs of the aviation pioneers and their planes, a large chart of all the flight attempts originating, terminating or just passing through Newfoundland, both successful and unsuccessful, and several maps compiled by Tait. There are also several letters between Tait and Sir Arthur Whitten Brown (of Alcock and Brown fame), together with a foreword Brown agreed to write for Tait's book. It provides a fascinating account of a time when Newfoundland was in the forefront of trans-Atlantic aviation.