Job's Papers Reveal His Family's Commitment to Province
From the files of The Gazette July 11, 1996.
June 21, 1996, was the 50th anniversary of the election of the National Convention, the body convened by the British Government to decide on possible options for the future government of Newfoundland after 15 years of government by commission. Archives and Special Collections has acquired the papers of a few of the 45 men who served in that assembly, including those of the oldest member elected: Robert Brown Job.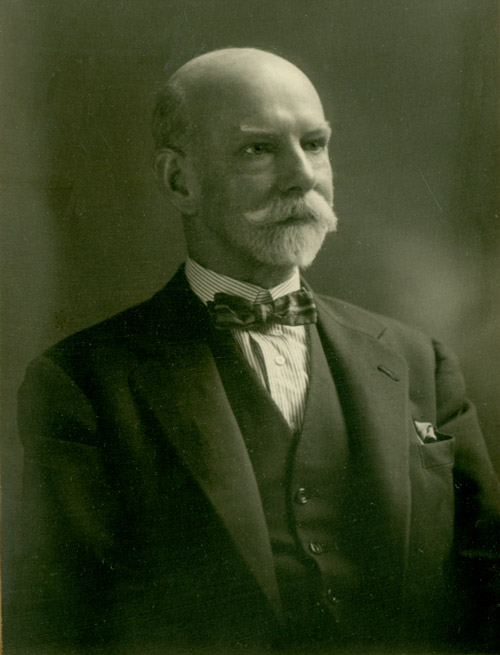 Robert Brown Job (1873-1961)
Robert Brown Job was a businessman, politician, and economic unionist.
Photographer unknown. Reproduced by the permission of the Maritime History Archive, Memorial University, St. John's, NL.
Robert Brown Job was born in Waterloo, near Liverpool, England, on Feb. 12, 1873, the youngest son of Thomas Raffles Job and Agnes Beater Brown. He was educated at the Merchant Taylor's School at Crosbie and began his business career in 1891 with the Union Marine Insurance Co., Liverpool. In 1896 he became ill and was ordered by his doctor to take a sea voyage. Job decided to sail to Newfoundland, where his parents had been born and were married, and where the Job family had had an extensive business operation for many years. He settled permanently in Newfoundland the following year and in 1899 was admitted to full partnership in Job Brothers & Co. in St. John's and Job Brothers in Liverpool.
Business and Politics
In Newfoundland Job assisted his older brother, William Carson Job, in the management of Job Brothers & Co., and in 1916, when W. C. Job retired, R. B. Job became managing director. In 1919 he became president of Job Brothers & Co., a position he would hold for over 30 years. He also served as president or vice-president of a number of other companies in which the Job companies had business interests. For 18 years he acted as Belgian consul in Newfoundland and was made a Chevalier of the Order of the Crown of Belgium for his services.
Job had a shortlived, but noteworthy, political career. He was appointed a member of the Legislative Council, the upper chamber of Newfoundland's bicameral legislative system, by Prime Minister Walter S. Monroe in 1927, and served there until the dissolution of the council in 1934.
A second foray into politics came in 1945 with the call for a National Convention. Job offered himself as a candidate in the constituency of St. John's City East, which was entitled to elect three members to the convention. He was returned, and when the convention convened he soon came to be recognized as its elder statesman, a voice of sober reason in the spirited debate which was to follow.
A Strong Voice
At the convention, Job became a strong proponent of an economic union or some equally suitable trade or fiscal arrangement with the United States. He proposed sending a delegation to the United States to discuss a possible economic arrangement: it passed the convention, but was rejected by the Commission of Government, which wanted to limit such discussions to Britain and Canada. Consequently, Job worked in favor of a return to responsible government, seeing an independent Newfoundland as the best means of securing an American deal.
As a member of the convention, Job was a member of the influential steering committee, a sort of quasi-cabinet, which planned the business of the convention, served on the fisheries and finance committees, was a member of the first delegation to Ottawa (but illness prevented him from going), and an alternate member of the delegation to London. He also wrote a pamphlet entitled The Idea of a Partly Internationalized Newfoundland (1947), in which he presented his views on the best course for Newfoundland's future.
Job retired from management of Job Brothers & Co. in the 1950s but remained as a director and chairman of the board for a number of years. In 1953 he published John Job's Family, a history of the Job family from 1730. He spent his later years in semi-retirement, eventually moving to St. Patrick's Mercy Home, where he died on Sept. 6, 1961.
Robert Brown Job married Alice Mary Warren, a sister of William R. Warren (prime minister of Newfoundland 1923-24), in 1902. After her death in 1930, he married Emilie Jackson Warren, widow of William R. Warren, in 1932. They had one daughter, Jennifer. Emilie Job died in 1934.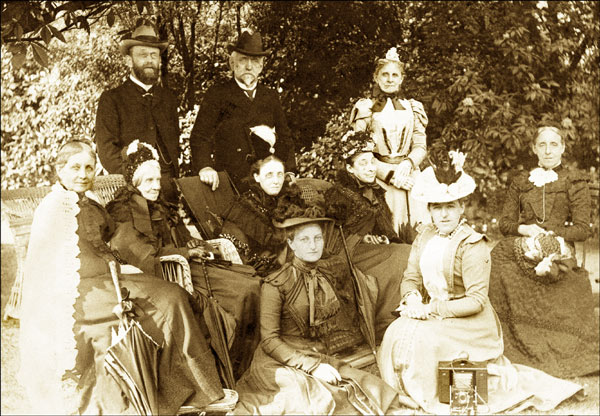 Group Photo Showing Jessie Carson Job, ca. 1900
Jessie Carson Job, shown here sitting second from left, was the grandmother of Robert Brown Job.
Courtesy of Archives and Special Collections (Coll - 098, 6.01), Queen Elizabeth II Library, Memorial University of Newfoundland, St. John's, NL.
William Carson Connection
In October 1987, Ian Reid and Helen Nixon, both grandchildren of William Carson Job, donated what had survived of Robert Brown Job's papers to the Centre for Newfoundland Studies. While not a large amount of material, it did include copies of several of his speeches to the National Convention, almost 100 letters related to the deliberations, and other associated items. There was also personal correspondence; family history, particularly with regard to Dr. William Carson, father of Job's grandmother, Jessie Carson Job; Job family and business history and several photographs. It should prove beneficial to those interested in Carson, the Jobs, the National Convention, and a host of other subjects.