Hamilton, Sir Charles (1767-1849)
Governor, 1818-1823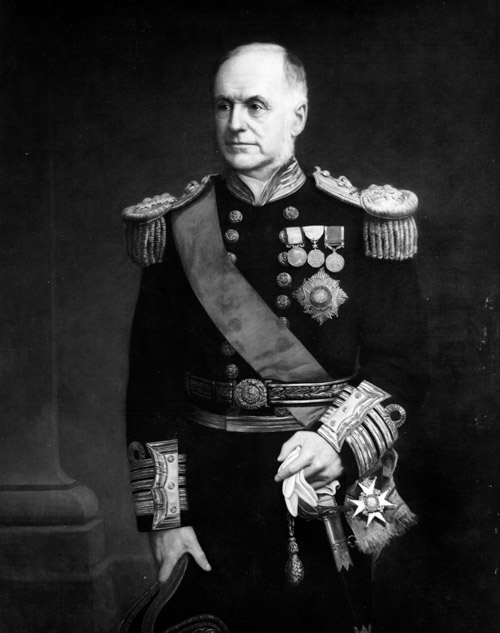 Charles Hamilton was born in Britain in 1767 and at the age of nine began his naval career on board the Hector. From 1777 to 1779 he completed a term at the Royal Naval Academy in Portsmouth, and then returned to the Hector. He was promoted to lieutenant in 1781, commander in 1789, and post-rank in 1790. Hamilton commanded a number of vessels: the Dido, the San Fiorenzo, the Romney, the Melpomene, the Illustrious, the Sea Fencibles, the Téméraire, and the Tonnant. On his father's death in 1784, Hamilton inherited a baronetcy. He continued in active naval service while a Member of Parliament for 12 years, beginning in 1801. In 1818, now a vice-admiral, Hamilton became the second resident governor of Newfoundland and Labrador, and the first to bring his wife, Lady Henrietta Hamilton, an accomplished amateur artist.
St. John's had been devastated by fire just prior to Hamilton's arrival. He oversaw the reconstruction, and introduced a building code and widened the streets. The new regulations were difficult to enforce and two more fires broke out during his time as governor. Hamilton had funds approved for a new gubernatorial residence - to be built by his successor - and was responsible for the construction of a court house and a jail. He also supported the building of a theatre. A devout Anglican, Hamilton encouraged the construction of Church of England churches, and provided money to help the destitute.
A conservative, Hamilton believed in the encouragement of the fisheries, but was sceptical about the future of agriculture. Opposed to political and constitutional reform, he was in conflict with those in St. John's who felt that change was long overdue. Hamilton did try to establish contact with the Beothuk, and authorized the unsuccessful expeditions of John Peyton and William Buchan. It was Lady Hamilton who painted the famous portrait of Demasduit (Mary March), the Beothuk woman captured in 1818.
Hamilton left Newfoundland in 1823, and held no further appointments. He died at Iping, his family home, in 1849.