Fagan, Hon. Frank F. (1944-)
Lieutenant Governor, 2013-2018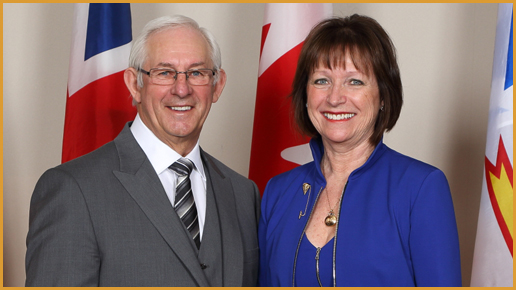 Frank F. Fagan became the 13th Lieutenant Governor of Newfoundland and Labrador on March 19, 2013, following a lengthy career in business and many years of community service.
Fagan was educated at the Memorial University of Newfoundland, where he received a Bachelor of Arts degree in 1979 and a Masters of Business Administration in 1982.
He began his telecommunications career at the age of 17, when he became a linesman for Newfoundland Telephone in 1962. He rose rapidly through the ranks and ultimately became the Executive Vice-President and Chief Operating Officer at Bell Aliant, one of North America's largest regional communications providers. During his 46-year career, Fagan oversaw the creation of the province's multi-billion-dollar communications and information technology network. He retired in 2008.
Fagan has also performed extensive public service. He has volunteered for countless organizations, including the Health Care Foundation of St. John's, the Junior Achievement Newfoundland and Labrador Business Hall of Fame, the Newfoundland Association for Community Living, the Canadian Diabetes Association, and the St. John's Special Olympics Association.
He is a founding member of the Literacy Foundation, and of the Newfoundland Chapter of the Telecom Pioneers of America. In the arts, he has held leadership roles with the Newfoundland Symphony Orchestra, the Terra Nova Chamber Players, and the Art Gallery of Newfoundland and Labrador. He has worked extensively with the Vera Perlin Society to integrate people with developmental disabilities into the workforce and the community.
Fagan has received widespread recognition for his volunteer and professional work. In 2006, Memorial University gave him a lifetime achievement award for his pioneering role in the telecommunications industry. He has also been named the Newfoundland and Labrador Humanitarian of the Year by the Canadian Red Cross, and the Philanthropist of the Year by the Association of Fundraising Professionals.
In 2011, Fagan was made a Member of the Order of Canada "for his contributions as a volunteer, community leader and philanthropist."
The Lieutenant Governor has a web site at www.govhouse.nl.ca/.