Roberts, Hon. Edward Moxon (1940-2022 )
Lieutenant Governor, 2002-2008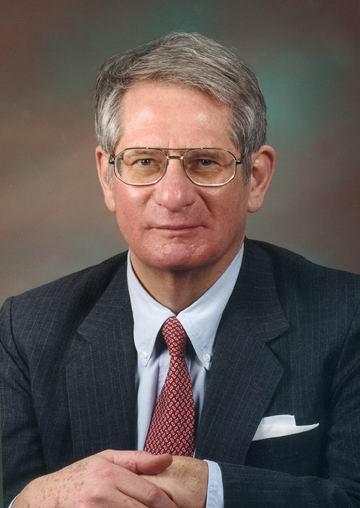 Born on 1 September 1940 in St. John's, Edward Moxon Roberts is the son of Harry and Katharine Roberts. He attended Holloway School and Prince of Wales College in St. John's, and high school at St. Andrews College in Aurora, Ontario. He graduated in 1960 with a Bachelor of Arts and in 1964 with a Bachelor of Laws, both from the University of Toronto. He is husband to Eve Roberts and father to daughters Catherine and Caroline.
In 1964 he entered provincial politics when he was appointed the first executive assistant to Premier Smallwood. Roberts went on to win his first of eight provincial elections in September 1966, when he won in the district of White Bay North. He was subsequently appointed as first Parliamentary Assistant to Smallwood, Minister of Public Welfare in July 1968, and Minister of Health in June 1969.
He became Leader of the Liberal party in February 1972 and thus Leader of the Opposition. In October 1974 his leadership was unsuccessfully challenged by Smallwood. The Liberals were defeated in the 1975 general election but Roberts was re-elected in the newly-created district of Strait of Belle Isle.
In 1977, he lost the Liberal leadership to William Rowe. Roberts was re-elected in the House of Assembly in 1979 under the leadership of Don Jamieson and served as House Leader until Jamieson's resignation. He was again re-elected in 1982 but did not stand for re-election in 1985.
His legal career started with articles to the Attorney General and call to the Newfoundland Bar in February 1965. He entered full-time practice in January 1978 while maintaining his seat in the House of Assembly. He was appointed Queen's Counsel in 1978, a Master of the Supreme Court in 1989, and has been a member of the Canadian Bar Association since 1978. Following his departure from politics in 1985 he focused on his legal practice but remained active within the Liberal party.
In February 1992, Roberts left private practice when he accepted an invitation from Premier Wells to join his Cabinet as Attorney General, Minister of Justice and House Leader. He was elected to the House of Assembly in the by-election of June 1992 in the district of Naskaupi, Labrador, and was re-elected for the final time in 1993.
Roberts again retired from elective politics in March 1996. He returned to practicing law until accepting an invitation to become the province's 11th Lieutenant Governor. He was sworesworn in on 1 November 2002.
Roberts passed away in St. John's on January 14,2022.
Article is based on information supplied by Greg Connors in 2003.