Macpherson, Hon. Campbell Leonard (1907-1973)
Lieutenant Governor, 1957-1963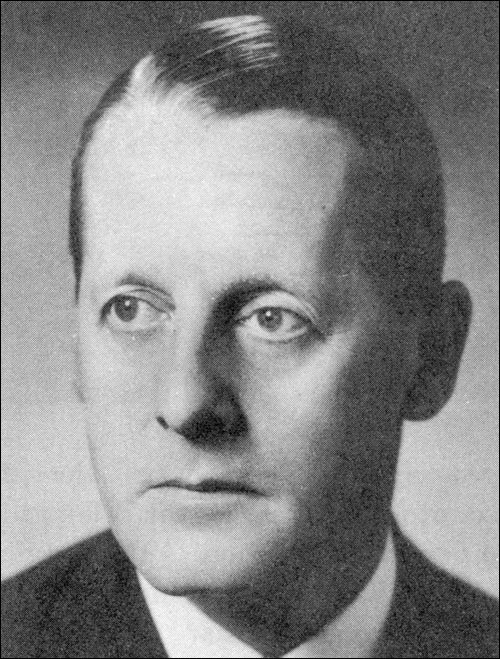 Macpherson was born in St. John's on July 4, 1907. He was educated at the Methodist College in St. John's, Westminster School in London, and at Columbia University in New York City. He started his career in 1925 at Royal Stores, the family business in St. John's. In 1930, he became a member of the company's board of directors.
He served several years with the Newfoundland Board of Trade before becoming its president in 1947. Macpherson was also involved in community affairs. He was an original member of Memorial University's Board of Regents from 1949 to 1957, and a member of the Prince of Wales College Board of Governors. He served as an aide-de-camp and private secretary before becoming Newfoundland's third lieutenant governor in 1957.
Macpherson's term was marked, more than anything else, by its controversial end. On January 8, 1963, Prime Minister John Diefenbaker abruptly asked Macpherson for his resignation, and his term ended less than three weeks later. Premier Smallwood was outraged at Diefenbaker's conduct. Two other lieutenant governors - E.C Plow of Nova Scotia and F.L. Bastedo of Saskatchewan - were also asked for hasty resignations. Diefenbaker told reporters he had made this decision after federal officials discovered that the British North America Act mandated five year terms. However, according to James Crawford, Macpherson's private secretary, the British North America act did not require a renomination for an individual to hold the office for a second term. He argued that the New Brunswick's previous lieutenant governor held the office for nine years, and Outerbridge had stayed in office for eight. The debate over Diefenbaker's decision eventually subsided, however, and Fabian O'Dea was named the next lieutenant governor.
Macpherson died in St. John's on June 28, 1973.