Belleoram Woman Records Observation of First World War in Letters Written Home
From the files of The Gazette December 02, 1993.
In February 1993 I received a letter from a Rev. V. Cluett of Dartmouth, Nova Scotia who had just recently retired from the Anglican ministry. He was "sorting through accumulated papers" and found "a group of letters written by Frances Cluett, an aunt, who ... served with the Voluntary Aid Detachment [VAD] of the St. John Ambulance Corp ... in France during World War I." If we were interested, he was quite willing to donate the letters, a photograph album and related items to the archives. As the material met our collections' mandate, we were pleased to accept his generous offer.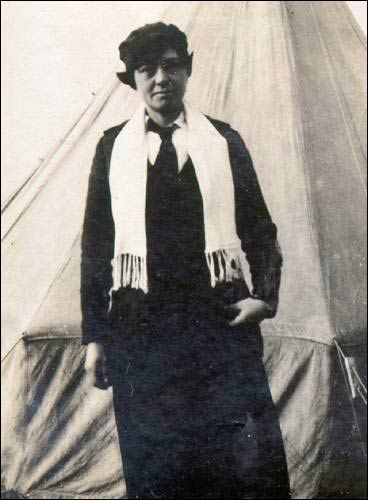 Frances Cluett, n.d.
Courtesy of Archives and Special Collections (Coll. - 174.5.02.127), Queen Elizabeth II Library, Memorial University of Newfoundland, St. John's, NL.
Frances Cluett was born in Belleoram, Fortune Bay in 1895 and was probably educated there. After she finished school she assisted the local school master in the one-room school. At the age of 21 she decided to join the VAD. She left Belleoram aboard the Glencoe and met the train at Placentia. She spent several weeks in St. John's in preparation for her trip overseas, then took the train to Port aux Basques, crossed the Cabot Strait to Nova Scotia and then went by train to New York. From New York it was across the Atlantic to Liverpool and then on to London where she spent more time being trained for work in a military hospital. By the spring of 1917 she was stationed at the 10th General Hospital in Rouen, France. In 1918 she was transferred to Constantinople [Istanbul] and in 1920 returned to Newfoundland.
Back in Newfoundland, Cluett attended the Normal School which qualified her for a teaching career. She spent the rest of her life in Belleoram, teaching primary school and operating a small general store. She was quite active in her church and as a result of her "medical" training was often called upon for advice or assistance when anyone in the community became sick. She died in Belleoram in 1969.
Frances Cluett's packet of letters home to her mother during the time she spent in Europe with the VAD provides unique insight into the experiences of a young woman who left a Newfoundland outport and was propelled headlong into a world war. She had probably not even been outside Belleoram before she boarded the Glencoe in 1916; within weeks she had been exposed to St. John's, New York and London and was in training to participate in World War I.
Her letters home to her mother give a realistic account of her activities during her four years away from home. At the beginning this account is one of wide-eyed innocence; she wrote of her arrival in St. John's: "Mrs. Browning, Lady Davidson's secretary and Dr. Patterson's wife were at the station to meet me. You canimagine what I felt like. They were dressed to kill and I had on my flake boots and old blue coat. Mrs. Browning had on a fawn suit and brown velvet hat and furs."
Her introduction to New York is filled with awe: "We have certainly travelled up and down Fifth Avenue. I was in one store today. Really I thought to myself that the floor we were on was nearly as large as half of Belleoram. I never could in all my life imagine anything like it." She soon adapted to the realities of life on the battlefields of Europe. Perhaps it was growing up in a Newfoundland outport that gave her the courage and stamina to do the difficult work she had volunteered for in the war hospitals: "Next evening I was told to watch a man until his last breath went. I never thought mother that I could do what I have done. I went behind the screens and stayed with him until he died. Oh the pitiful sights, the worn faces: one man asked just before he died when he could see his mother."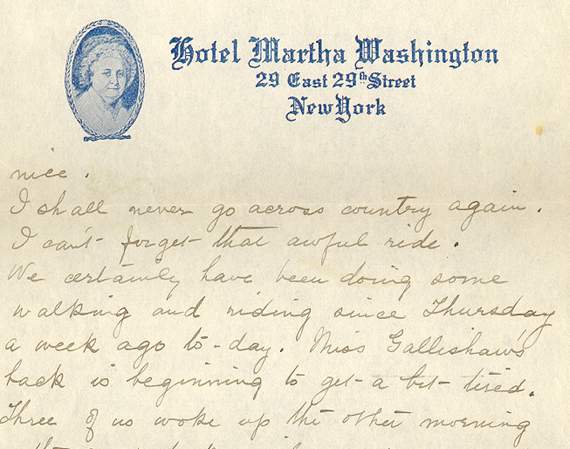 Sample of a letter by Frances Cluett
Courtesy of Archives and Special Collections, Queen Elizabeth II Library, Memorial University of Newfoundland, St. John's, NL.
Frances Cluett's collection consists of two dozen letters, a sampling of envelopes with the sticker indicating they had been read and approved by the war censor, almost two hundred photographs depicting her life in Belleoram and in Europe, a small autograph album covering the dates 1907 to 1910, a journal from 1908, two St. John Ambulance Brigade badges and five watercolours she painted in France. It presents a picture of the life and work of a Newfoundland woman on the front lines in World War I, a complement to the many surviving accounts of the Newfoundland men who fought and died in that war.