Virtual Tour: Dining Room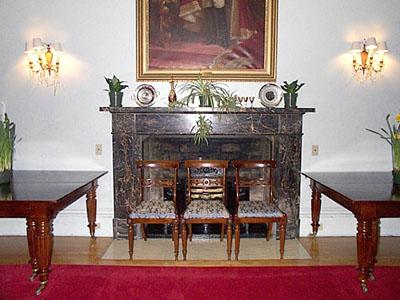 Dining Room Fireplace
Photo © 2000 Lisa LeDrew.
The most impressive room in Government House is unquestionably the Dining Room. This is principally because, unlike the other Government Houses in Canada, it contains most of its original early 19th century furniture. The room is a magnificent space, lit from the south by tall windows and entered from the Drawing Room through a pair of finely-polished mahogany doors.
These doors posed something of a problem for the Royal Engineers when the house was under construction because Governor Cochrane only decided he wanted them when chimneys had been constructed in those walls. The change in plan was very expensive for, not only did the chimneys have to come down, they had to be moved to the north wall of the room. This led to some disputes between the Governor and the engineer in charge of the project.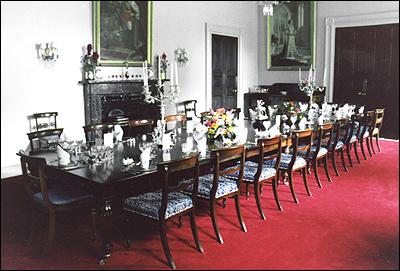 Large Table
This large table was ordered for Government House in 1829.
Photo © 2000 Newfoundland and Labrador Heritage Web Site.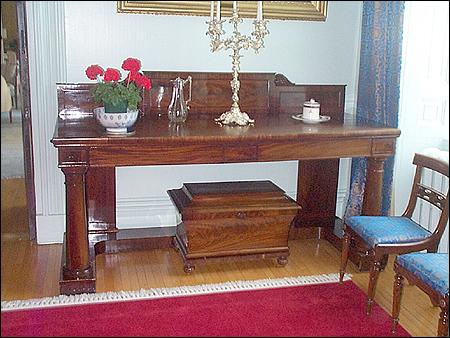 Sideboard and Wine Cellaret
The sideboard and wine cellaret (below sideboard) date from 1829.
Photo © 2000 Newfoundland and Labrador Heritage Web Site.
The large table is unusual in that two people are seated at each end. It and the chairs that surround it were part of the large inventory of furniture that was ordered for the house in 1829. The pair of sideboards that flank the east wall as well as the wine cellarets beneath also date from this first inventory.