Cultural Renaissance
During the late 1960s and 1970s, Newfoundland and Labrador experienced what has been variously called a cultural renaissance, revival, or revolution. It was a period of sustained creative activity by local artists working in a wide range of disciplines in the literary, performing, and visual arts. Often for the first time, the local population saw their stories, dialects, and customs reflected back from the page, canvas, stage, or television screen. As the movement explored the province's culture, it also helped to validate and shape it.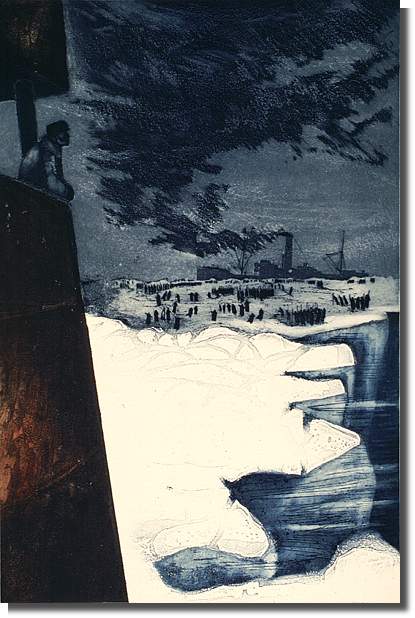 David Blackwood's SS Imogene with Crew on Ice, 1967
The late 1960s and 1970s was a period of sustained creative activity by Newfoundland and Labrador artists working in a wide range of disciplines in the literary, performing, and visual arts.
©1967. Etching, A. P. The Rooms Provincial Art Gallery Permanent Collection, St. John's, NL.
The artistic proliferation was connected to political, economic, and social changes taking place in the province. In the late 1950s and 1960s, academics at Memorial University began to study regional dialects, songs, traditions, stories, and other aspects of the local culture. Soon, a new generation of well-educated and socio-economically aware Newfoundlanders and Labradorians began to question some government policies and the benefits of Confederation. At the same time, discoveries of potentially lucrative oil deposits off Newfoundland's east coast signaled the possibility of future prosperity. The prospect of economic improvement, linked with a growing appreciation of the province's culture and dissatisfaction with its status in the Canadian federation, helped to trigger the cultural renaissance of the 1970s.
Development of Newfoundland Studies
Confederation with Canada ushered Newfoundland and Labrador into the mainstream of the 20th century world. New roads connected once-isolated communities to larger centres, modern hospitals and schools sprang up, and access to the Canadian social security net improved material standards of living. Joseph Smallwood's Liberal administration embraced a policy of modernization that brought swift change to outport areas in particular. Resettlement programs saw many small communities disappear, while the industrialization of the fisheries ended a way of life that had endured for generations.
At the same time, Smallwood expressed a desire to preserve the province's heritage through the creation of a university. "[W]e have our own traditions. We have our own folklore," he said in a speech to the National Convention in 1947. "We have our own folkmusic ... We have got a distinctive culture all our own, and yet we have nothing ... nor have we had anything to foster and encourage the development and growth and recognition of a distinctly Newfoundland culture. And one of the most attractive possibilities of the Memorial University, if it became a university, would be that of having a university become a dynamo, a power-house, in the inculcation and dissemination and encouragement of a distinctly Newfoundland culture" (qtd. in Bill 92).
One of Smallwood's first acts as premier was to make the Memorial University College a degree-granting institution. Research at the university soon took on a regional focus. After professors E.R. Seary and G.M. Story joined the English Department in 1954, they spearheaded a series of ambitious research projects involving regional dialects, folklore, place names, and surnames. Several influential publications were released as a result of their work, most notably the Dictionary of Newfoundland English in 1982. Scholarly research into Newfoundland studies was soon underway at other departments as well. Throughout the 1960s, linguists, anthropologists, folklorists, historians, and other researchers collected and studied local songs, stories, sayings, beliefs, customs, crafts, and other aspects of Newfoundland and Labrador culture.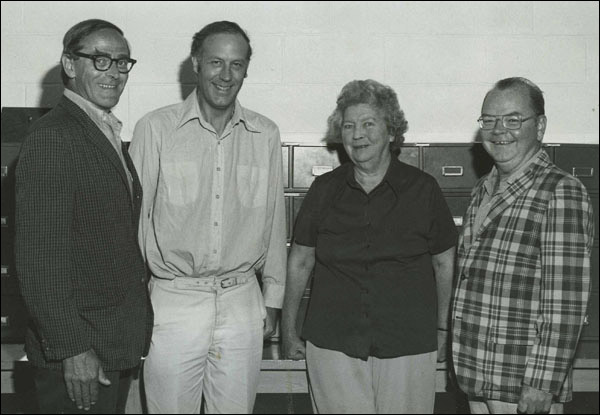 Dictionary of Newfoundland English Editors and Halley, 1978
L-R: George Story, John Widdowson, Joan Halley (administrative assistant), and William Kirwin.
Photo by John Martin. Courtesy of the English Language Research Centre, Memorial University, St. John's, NL.
A provincial archives opened in 1960, followed by Memorial University's Art Gallery (today the Provincial Art Gallery) in 1961. Memorial also created a Folklore Department and its associated Folklore and Language Archive in 1968. By then, field workers with the university's Extension Service were providing cultural outreach to rural areas and encouraging local artists, musicians, and writers. Memorial's Institute of Social and Economic Research (ISER), established in 1961, fostered a Newfoundland school of social science to research a broad range of areas, including community and cultural studies, social and economic development, fisheries, anthropology, and political science.
A New Generation Comes of Age
Work at the university gradually entered the public consciousness and helped to influence a new generation of Newfoundlanders and Labradorians in the late 1960s and 1970s. More politically aware and better educated than their parents, but lacking in first-hand knowledge of the widespread poverty that had preceded the Second World War, they began to question some government policies and the benefits of Confederation. Smallwood's resettlement and industrialization programs were especially criticized for eroding the rural way of life and folk culture, but so was the growing exposure to North American mass media and consumer culture.
At the same time, Ottawa's control over the cod fisheries and other offshore resources was seen as a threat to Newfoundland's independence and identity. The prospect of offshore oil in the 1960s and 70s held the promise of future wealth, but only if the province could wrestle resource control from the federal government. As a newfound appreciation for a distinct local culture grew in Newfoundland and Labrador, so too did a belief that it was under threat from outside forces and in need of protection.
Tremendous political change came in 1972, when the Progressive Conservatives, led by Frank Moores, won a provincial election and ended almost 23 years of Smallwood's governance. Oil became a point of federal-provincial strife as the Moores administration fought for greater control over natural resources. According to sociologist Harry Hiller, it also served as a catalyst for the cultural renaissance by "provid[ing] the energy, confidence and the occasion for an awakening in Newfoundland's cultural and economic aspirations" (271).
Artistic Proliferation
There was a burst of local creative activity in the late 1960s and 1970s as talented new artists worked in many disciplines. Musicians combined traditional and contemporary North American sounds to push their art forward. The band Figgy Duff, for example, incorporated local folk music with rock and roll influences, such as amplification and powerful drumming. "The 1970's heralded an era of newfound discovery and pride in Newfoundland culture and identity," wrote singer/songwriter Pamela Morgan.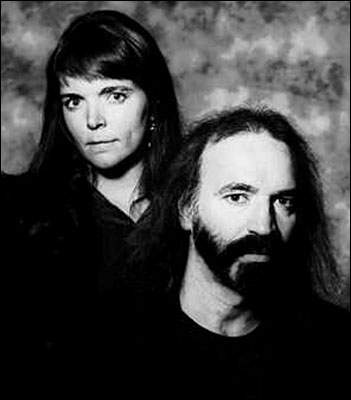 Pamela Morgan and Noel Dinn, n.d.
Morgan and Dinn were the founding members of the band Figgy Duff.
Photo by Denise Grant. Courtesy of Amber Music.
In the visual arts, painters and sculptors such as Christopher Pratt, David Blackwood, Gerald Squires, Reginald Shepherd, and Helen Parsons Shepherd drew inspiration from local sources. Some works mythologized the province's past, such as Blackwood's The Lost Party, a series of 50 etchings about the 1914 sealing disaster. Others, including Pratt's paintings, reflected the province's contemporary world.
Writers also probed the nature of life in Newfoundland and Labrador. Early novels included Harold Horwood's Tomorrow Will Be Sunday (1966), which explored outport existence, and Percy Janes's groundbreaking House of Hate (1970), an unsentimental depiction of unhappy domestic life set in the context of small-town Newfoundland. Cassie Brown's account of the 1914 sealing disaster, Death on the Ice (1972), was widely read and eventually taught in the province's schools; other local books also entered the curriculum, including Kevin Major's 1974 anthology of local writing, Doryloads. The Labrador Heritage Society began publishing Them Days quarterly magazine in 1975 to record and preserve Labrador's history and culture.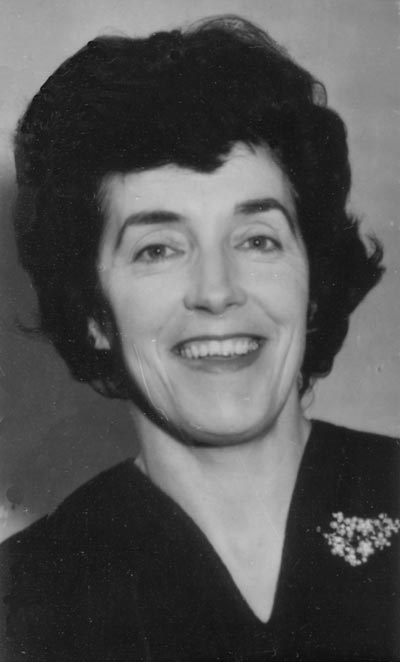 Cassie Brown, 1965
Cassie Brown's account of the 1914 sealing disaster, Death on the Ice (1972), was widely read and eventually taught in the province's schools.
Photographer unknown. Courtesy of Archives and Special Collections (Coll-115), Queen Elizabeth II Library, Memorial University of Newfoundland, St. John's, NL.
Playwrights such as Michael Cook, Tom Cahill, and Grace Butt, and poets, such Al Pitman (also a skilled playwright) and Tom Dawe were also active. In 1973, Pittman and Dawe partnered with Memorial professors Clyde Rose, Dick Buehler, and Pat Byrne to establish the province's first commercial publishing house, Breakwater Books. Breakwater published an anthology of Ray Guy's newspaper columns in 1976, That Far Greater Bay, which won the national Stephen Leacock Memorial Medal for Humour one year later. Guy's incisive political satire and humorous essays about growing up in Placentia Bay appeared in local newspapers throughout the 1970s.
The Emergence of Local Theatre Troupes
One of the most significant developments of the cultural revival was the emergence of local theatre troupes in the early 1970s. Most notable were the Mummers Troupe, Codco, and the Newfoundland Travelling Theatre Company. In Labrador, the Carol Players had been active since 1964 and gained prominence in the 1970s. Actors and playwrights embraced themes and modes of storytelling which ran counter to the then prevailing attitude that theater was a pastime by and for the upper and upper-middle classes.
The Mummers Troupe
The Mummers Troupe championed a collective and community-based theatre that combined traditional elements of Newfoundland culture with current affairs. Their plays, such as Gros Mourn (protesting the national park's resettlement of Sally's Cove), Silakepat Kissiane/Weather Permitting (about life in Nain), and the controversial They Club Seals Don't They? (a sympathetic depiction of sealers) were overtly political and directed at the working class. Alongside advocating for social action and political change, the troupe strove to foster a better sense of self among Newfoundlanders and Labradorians.
Codco
Similarly, the comedy troupe Codco aimed to deflate negative stereotypes through collective theatre. Beginning with their landmark debut play Cod on a Stick in 1973, the troupe brought local themes to stages across the province, and later North America and England. Topics covered included rural depopulation, urbanization, mainlanders' misconceptions of Newfoundland and Labrador people, and the commodification of local culture.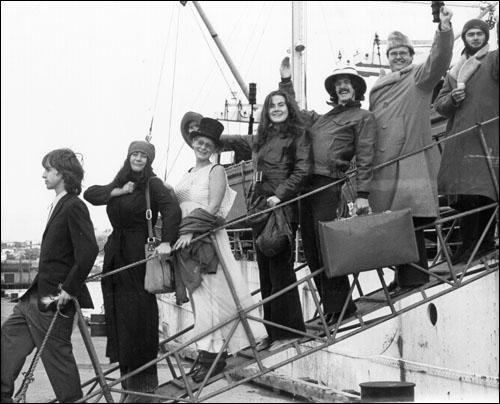 Codco Members, 1976
The members of Codco pose for a publicity photo of Laugh Your Guts Out With Total Strangers, 1976
Photo by Pam Hall. Reproduced by permission of Codco © 1976. Image courtesy of Archives and Special Collections (Coll-178), Queen Elizabeth II Library, Memorial University of Newfoundland, St. John's, NL.
Newfoundland television stations also tapped into the cultural revival. Regional branches of the CBC aired the popular show All Around the Circle, which ran from 1967 to 1979 and showcased local musicians and performers. Local comedy and dramas were broadcast, including Tom Cahill's play As Loved Our Fathers in 1976 and The Root Cellar in 1978, a six-part show written by and starring Codco members Greg Malone and Mary Walsh.
NIFCO
In 1975, the Newfoundland Independent Filmmakers Cooperative (NIFCO) was founded in St. John's to provide local filmmakers with mentoring services and access to affordable cameras, lighting, editing suites, and other resources. NIFCO's first major production - and the first feature-length film made exclusively in Newfoundland - was The Adventures Of Faustus Bidgood. Created by and starring Andy Jones and other Codco alumni, the comedy tells the story of an obscure office bureaucrat who becomes the first ruler of the People's Republic of Newfoundland. Bidgood's tiny budget, however, kept it in production for more than 10 years before it was finally released in 1986.
The Cultural impact on Newfoundland and Labrador
The artist- and intellectual-led cultural revival of the 1960s and 1970s had a tremendous impact on Newfoundland and Labrador society and helped to spark a cultural revolution in the 1980s among Labrador's aboriginal peoples. Diverse artistic expression helped to validate the province's traditions, music, dialects, beliefs, sayings, and stories, and to influence a new generation of artists. In the decades that followed, the arts remained a significant force in the province's society and economy. They explored the province's past and traditional heritage, as well as its place in the contemporary world. The influence of the revival remains evident in many present-day artistic works, and has contributed to the national and international recognition that local artists have achieved.