British Policy and Newfoundland, 1942-1946
The British government began to think about Newfoundland's future in 1942. The Commission of Government would have to be terminated when the war ended, but what should replace it?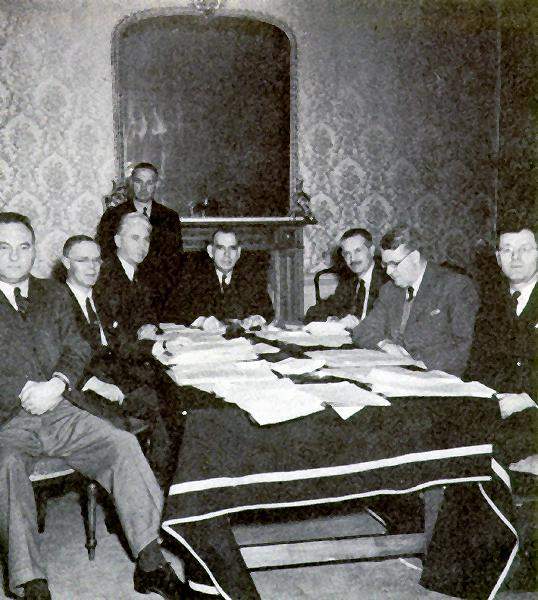 Commission of Government, 1948
From Joseph R. Smallwood,"The Story of Confederation," The Book of Newfoundland. Vol. III. (St. John's, NL: Newfoundland Book Publishers, ©1967) 7. Print.
British officials, like their Canadian counterparts, thought Newfoundland should join Canada. But this could only be done by consent. So what did Newfoundlanders want?
The Dominions Secretary, Clement Attlee, visited Newfoundland in 1942, and he was followed the next year by a "goodwill mission" of three British members of parliament. These soundings showed that while very few people seemed to support confederation, there was widespread unease about an immediate and unconditional return to responsible government status.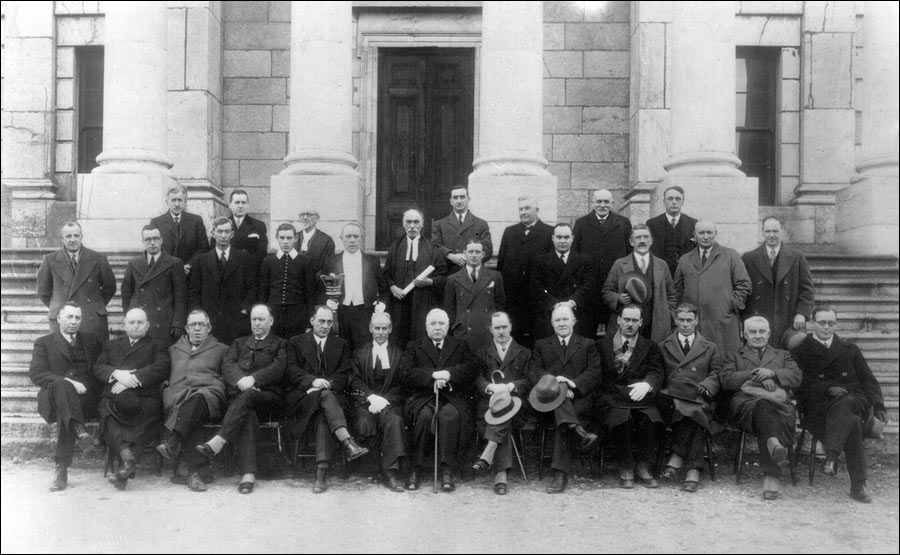 Newfoundland House of Assembly, 1933
Members of the last Newfoundland House of Assembly prior to Commission of Government.
Courtesy of Archives and Special Collections (J.R. Smallwood Collection 075, Photo 5.05.216), Queen Elizabeth II Library, Memorial University of Newfoundland, St. John's, NL.
Concerns
That there had been no democratic government since 1934 was of particular concern to Attlee, who thought that a process of political education had to take place before Newfoundlanders decided on their future. Another factor worried the British. They were concerned that once the wartime boom ended the Newfoundland economic situation could rapidly deteriorate. If the colony was independent, might it collapse again, as it had in the early 1930s? Would Britain once again be called upon to help out?
Structural Development
Eventually, the Dominions Office in London made two linked decisions, based on the assumption that confederation was extremely unlikely. The first met Attlee's concerns. There would not be an immediate return to responsible government at the end of the war. Instead, an elected national convention would be set up, which would allow Newfoundlanders to consider their situation and their future. This would be followed by a referendum. To meet the fear of a future collapse, a reconstruction plan would be developed. This would give the country what was described as "the fairest possible start for the future."
Problems
The problem with this policy was the expense of the reconstruction plan, estimated at $100 million. Britain could not afford to allocate so many scarce dollars to Newfoundland, whose government, though solvent, did not have large reserves. Perhaps Canada could help? Canada was asked. But Anglo-Canadian talks in Ottawa during the summer of 1946 made it clear that Canada was not interested. However, Canadian officials did offer to cooperate with the British in trying to bring about confederation instead of a return to responsible government.
By the fall of 1946 the reconstruction plan was dead, and, informally, Britain and Canada had agreed to encourage Newfoundland to join confederation. It was a gamble, and much would depend on the National Convention, whose debates were about to start.