Committed to Responsible Government
From the files of The Gazette September 17, 1998.
In 1946, A. B. Butt was elected by the voters of St. John's West Extern to the National Convention, a body established as a forum to discuss and recommend future forms of government to be placed before the people of Newfoundland in a referendum. He spent the two years that followed fighting for a return to responsible government and against Newfoundland's Confederation with Canada.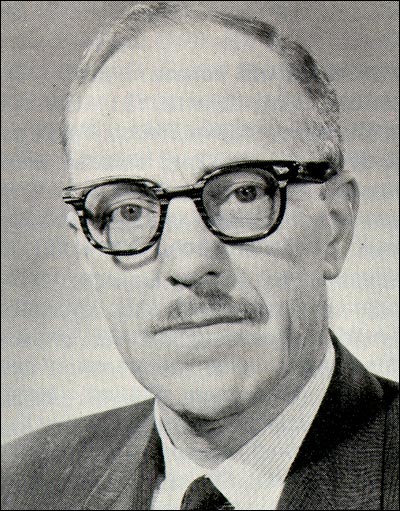 Albert Boyle Butt
From "Who's Who In and From Newfoundland 1949-1974." Centre for Newfoundland Studies, Queen Elizabeth II Library, Memorial University of Newfoundland, St. John's, NL.
Albert Boyle Butt had a long and distinguished career both preceding and following his tenure as a member of the National Convention. Born in Carbonear on April 7, 1904, he was the son of William Herbert Butt and Laura Lillian Maddock. He received his early education at Carbonear, graduating from high school there, before moving to St. John's to attend the Methodist College, the Normal School (for teacher training) and later Memorial University College.
After several years as a teacher in Glovertown and in Clarke's Beach, in 1927 Butt became an accountant in the Department of Education where he worked for six years, before becoming Secretary of the Commission on Curriculum in 1933. With the advent of Commission of Government in 1934, Butt remained in the civil service, serving as personal assistant to the Commissioner of Public Utilities, Thomas Lodge, from 1934 to 1937, and as assistant secretary to Lodge's successor, Sir Wilfred Woods. He resigned from the civil service in 1944 to begin a new career as an insurance underwriter.
In 1946 Butt offered himself as a candidate for election to the National Convention, and was successful, defeating Charles Penny and Frank Viguers. In the convention he chaired the Committee on Agriculture, a logical choice for that post as he represented the Goulds, Kilbride and Mount Pearl, a primarily agricultural area in 1946. He was also a member of the influential Steering Committee, which set the daily business for the Convention, and served on the Transportation Committee.
An ardent believer in Newfoundland's right to return to responsible government, Butt was a member of the delegation sent to London by the Convention in April 1947 to discuss possible future financial arrangements between Britain and Newfoundland in the event of a return to responsible government or a continuation of the commission. He was very disillusioned with the attitude and reaction of the British government officials to Newfoundland's questions, to the point where he later described having felt as if they were trying to give the delegation "the brush off."
He returned to Newfoundland still committed to responsible government, and campaigned very hard for its return in the two referenda held on June 3 and July 22, 1948. With the success of the Confederation forces came the need for Canadian political parties to organize in Newfoundland in order to prepare for provincial and federal elections which would occur shortly after Newfoundland became Canada's tenth province.
Butt became chief organizer for the Progressive Conservative Party in Newfoundland, and conducted the party's electoral campaigns in 1949 and in subsequent elections during the 1950s. He remained a PC Party supporter throughout his life, offering himself as candidate in the federal riding of Trinity-Conception in elections in 1962 and 1963. He made a run at the leadership of the provincial party in 1966 but lost to Dr. Noel Murphy.
Being chief political organizer for the Progressive Conservatives in Newfoundland in 1949 was more a labour of love than a career. Later that year he became advertising manager of the St. John's newspaper, The Daily News, a post he held until he returned to the insurance business in 1958, as manager of Maritime Life Assurance Company.
Bert Butt maintained a life-long interest in community affairs. His debating skills, which served him in good stead during the National Convention, were honed in the Methodist College Literary Institute (MCLI), of which he served as an executive member, including president, for many years. With the arrival of television to Newfoundland in the 1950s, he organized and often hosted a long-running television debating program sponsored by the MCLI. He was also one of the prime movers behind the introduction of CBC television to Newfoundland in the 1960s.
Always admired for his ability to examine both sides of an issue and make an informed and impartial decision, Butt became more and more in demand as an arbitrator and conciliator, with both labour and management. He was involved in 25 arbitration or conciliation cases, which he later described as the work he enjoyed doing most.
An athlete from his youth, he was an avid promoter of sports programs, particularly through his involvement with the Gower Street United Church Men's Service Club. He served as manager and president of the St. John's Trotting Park, judge at the Avalon Raceway, a member of the St. John's Housing Corporation and of the National Ports Council.
Bert Butt married one of his former pupils, Grace Hue of Brigus, on July 17, 1933. As Grace Butt, she is well-known as an award-winning playwright and the founder of the St. John's Players. Bert and Grace had been married for almost 56 years, at the time of his death, March 10, 1989.
Bert Butt believed in Newfoundland. Writing in The Family Fireside in April 1948, he enumerated his reasons for supporting a return to responsible government. He wrote of the choice facing Newfoundlanders: "It is nothing short of a test of our national character. It is a question as to whether we will fold up as a country, as we did once before, and creep about to find ourselves dishonourable protection. It is a question as to whether this generation will scorn the example of character and courage in her greatest sons in their heroic efforts to build Newfoundland into a country which for generations kept and maintained, against great odds, the benefits of a proud tradition. The real issue now is whether or not we shall vote ourselves out of existence as a people."
In 1990 and 1991 Grace Butt presented her late husband's papers to the Centre for Newfoundland Studies. The papers include materials related to his personal and professional affiliations and interests, including his involvement with the Commission of Government, the National Convention, the Progressive Conservative Party and the St. John's Housing Corporation. There are speeches and essays written by Butt, as well as several speeches by Thomas Lodge. There are arbitration and conciliation reports ranging from the fish plant workers' dispute in Burgeo in 1959 to the AFL-CIO at the Health Sciences Complex in St. John's in 1977. The papers provide a comprehensive account of a man who was one of the most respected and well-liked Newfoundlanders of his generation.