Initial Impact of the Revolution on Newfoundland
The quarrel between Great Britain and its North American colonies had been brewing for some time, but no one expected a revolt to break out in 1775. Earlier that year, the British government attempted to coerce Massachusetts into behaving itself by imposing the so-called "Restraining Act." By this legislation, several punitive measures were imposed on Massachusetts: the colony's trade with the British Isles was to be restrained, as well as its fishery at Newfoundland, and the port of Boston was closed. Massachusetts and the other American colonies, acting in Congress, retaliated by suspending all trade with those colonies and possessions which continued to support Great Britain, including Newfoundland. It was a brilliant counter-move. On the one hand, it was non-violent. Yet, given Newfoundland's dependence on the American provisions trade, it was guaranteed to let the authorities in England know that the Americans were in a position to exert pressure on Great Britain too.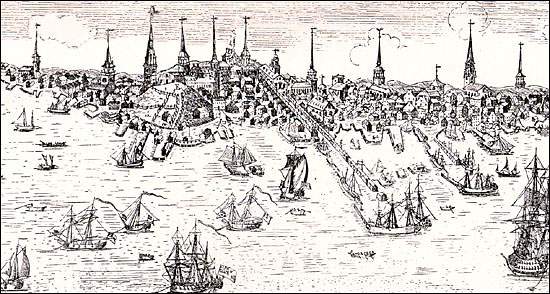 Boston, Massachusetts, 1774
In 1775, the "Restraining Act" placed on Massachusetts closed the port of Boston.
From Justin Winsor, Memorial History of Boston (Boston: James R. Osgood and Company, 1882) 411.
Food Deficit
The effect on Newfoundland is easy to measure. In 1774, 175 American trading vessels came to Newfoundland. In 1775 this number fell to 66, and in 1776 to three. Moreover, the timing in 1775 was masterful. Most of the British fishing fleet had already departed with their usual cargoes of dry goods, salt, and passengers. The vessels carried no flour or bread because they were accustomed to having the Americans supply these items. When the trade reached Newfoundland, it discovered that neither the residents nor the seasonal fishermen had sufficient food to last the season, let alone an entire year. Many vessels were quickly unloaded and sent back to England, or on to Quebec to acquire provisions there. But the ability of Quebec and England to make up the deficit in food was limited, and when the ships returned to Newfoundland with their cargoes in September, it was evident that there still would not be enough.
Many people left Newfoundland to avoid starvation. The decline in population was greater in the transient population, however, and the resident population soon exceeded the seasonal one. Many of those who remained intensified their efforts to grow food, especially in the larger population centres like Harbour Grace and St. John's. Statistics indicate that the acreage of "improved land" increased from 1,700 acres in 1775 to 6,000 in 1783. Even so, there was hunger and starvation during the winter of 1775-76, and reports of deaths. Naturally, survival was easiest where there were merchants with well-stocked warehouses. People therefore begin to drift out of the outports and into the larger towns.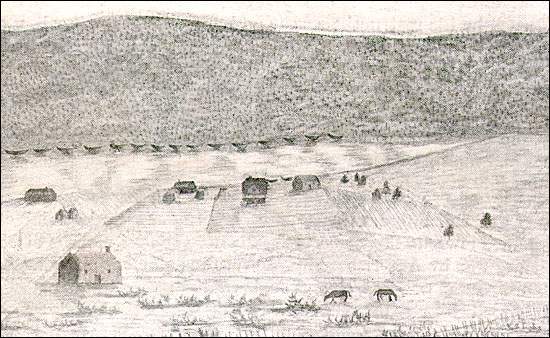 Farm Scene Near St. John's, 1790
Many Newfoundlanders intensified their efforts to grow their own food when the American colonies suspended all trade with colonies that supported Great Britain, including Newfoundland.
From D.W. Prowse, A History of Newfoundland from the English, Colonial and Foreign Records (London: Macmillan, 1895) 319.
The stress on diversifying food supplies or finding alternative sources for provisioning encouraged merchants in parts of the British Isles which had never previously had much to do with Newfoundland to expand their operations. For instance, before 1775 the Scots only used Newfoundland as a convenient entrepôt for an illicit trade with the Americans. After 1775, Newfoundland itself became an object of Scottish commercial activity. In 1771, official records show only £700 worth of exports from Scotland to Newfoundland. In 1775 this climbed to £4,000, and in 1776 to £17,000. The items included a significant quantity of provisions. Apparently, the monopolistic commercial power of the West Country merchants was coming to an end.